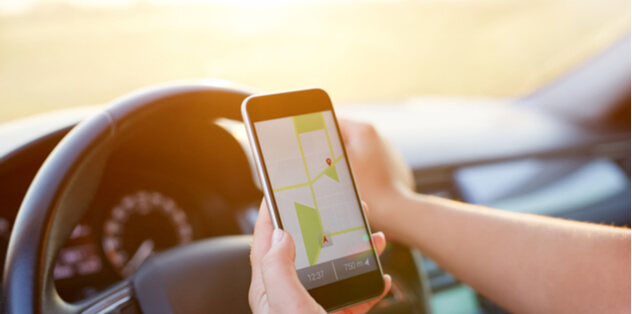 Many people in St. Petersburg rely on Uber and Lyft as safe and convenient options for getting where they want to go. Unfortunately, collisions can and do occur. If you were injured in an Uber or Lyft accident either as a driver, while riding as a passenger, or as another motorist, you could be owed compensation and should reach out for legal guidance immediately. With the help of an experienced St. Petersburg Uber and Lyft accident lawyer, you can focus on your recovery, while your attorney takes care of everything else.
Personal Injury Attorneys McQuaid & Douglas work tirelessly fighting for the rights and interests of accident victims throughout the Tampa Bay area. When you turn to our personal injury law firm, we help you manage every aspect of your recovery, not just your legal claim. We can help you get the treatment you need for your injuries, handle insurance adjusters, and assist with your medical bills. This level of dedication has earned our firm a reputation for honesty, integrity, and success both inside and outside the courtroom. In fact, we have secured more than $145 million in compensation for our deserving clients.
Contact us today for a free case evaluation to discuss how we can help you recover the payment you deserve after a serious Uber or Lyft crash.
Who Is Responsible for a Rideshare Accident?
Liability for a rideshare accident and the compensation an accident victim can recover depend on the facts and circumstances of the crash. The driver's status (meaning, whether they were technically working for Uber or Lyft) at the time of the accident will determine what insurance policies come into play.  This is a complex analysis that only an experienced Uber or Lyft attorney will be able to navigate.
When the driver is on duty with a passenger
If an Uber or Lyft driver causes an accident with a passenger in the vehicle, the rideshare company is required by Florida law to provide liability insurance coverage of at least $1 million. There also may be insurance provided by Uber or Lyft if a rideshare passenger is injured in an accident, even if another motorist caused the crash.
When the driver is on duty and on the way to pick up a passenger
Uber or Lyft's liability insurance coverage obligation also applies when a rideshare driver causes a collision after he or she has accepted a ride request and is driving to pick up the passenger.  The amount of this coverage depends on the company.
When the driver is on duty and waiting on a fare
If a rideshare driver causes a crash while logged into the Uber or Lyft app and waiting for a ride request or a passenger, the rideshare companies' insurance coverage requirements are $50,000 per person and $100,000 per accident of death and bodily injury liability coverage, as well as $25,000 per accident of property damage liability coverage.
When the driver is not on duty or logged into the app
If a rideshare driver is not logged into the app when he or she causes a crash, the driver's own personal insurance policy will apply for losses suffered by any victims of the accident. Uber or Lyft's insurance will not cover an accident caused by a driver who is not logged in and working for the company at the time of the crash.
When another driver hits your Uber or Lyft
If another driver causes an Uber or Lyft crash, you must first make a claim against that negligent driver and his or her insurance coverage. Then, Uber or Lyft drivers and their passengers can turn to the rideshare company's uninsured or underinsured insurance policy for coverage, especially if the at-fault driver lacks liability insurance or coverage sufficient to compensate an injured passenger fully.  Again, the amount of that excess coverage depends on the company.
Demanding Compensation After an Uber or Lyft Accident in St. Petersburg
If you've been injured through no fault of your own in a Lyft or Uber accident in St. Petersburg, you need to learn about your legal right to compensation for your losses. Compensation in a Lyft or Uber accident claim can include:
Medical bills and expenses, including trips to the ER, surgeries or other procedures, doctor's appointments, physical rehab, prescription medication, and other out-of-pocket costs
Lost wages or income if you took time off work to recover from your injuries
Lost future earning potential due to disabilities that negatively impact your ability to work
Physical pain and anguish
Emotional trauma and distress, including anxiety and depression caused by the accident and resulting injuries
Lost quality of life caused by visible scarring, disfigurement, or permanent disabilities
How Long Do You Have to File an Uber or Lyft Accident Claim in Florida?
Florida's statute of limitations gives car accident victims four years from the date of the crash to file a lawsuit for compensation for injuries and losses they suffered. But, don't wait weeks, months or years before you contact an attorney.  Any delay in bringing a claim will trigger red flags and your case will be questioned.  That means you could lose the right to seek compensation for the harm you suffered in a Lyft or Uber accident.
The sooner you speak with a Lyft or Uber accident lawyer, the better off you will be. Your lawyer can work quickly to investigate your crash and preserve all evidence. Your attorney can also manage all communication with the rideshare company and insurance companies from the very start. Overall, having an experienced attorney on your side from the beginning takes the pressure off you.
Why Hire an Uber and Lyft Car Accident Attorney in St. Petersburg?
Legal matters for Uber and Lyft accidents are complex. You could be facing off against daunting insurance companies and their experienced lawyers. These claims can be extremely challenging to handle because of the different layers of insurance coverage between your vehicle, the at-fault driver's vehicle, or Uber and Lyft's insurance policies. It is highly advised that you do not take on a personal injury claim alone.
Here's why the assistance of an Uber or Lyft car accident attorney is crucial for a successful outcome:
We know the damages you've suffered but may have missed, and we will thoroughly factor all economic and non-economic losses into your claim.
We ensure evidence is preserved correctly. The evidence tends to be lost in a matter of days or even hours. We will work to make sure it is secured.
We know which evidence will support your case. Under Florida law, this is crucial, as recovering compensation is only possible if it is established that another person's legal negligence caused the accident.
Insurance companies and rideshare companies will exploit the stress you're experiencing and your lack of knowledge when they attempt to settle with you. They will do their best to ensure that they are paying you as little as possible. Our experience and reputation negate these tactics so we can demand the best results possible.
An attorney can get to work straight away, without the huge mental distractions you'll likely have following the wreck. Acting soon will give you the upper hand.
The longer you wait without an attorney, the more leverage the insurance companies gain to devalue your claim.
Vastly greater compensation results can come from the work of an auto accident lawyer.
We'll be your advocate throughout the entire process, effectively handling all the legal work and protecting you from aggressive insurers.
Hiring an attorney helps alleviate the pressure and stress placed on you after an accident. We will help you remain focused on your recovery and getting back on your feet. You won't receive any stressful phone calls from the insurance companies, and you can relax knowing that you're in safe hands.