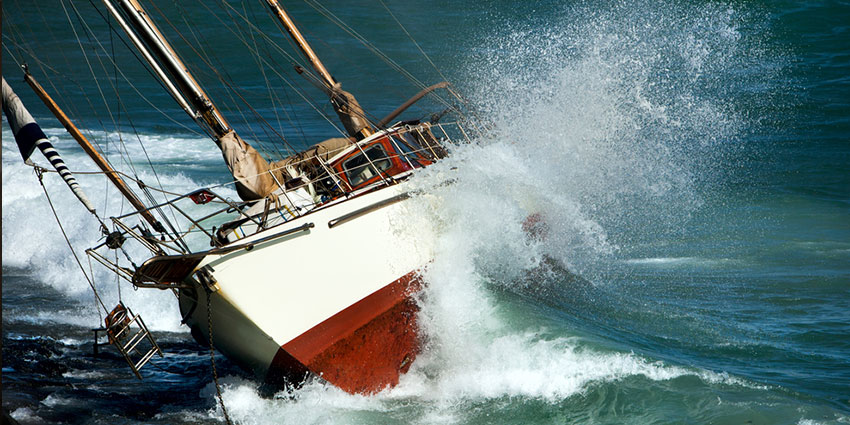 Florida, home to exquisite beaches, lakes, and bays, is the leading state for recreational boating. Unfortunately, Florida is also the top state for boat accidents. Personal Injury Attorneys McQuaid & Douglas can help you if you have been injured in a boat accident. We have counseled clients in a range of personal injury matters and helped recover compensation for countless victims of boat accidents.
Here is what you should know about boating accidents in Florida and why you need expert legal representation with an experienced Florida boat accident lawyer.
Boating Accidents in Florida
Our Florida boat accident lawyers are experienced litigators who have seen firsthand how dangerous boating can be. Unfortunately, many boaters do not take the activity seriously and drink, speed, or exhibit other negligent behaviors while operating a boat.
According to the Florida Fish and Wildlife Conservation Commission (FWC), the leading cause of boating accidents in Florida is inattention or failure to maintain a proper lookout. Many boat operators think they are looking around but overlook potential hazards or drive a boat with divided attention.
Here are some additional statistics from the FWC's 2020 Boating Accident Statistical Report:
In 2020, Florida observed 836 boating accidents, a 16% increase from the previous year.
Of the 836 accidents, 402 boating accidents involved collisions, and 44% were caused by operator negligence or failure to maintain a proper lookout.
79 people died in boating accidents, which is 14 more than the previous year.
Common Types of Boating Accidents in Florida
Most Florida boat accidents fall under one of the following categories:
Watercraft collisions (a boat colliding with another watercraft)
Jet ski accidents
Collision with fixed objects, such as docks and piers, buoys, or rocks,
Flooding
Grounding
Falling overboard
Slipping or falling on the boat
A fire or explosion (most often from fuel)
Striking any object underwater
Overturning
Sinking
Wake damage
Jet Ski Accidents in Florida
Waterway accidents are not limited to boats. Jet Skiing is also a prevalent recreational water sport in Florida and is often involved in boating accidents. In addition, Jet skis are accessible and easily rented with just a driver's license. Unfortunately, while they may provide hours of fun, jet skis can also be quite dangerous. The outcome could be catastrophic if a jet ski collides with another watercraft.
Florida Maritime Laws and Boating Regulations
Due to the booming recreational and tourist industry in the sunshine state, it has relatively few restrictions that regulate watercraft operations. For example, most people are not required to hold a boating license or receive formal boat operating training to drive a boat. In fact, Florida does not have a "boating license." In addition, only people born after 1988 must pass a NASBLA-approved boating education course or equivalent. After completing one course, the certification is good for a lifetime.
Accidents that happen in public waterways fall under federal admiralty jurisdiction. As a result, your boating accident case might need to go to a federal court. However, federal court procedures are very different from civil court. In addition, there is a specific set of laws that govern injuries from boat accidents.
Therefore, it will benefit you to have a knowledgeable Florida boat accident lawyer with experience in dealing with these cases. Furthermore, you need Personal Injury Attorneys qualified to practice in federal court if necessary. An attorney with adequate experience will also know your best course to get you the total compensation you deserve.
Who is Liable for Boating Accidents?
If you sustain injuries in a Florida boating accident, you are entitled to file a personal injury lawsuit against the at-fault party. If the boat operator was negligent and caused the accident, you can recover damages for your injuries. Whether the boat operator, owner, or manufacturer is ultimately found liable for the accident will depend on the unique circumstances of your case. In many boat accident cases, the boat driver is found to be the responsible party for the accident.
An example of negligence would be if the boat operator were under the influence of drugs or alcohol while they caused the accident. In Florida, it is against the law to operate a boat while under the influence of alcohol or drugs. Our Personal Injury Attorneys can help you gather evidence and build a solid case to show that the boat driver's negligence caused your injuries.
Sometimes, there may be a situation where the boat operator is not the owner. In that case, you could hold the boat owner liable for negligent entrustment. Therefore, if the boat owner knew that the driver posed any risk to others by operating the boat and still letting them drive it, that is also considered negligence.
Occasionally, the accident is caused by defective machinery or mechanical malfunction. It's possible to hold the boat manufacturer liable for your injuries if some faulty product caused the accident.
It's essential to have an experienced Florida boat accident lawyer who can thoroughly investigate your case and determine who is liable for the accident. By establishing liability, you can seek compensation from the right party.
Seeking Compensation After Your Florida Boat Accident
After you are injured in a boat accident that someone else caused, you can seek compensation for your injuries. Some damages that a Personal Injury Attorney can help you recover include:
Medical costs
Lost income
Lost earning capacity
Pain and suffering
Prescription medication and other medical supplies
Property damage
The statute of limitations for Florida personal injury claims is four years. That means you have four years from the date of the accident to file a lawsuit.
You could pursue a wrongful death suit if you lost a loved one to a boat accident fatality. In that case, your Florida boat accident lawyer can help you obtain compensation for the respective damages, including your loved one's medical costs, funeral and burial costs, and loss of consortium. The statute of limitations for wrongful death claims in Florida is two years.
Contact a Florida Boat Accident Lawyer Today
Personal Injury Attorneys McQuaid & Douglas have decades of experience helping injured boating accident victims in Florida. We understand that injuries will affect each client's life uniquely. That's why we offer custom, tailored legal counsel to meet your needs. If you or a loved one was injured in a Florida boating accident, we have skilled Florida boat accident lawyers who can help you.
An inexperienced or negligent boat operator may have caused your accident. If that's the case, we can help you hold the liable party accountable and recover your losses.
Our Florida Boat Accident Lawyers team will investigate your case thoroughly and handle all legal proceedings on your behalf. In addition, we will fight to get you the compensation you deserve.
We are experienced litigators who understand the law. We know how to represent you according to federal admiralty law when appropriate. We can also help you with insurance and liability issues after a Florida boat accident. Contact Personal Injury Attorneys McQuaid & Douglas today for a free initial consultation.