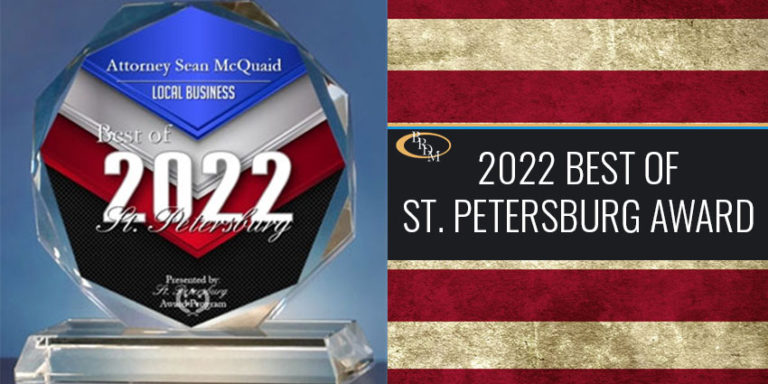 Attorney Sean K. McQuaid has won the 2022 Best of St. Petersburg Award for Best Local Business. The St. Petersburg Award Program offers support and public recognition to businesses and organizations in and around St. Petersburg.
Sean McQuaid is the head of St. Petersburg Personal Injury Attorneys McQuaid & Douglas, the personal injury division of Battaglia, Ross, Dicus & McQuaid, P.A.
Mr. McQuaid is dedicated to helping his clients achieve the best possible results, so it's no wonder he won the Best Local business award. Sean McQuaid specializes in the areas of personal injury, car accidents, motorcycle accidents, truck accidents, and wrongful death, representing clients throughout Florida and offers free consultations.
Mr. McQuaid consistently wins awards that confirm that he is a top-tier personal injury lawyer in St. Petersburg. This year alone, he has been named Top 3 Best Personal Injury Lawyers in St. Petersburg, FL by Three Best Rated® and also won the 2022 Expertise Award for Best Personal Injury Lawyers in St. Petersburg. And now he's been awarded the 2022 Best of St. Petersburg Award for Best Local Business.
Sean K. McQuaid
Sean McQuaid has been one of the top-ranking Personal Injury attorneys in the St. Petersburg area since joining the firm immediately after law school in 2000. He is currently the President of the firm Battaglia, Ross, Dicus & McQuaid, P.A. Sean is an experienced personal injury attorney distinguished for his professional accomplishments and bold, competitive approach to practicing law.
Sean's commitment to excellence and dedication to service is evident in his well-rounded portfolio. Not only does he represent clients, but he also is the President of the firm and also served as the St. Petersburg Bar Association President from 2020 through 2021. Mr. McQuaid is also a member of the Florida Bar, the Bar of the Federal District Court for the Middle District of Florida, the St. Petersburg Bar Association, the Hillsborough Bar Association, the Clearwater Bar Association, and various other legal affiliations.
Sean McQuaid attended Princeton University from 1993 to 1997 to complete his undergraduate studies. He then completed his legal studies at Stetson University College of Law in 1997 and graduated with his Juris Doctor and Masters in Business Administration degrees. McQuaid was an involved and high-achieving student and a member of the Moot Court Board from 1998 to 2000. During those years, he gained valuable courtroom experience by participating in national competitions across the country.
A Legacy That Lives On
Battaglia, Ross, Dicus & McQuaid, P.A. is Tampa Bay's leading law firm and one of the oldest. With over 60 years in practice, the firm was established in 1958 by Anthony S. Battaglia, a founding partner. Battaglia was known for his striking style and exceptional case preparation. Today, his legacy is continued through the attorneys in the firm who offer esteemed representation. They cater outstanding legal services to individuals and businesses in St. Petersburg, Riverview, and the greater Tampa Bay area.
As a full-service law firm, Battaglia, Ross, Dicus & McQuaid, P.A.'s illustrious attorneys are recognized for handling auto accidents, DUI accdients, hit and run accidents, Uber & Lyft accidents, bicycle accidents, burn injuries, dog bites and attacks, motorcycle accidents, pedestrian accidents, brain injury, spinal cord injury, personal injury claims, PSTA accidents, sexual abuse, premises liability, slip and fall injuries, truck accidents, scooter, moped and motrized bike accidents, wrongful death, and product liability.
"Every Client Is Our Most Important Client"
At Battaglia, Ross, Dicus & McQuaid, P.A., believes that every client is their most important client. This outstanding reputation keeps their loyal Tampa Bay clientele long withstanding. Their expert legal counsel is highly sought after because of their commitment to helping every client achieve the best possible outcome in legal matters. For more information about Battaglia, Ross, Dicus & McQuaid, P.A., you can visit their website www.727injury.com or contact the firm at 727-381-2300.