Personal Injury Lawyers Representing Tarpon Springs, FL
If you're looking for a Tarpon Springs personal injury attorney that will aggressively fight for you to get you the settlement that you deserve with no fee until we win, then look no further than personal injury attorneys Sean McQuaid and Jonathon Douglas. McQuaid and Douglas will provide you with the service and knowledge you require. As partners of Battaglia, Ross, Dicus & McQuaid P.A., they are recognized as premier lawyers in Personal Injury Law by clients throughout Tarpon Springs Florida.
Battaglia, Ross, Dicus & McQuaid, P.A., is renowned as one of West Florida's oldest and most respected law firms, with over 60 years of successful legal assistance to the Tarpon Springs area. We're large enough to handle complex matters and small enough to provide personalized representation.
If you had an accident in Tarpon Springs and need a Personal Injury Attorney to help you following the accident, then you've come to the right place. Take advantage of our Free Consultation service to get started today.
Personal Injury Attorneys McQuaid & Douglas will fight for YOU! NO FEE until we win.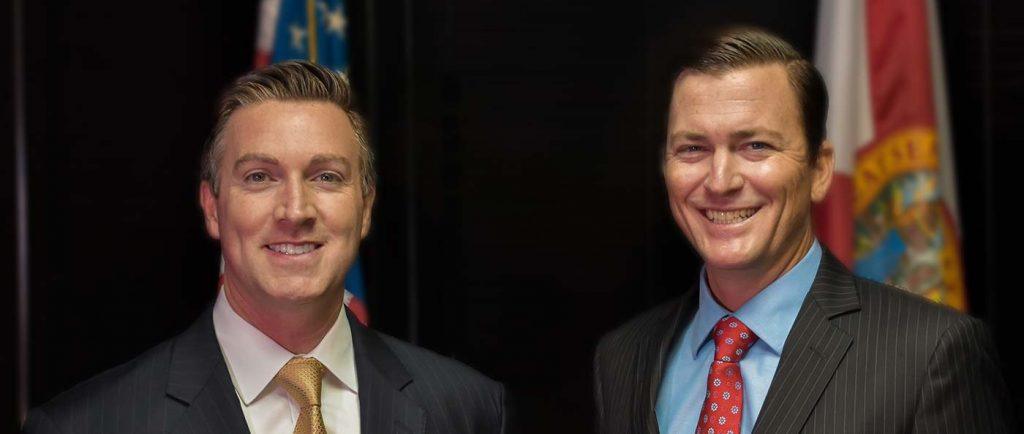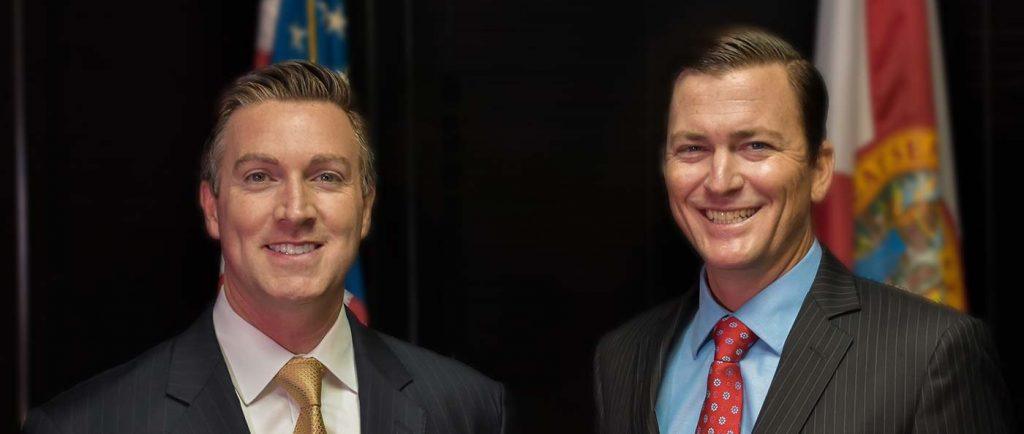 When an unfortunate event occurs and it's time to hire a personal injury attorney, Tarpon Springs residences can rest assured that McQuaid and Douglas will fight for you with no fees until we win. We have handled many different types of personal injury claims. Our experienced lawyers have aggressively and effectively represented clients in Tarpon Springs to help them get the settlement that they need and deserve. We have the legal experience and knowledge our clients require in the following areas.
Car Accidents
If you or a loved one has been involved in a car accident in Tarpon Springs, there are necessary actions that should not be overlooked. Car accidents can happen anywhere at any time, we've handled cases that occurred in Tarpon Springs and on the Skyway Bridge, Gandy Blvd, Park Blvd, US 19, 66th Street, I-275, Gulf to Bay, East Bay and West Bay, just to name a few. Emotions are often high, and a simple mistake or careless statement can prove costly in fighting for the compensation you deserve. Here are some essential tips to keep in mind, should you ever find yourself involved in a car accident:
Get to safety and seek medical assistance if needed. Your health is always the number one priority.
Call law enforcement, if you don't need medical attention first.
Gather critical information, such as the other driver's insurance details and take your photos.
Collect witness reports yourself. (Often witnesses will inform the police of what they saw, but this can be left out of the Police report later)
Do not agree on a handshake agreement.
Do not admit fault. (You don't need to determine who was at fault. The moment you admit fault, this can later be used against you. You might even be wrong in your assumption that it was your mistake. Unnoticed facts are often revealed later.)
Do not leave the scene of the accident. This could be seen as a "hit-and-run," which could result in criminal charges.
Don't refuse medical attention. Evidence of medical injuries can be crucial in your compensation claims.
Notify your insurance company.
Do not speak with the other driver's insurance company or sign anything. Instead, consult your attorney or contact Personal Injury Attorneys McQuaid & Douglas for a Free Consultation.
Bicycle Accidents
If you or a loved one have been involved in a bicycle accident in Tarpon Springs we advise you to seek legal counsel as soon as possible. Bicycle accidents can be complicated affairs that require the assistance of a professional to help you get the settlement that you may be entitled to. With a plethora of legal matters to understand and daunting insurance companies to battle, a Bicycle Accident Lawyer can help alleviate the pressure and allow you to focus on recovering, returning to work and spending time with your family. After hiring a bicycle accident lawyer, you can relax knowing you're in safe hands.
You may have overlooked claims for lost wages, psychological distress, past and future medical costs or diminished ability to perform activities of daily living. We strive to explore all avenues of recourse for you in your Tarpon Springs bicycle accident claim.
We ensure evidence is preserved correctly. The evidence tends to be lost in a matter of days or even hours; we will work to make sure it is secured.
We know which evidence will support your case. Under Florida law this is crucial, as recovering compensation is only possible if it is established that another person's legal negligence caused the accident.
Insurance companies will exploit the stress you're going through and your lack of knowledge, often pushing you into admitting a mistake. Our experience tackles this so we can get you the best results.
An attorney can get to work straight away, without the huge mental distractions you'll likely have following the incident. Acting soon will give you the upper hand.
Vastly greater compensation results can come from the work of an auto accident lawyer, than an individual claim.
We'll be your advocate throughout the entire process and effectively handle all the legal work and procedures for the optimal outcome.
Dog Bites / Attacks
If you or a loved one have suffered injuries from a dog bite or dog attack that took place in Tarpon Springs, FL, personal injury attorneys McQuaid & Douglas are here to help.
A Dog Attack Attorney may be able to take action against the dog's owner. This is because Florida Law (Florida Code section 767.04) states, "The owner of any dog that bites any person while such person is on or in a public place, or lawfully on or in a private place, including the property of the owner of the dog, is liable for damages suffered by persons bitten, regardless of the former viciousness of the dog or the owner's knowledge of such viciousness."
This means a personal injury lawyer can sue the canine's owner for the injuries caused by the dog bite, even if the owner had no involvement in the attack and had no prior knowledge of their dog's aggressive behavior. Just like a gun or a car, the owner of a dog has a responsibility to ensure that their dog will not cause harm to people.
A dog owner can be sued for 'Intentional Torts' if the dog attacked with the owner intending it do so. If this is the case, the attack may also be considered a crime.
A property owner is also potentially liable for dog attacks. A landlord or business owner with a dangerous dog on their property must warn you of it. They should either tell you or have clear warning signs.
It is possible to sue both a dog owner and property owner following an attack. In fact, doing so increases the chance of being fully compensated for damages caused by a dog bite or attack.

DUI Accidents
In Tarpon Springs Florida, driving under the influence is when a driver has a blood alcohol content (BAC) of 0.08% or higher. The BAC limit for those under 21 is just 0.02% and 0.04% for commercial drivers of any age. Alternatively, a driver can be considered under the influence if his or her normal faculties are impaired.
Driving Under the Influence (DUI) in Florida results in more than 16,000 accidents a year. A shocking 11,000 people are injured and nearly 1,000 killed in these preventable accidents. In the U.S. over 1.4 million drivers are arrested and charged with DUI, every year. [SOURCE] Common Damages under Florida Law for Drink Driving Accidents:
Damages caused by DUI driving accidents range from being extremely severe, such as death or brain damage, to often overlooked damages such as lost wages or loss of earning capacity. Here are some common damages in DUI accidents that you may have suffered and may be eligible to receive compensation for:
Apartment Buildings/Complexes
Medical expenses (Past and future, since the date of the accident)
These costs can be anything from surgery to hospital expenses, drugs and therapy
Lost wages since the date of the accident
Past and future Pain and Suffering
Loss of consortium
Loss of earning capacity
Mental anguish and trauma
Potential punitive damages
Wrongful Death
If there was a fatality, then survivors may be able to receive compensation for their suffering. Survivors can include children, parents and partners who have suffered and also lost financial support. With Sean McQuaid & Jonathon Douglas, you have experienced personal injury attorneys dealing with DUI Personal Injury Claims and accidents such as DUI Accidents. We will not only give you a much-needed open hand during this tough time, but we will also give you the best chance to recover the full compensation you deserve.

Hit and Run Accidents
A Hit and Run Accident Lawyer can help you when you've been involved in an accident in Tarpon Springs where the other driver fled the scene without providing the necessary information to help you with an insurance claim.
Hit and Run incidents are painfully unfair to the victims, who were likely involved in an accident through little to no fault of their own. It leaves victims with a struggle to pursue insurance claims and a hard search to locate the other driver. However, damages can still potentially be recovered even if the other driver is never found.
A Hit and Run Accident Attorney will be able to help you navigate the insurance companies involved and use Florida Law to help get you the justice and compensation that is rightfully yours, even if the other driver is never found. Personal Injury Attorneys McQuaid & Douglas are familiar with these types of accident claims and will aggressively represent you with no fee until we win.

Motorcycle Accidents
A motorcycle accident in Tarpon Springs has varying laws depending on the specific scenario. Unlike car accidents, Florida law does not obligate motorcycle drivers to have Personal Injury Protection Insurance. Even if the driver does have PIP insurance, it will not cover injuries received in a motorcycle accident. However, if it can be proven that the accident was caused due to the negligent behavior of another person, then they are liable and can be made to pay you for your injuries and damages. There are many reasons why another party may be liable for a motorcycle accident, here are some of the common ones:
Distracted Drivers
This can include any behavior that is negligent and distracts the driver from applying their full care and concentration. Some examples include: driving while using a cell phone, turning to look at a passenger or adjusting the radio.
Intoxicated Drivers
People still make the shocking choice to drive whilst drunk or intoxicated. This is a prime example of a cause that is applicable for punitive charges.
Aggressive Drivers
This is another punitive example and typically involves a frustrated driver threatening a motorcycle rider which results in a crash.
Traffic Violations
A common cause of motorcycle accidents is when a negligent driver ignores laws of the road, such as signposts or speed limits.
Defective Motorcycle Parts
These can often be overlooked initially after an accident. Faulty or poorly designed parts provided by the motorcycle's manufacturer can cause riders to lose control of their bikes due to no fault of their own.
It is important to never admit fault after a motorcycle accident. There are many causes of motorcycle accidents. Personal Injury Attorneys McQuaid & Douglas know what evidence to look for and can help analyze your accident with the help of an expert in the Tarpon Springs area if required.

Premises Liability
There may many different reasons why a property owner may be liable for injuries which occur on premises in Tarpon Springs. The reasons may be extremely obvious or a cause which is later revealed by the work of a Premises Liability Personal Injury Attorney. Typical examples of cases we've come across include:
A Slip or fall
Broken or dangerous sidewalks
Poor Lighting
Obstructions in pathways or stairs
Slippery floors
Inadequate handrails on stairways
Uneven steps on stairways
Poorly lit stairwells
Faulty doors or windows
Negligently displayed products
Dog Bites
Elevator or Escalator Accidents
Swimming Pool Accidents
Exposure
Fires
Negligent security measures
Some examples of premises liability and slip and fall accidents we have handled have occurred at Publix, Walmart, Aldi, Winn-Dixie, Apartment and Condo Buildings and Construction Sites. Personal Injury Attorneys McQuaid and Douglas know that businesses and owners sometimes deny any and all responsibility for the cause of your injuries. We know that after a slip and fall accident, you may be stressed and struggling. The adverse party will look to exploit this by offering you a low and unfair offer. We know the value of these cases and strive to maximize your recovery. We know where to look for evidence, what questions to ask and what experts to retain to optimize the value of your case. We will be your advocate and helping hand through the entire process, providing you with the knowledge and experience necessary to optimize the value of your claim. Contact us today for a Free Case Evaluation.

PSTA Bus Accidents
The Pinellas Suncoast Transit Authority, better known as PTSA, has been providing public transportation across the Tarpon Springs area and Pinellas County since 1984. It controls over 40 bus routes, with 14.5 million annual passengers. The low costs and simple method of commuting via its buses have resulted in growing popularity throughout the greater Tarpon Springs area.
Accidents still occur on public transport due to careless and hurried drivers, traffic errors and distracted car drivers. PSTA bus accidents can result in severe personal injuries, highly damaged vehicles and large numbers of victims in one single auto accident.
Like any auto accident, the help of a Personal Injury Lawyer can help recover the damages a victim has suffered due to their thorough knowledge and experience.
If you've have been involved in a PSTA bus accident, then you may be able to claim compensation. Even if injuries are minor, missed wages or psychological trauma are just a couple of the reasons why you may be entitled to compensation. A Personal Injury Attorney can help you with every step of the process, providing some guidance and hope during this difficult period in your life.

Slip and Fall Injuries
A slip and fall accident is one of the most common personal injury claims made against negligent business or property owners in Tarpon Springs. It's very unlikely that you merely tripped or fell because of your own clumsiness or lack of attention; a slippery floor, an obstruction or poor lighting could all be simple causes that weren't your fault.
A property or business owner has an obligation to make sure their property is safe and free of dangerous conditions. If you've suffered injuries as a result of a slip and fall, then the properties owners or maintenance companies may be liable.
You may have claims for past and future medical bills as well as other damages you have incurred. A Slip and Fall Lawyer can use their knowledge to recover the financial and nonfinancial damages you have suffered as a result of slip and fall injuries.
Our lawyers will work to ensure that you obtain the maximum amount of compensation available for your injury.

Truck Accidents
Truck accidents are often times devastating and life-altering. A Truck Accident Attorney knows exactly how to handle these significant cases. They can be your shining light of hope when you need to be focused on recovering and your family.
Federal Motor Carrier Safety regulations obligate commercial trucks to have at least $750,000 of bodily injury and property damage coverage. In Tarpon Springs Florida, the 'No Fault' law also exists. It means regardless of fault, the insurance companies are required to provide coverage for their insured drivers. Florida is just one of many states that has the 'No Fault' law.

Uber and Lyft Accidents
If you've been injured as a passenger in an Uber or Lyft Car Accident in Tarpon Springs, then the rideshare insurance policy is there to provide coverage for passengers. There are two scenarios which typically play out: the Uber or Lyft driver is not the at fault driver or the Uber or Lyft driver is the at fault driver. The good news for the passenger is that in either scenario, there is insurance coverage for the passengers of up to $1,000,000.00.
When the Uber or Lyft driver is not the at fault driver in an accident, there will be $1,000,000.00 in coverage provided by the Uber or Lyft insurance policy. In this scenario, the Uber or Lyft insurance acts as uninsured or underinsured insurance coverage when the at fault driver's bodily injury insurance coverage is not sufficient to compensate you for your injuries and damages.
When the Uber or Lyft driver is the at fault driver, there will be $1,000,000.00 in coverage for your injuries and damages. In the rare circumstance that this limit is not sufficient, then the passenger's own underinsured or uninsured motorist coverage could apply.
In Tarpon Springs Florida, there was a helpful law change in May 2017 when Florida Governor Rick Scott signed 'The Uber/Lyft Law'. This legislation now means that Uber drivers and other similar "transportation network companies" in Florida are obliged to meet insurance requirements:
$50,000 for death and bodily injury per person
$100,000 for death and bodily injury per accident
$25,000 for property damage
In addition to this, the law requires Uber, Lyft, and other ride-sharing services to provide background checks on all drivers, which includes their criminal and driving records.

Wrongful Death
The emotional trauma and life-altering effects that follow the death of a loved one in Tarpon Springs can make any legal action feel like one of life's lowest priorities. However, the help of a Wrongful Death Attorney can take the burden off you and your family during this painful time. Additionally, a Tarpon Springs wrongful death attorney may be able to help your family secure emotional and financial relief.
A Wrongful Death claim is a civil action made against a person or entity who may be liable for a death. In Tarpon Springs Florida, a wrongful death claim is made by the "survivors" of the deceased as a result of the negligence, recklessness or misconduct of another person or entity. The law allows the "survivors" to seek compensation for the damages following a wrongful death. Wrongful Death claims may not be associated with criminal cases.
Personal Injury Attorneys Sean McQuaid and Jonathon Douglas will be your advocate and helping hand during your time of need. Personal Injury Lawyers working at Battaglia, Ross, Dicus & McQuaid, P.A., a US News and World Report Tier 1 Law Firm have the experience and knowledge to recover the compensation you deserve. We understand the stress and hardship you are likely experiencing after losing someone close to you. Let us help you during these trying times. Call us now for a free consultation.