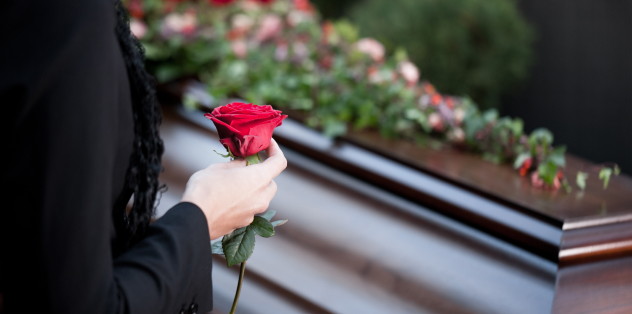 Wrongful Death Lawyers McQuaid and Douglas
The emotional trauma and life-altering effects that follow the death of a loved one can take any legal action feel like one of life's lowest priorities. However, the help of a Wrongful Death Attorney can take the burden off you and your family during this painful time, and help secure financial and emotional relief, when you need it most.
St. Petersburg Personal Injury Attorneys McQuaid & Douglas will work hard for you so you can be with loved ones during their time of need. For 60 years, Battaglia, Ross, Dicus & McQuaid, P.A., has been providing exceptional legal assistance to the Tampa Bay area. Battaglia, Ross, Dicus & McQuaid, P.A., is nationally ranked by US News and World Reports as a Tier 1 Law Firm. Sean McQuaid and Jonathan Douglas are both partners at Battaglia, Ross, Dicus & McQuaid, P.A., and have been repeatedly recognized by their peers, the courts, and the community as premier lawyers in personal injury law.
St. Petersburg Wrongful Death Attorney
Wrongful Death claims are not criminal cases. The accused is not punished with incarceration, but instead payable damages.
Wrongful Death Time Limit
There is a deadline, called the 'Statute of limitations. This differs from state to state and is a time limit that once expired means the court can no longer act and claims can no longer be made. This is why it is vitally important to act as soon as possible, following a death.
When is a Wrongful Death Claim Applicable?
To establish that a Wrongful Death claim is applicable an attorney must be able to prove that the other person, or persons, failed to meet the level of care that was required for the deceased. This includes reckless or dangerous behavior. If it can be determined that this was directly a cause for the death and the damages that followed, then a claim is applicable.
Examples of Wrongful Death Situations:
Car Accidents and Auto Accidents
Auto accidents are a shockingly high cause of Wrongful Death, due to carelessness and distractions.
Driving intoxicated, carelessly, or whilst on a cell phone are typical examples of blatant wrongful death claims.
For auto accidents, the plaintiff is typically successful in 61% of cases, although a death due to negligence can increase this.
Medical malpractice
A wrongful death claim can typically have grounds if a diagnosis was incorrect, misjudged, or treated incorrectly; or if there were inadequate levels of care in a hospital.
Workplace accidents
These typically involve a safety violation or negligent behavior. This can be an employee decision, bad working environments, or dangerous conditions.
Violence and homicide
Accidental murder in crimes such as a mugging can result in a civil claim.
Premises liability issues
This typically includes buildings that are not safe or don't include a safe area. An example would be a shelf falling on a customer in a restaurant, or a dangerous dog being present with no warning, which resulted in an accident.
Birth Injuries
The death of a mother or infant due to medical malpractice.
Defective Products
A poorly designed or dangerous product that causes death can be the grounds for a Wrongful Death claim against a manufacturer.
Negligent Supervision
Babysitters or caretakers are responsible for the health of your children. Any fatality under their supervision is likely to be applicable for wrongful death.
Relationships with the deceased
Various criteria are considered by the court when determining the compensation amount for the survivors of the deceased. This includes factors such as the net income of the deceased available, the cost of the loss of financial contribution, the life expectancy of all involved, and the relationships between the dead and the distributees. Here are some more details:
Spouse:
The emotional and mental suffering since the death may qualify for compensation. As well as the financial implications.
Children:
Children may be able to seek damages for the loss of a parent, and their guidance and security.
Parent:
Both parents of the deceased have grounds for claims for mental pain and emotional suffering.
All the survivors may recover compensation for the loss of value in their life, since the date of the initial injury. Medical and funeral expenses are also factored into the claims of those who paid for them.
Loss of inheritance, a consortium, or the deceased's suffering before death can also be included as damages in a claim.
Punitive Damages
Punitive Damages are when the court chooses to punish the liable party for their involvement. This is done to punish and prevent others from behaving in a similar way in the future. This is typically used for blatant negligence, violence, recklessness, or intentionally harmful behavior.
Why hire a Wrongful Death Personal Injury Attorney?
During what is surely the worst period of anyone's life, it's understandable to just want some peace of mind. An attorney removes the pressure placed on you when you'll need to be focusing on recovering and working or being with your family. Here are some key reasons why hiring an Attorney is crucial:
An attorney can get to work straight away, without the huge mental distractions you'll likely have following a death. This means we can work to meet the 'Statute of Limitations' deadline.
Vastly greater compensation results can come from the work of a Wrongful Death lawyer, than an individual claim.
We'll be your advocate throughout the entire process and effectively handle all the legal work and procedures for the optimal outcome.
The experience of a professional lawyer removes the stress you will have to face alone, in understanding the civil court system.
We have the resources and knowledge to quickly acquire and preserve key evidence that is crucial to your case.
Personal Injury Attorneys Sean McQuaid and Jonathon Douglas will be your advocate and helping hand during this hard time. They have over 15 years' worth of experience as Personal Injury Lawyers working at Battaglia Ross Dicus & McQuaid, P.A., a Tier 1 Law Firm, to win compensation for those who need it most.
We understand the stress and hardship you are likely going through if you have lost someone close to you. We can help bring you some clarity and relief during this time, by removing the legal responsibilities and giving you the best chance for monetary compensation.
Court Dismisses Wrongful Death Case Against Hotel After a Tourist is Killed in Car Accident Crossing the Street
Sean McQuaid
Hotel guests are often unaware of the dangers that exist during their vacation. In the following case, a tourist who was on vacation was killed in a car accident resulting in a wrongful death lawsuit against the hotel. This tragic case illustrates how dangerous hotels can be. At St. Petersburg Personal Injury Attorneys McQuaid & Douglas, we specialize in claims against hotels, car accidents, and wrongful death claims. Our offices are in Pinellas County, Florida which has a high number of hotels. As a result, we are contacted frequently by families who have experienced an unfortunate accident while visiting the area. It is often very disturbing to hear about personal injury accidents that ruin vacations and change lives forever.
We follow the most recent court decisions so that we are aware of the legal trends. We use this knowledge to advise our clients. While we hope that you are not injured while visiting Florida, if you are, please contact us for a free consultation.
Facts of the Case:
In Luckman v. Wills, et al, 3rd District Case No. 3D19-435 decided on July 29, 2020, a wrongful death lawsuit was brought by Luckman as executor of the estate of Michael Ianniello. Ianniello was a guest of Cheeca Lodge in Islamorada, Florida. Cheeca Lodge is located on the east side of US 1 and Old Highway 1. It offered a shuttle service to take guests to destinations within 2 miles of the resort. A grocery store called the Trading Post was located across both roads and was a destination within the route of the shuttle service. There was also a complimentary golf cart service. But, because the golf cart could not go on public roads, it could only cross Old Highway 1, not US 1. Therefore, it wasn't able to drop guests off at the Trading Post.
The evening of the incident, Ianniello asked an employee on a golf cart for a ride. As they proceeded, he told the driver to take him to the Trading Post. The golf cart drove off the property, across Old Highway 1 and stopped about 20 feet from US 1. It let Ianniello out and he began to walk on foot the rest of the way. As Ianniello crossed US 1 on the way to the Trading Post, he was killed in a car accident. The car was driven by Wills.
Trial Court
Luckman filed the wrongful death lawsuit arising from the car accident against the driver of the car and Cheeca Lodge. The lawsuit was based in Monroe County, which had jurisdiction. It was assigned to be heard by a circuit court judge. This case only dealt with the claim against Cheeca Lodge, not the driver of the car. The claims were based on negligence and for wrongful death. The lawsuit alleged that Cheeca Lodge undertook a duty to transport Ianniello safely to the Trading Post. It alleged that Cheeca Lodge breached that duty when it failed to warn Ianniello of the dangers in that area when crossing the road. Luckman filed an affidavit of an expert witness to support the claim. In the affidavit, the expert alleged that Cheeca Lodge had a greater knowledge of the dangers associated with crossing the road and they did not transport Ianniello safely.
Cheeca Lodge filed a Motion for Summary Judgment. In the Motion, it argued that its conduct did not create a foreseeable zone of risk, it had no legal duty to Ianniello, it did not breach any duty, and the danger of crossing a busy road at night was open and obvious.
At the hearing on the Motion for Summary Judgment, the trial judge heard the arguments of counsel. The judge struck the affidavit of the expert as being legally insufficient and granted the Summary Judgment. The effect of this decision meant that Luckman's lawsuit against Cheeca Lodge was over.
Appellate Court
Luckman filed the current appeal to Florida's Third District Court. He alleged that the trial judge erred when it granted Cheeca Lodge's Motion for Summary Judgment. The appellate reviewed the file and stated that it agreed with the trial judge's decision. It stated that Cheeca Lodge did not undertake to transport Ianniello beyond the golf cart's allowable limits. Once it dropped him off safely, it owed no further duty to him. Thus, Cheeca Lodge did not create a foreseeable zone of risk and owed no duty to him. Further, the appellate court agreed that Luckman's expert's affidavit was based on purely legal issues that were within the power of the trial court. It agreed that the affidavit should have been stricken. As a result, the case was affirmed on appeal and the lawsuit against Cheeca Lodge is over.