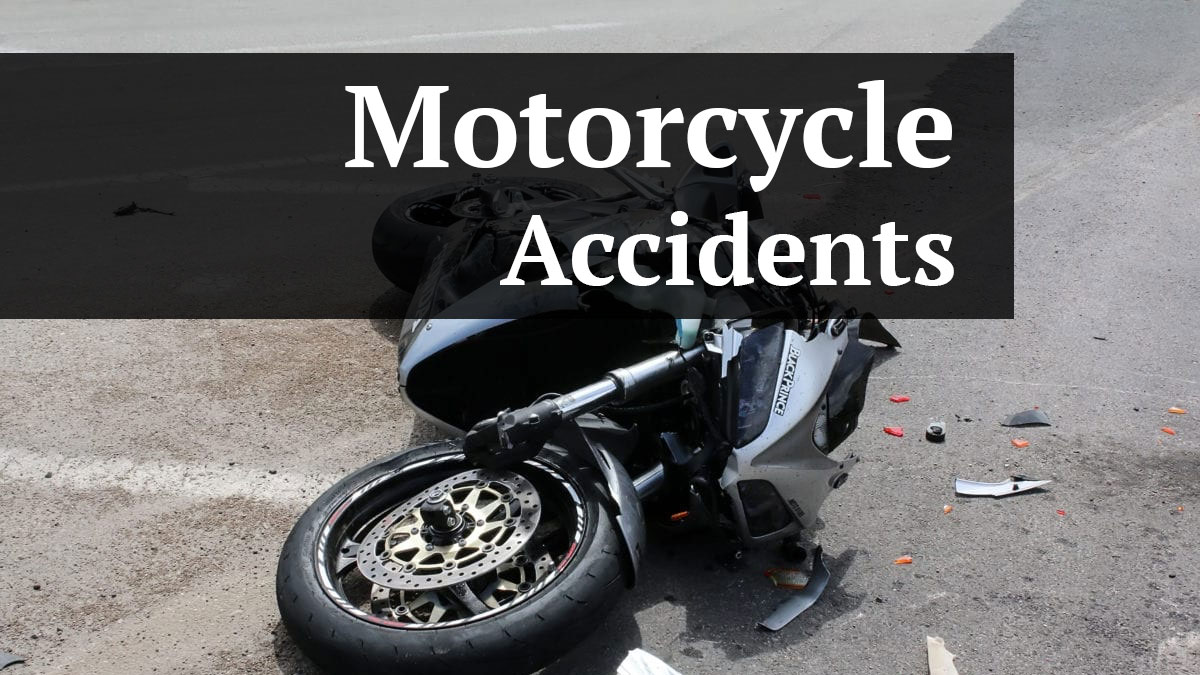 Although riding a motorcycle can be a fun way to enjoy Florida's weather, it can also be extremely dangerous. Florida is second to only Texas for the highest number of motorcycle accidents each year. California is actually a distant third. The chances that a person on a motorcycle is involved in an accident and sustains serious injuries or death has increased when compared to all other types of accidents on the roadways. According to U.S. Department of Transportation's National Highway Traffic Safety Administration (NHTSA), deaths to driver's of motorcycles increased 70% from 2000-2007. There is no evidence that this trend has slowed.
The causes of these motorcycle accidents are varied, but five of the most common reasons are detailed below.
Left-Hand Turns:
If you are an experienced motorcyclist, you are probably already aware of the dangers on the roads when drivers make a left-hand turn in front on you. Whether you are going through an intersection or not, a vehicle coming in the other direction and making a left-hand turn is always a danger. The driver of the vehicle almost undoubtedly blames the accident on the fact that he or she simply did not see the motorcyclist.
Head-On Collisions:
Head-on collisions are one of the most dangerous types of accidents between an automobile and a motorcycle. These types of accidents frequently result in death to the motorcyclist. Head-on collisions occur when the drivers are distracted or when they fail to yield to the motorcyclist who has the right of way.
Lane Splitting:
Lane splitting describes when a motorcyclist drives between two lanes of traffic. This is usually done when traffic is slowed or stopped. Even though a motorcyclist may split lanes to pass stopped traffic at low speeds, it certainly increases the risk of an accident. Lane splitting is extremely risky behavior due to the close proximity between the motorcyclist and the other vehicles, the lack of visibility, and the reduced space for a motorcyclist to take evasive action. Lane splitting is a self-induced risk by a motorcyclist and is simply unnecessary behavior. The benefit of getting through traffic faster does not outweigh the risk of injury to the motorcyclist.
Impaired driving:
An impaired driver on the roads increases the odds of an accident. This applies to a driver or a motorcyclist. Impairment through drugs or alcohol affects a driver's behavior by delaying reaction time, affecting judgment, lowering inhibitions, and increasing the likelihood of risky behaviors. When these factors are combined with a motorcycle, it because of an extremely dangerous situation.
Speeding:
Speeding increases the risks to both automobile drivers and motorcyclists. Motorcyclists have a tendency to drive quickly as high speed can be exhilarating. But, high speed comes with risks. There is also a stigma in Florida that motorcyclists involved in a crash must have been speeding. I cannot remember a single motorcycle accident case that I have handled where the issue of speed was not mentioned by the other driver who caused or contributed to causing the accident. Unfortunately, because so many motorcyclists speed, law enforcement and other motorists assume the worst. Thus, it is important to not place yourself in a situation where your speed could be blamed for the accident.
Despite the doom and gloom above, Florida can be a wonderful place to drive a motorcycle. Our weather is great and our roadways are straight and flat. However, staying safe is always a priority. There are enough dangerous and elderly drivers on the roads of Florida already so it is wise to not increase the odds of an accident through your own behavior. If you have been involved in a motorcycle accident, our office is experienced in navigating these claims and offers free consultations.
Contact a Motorcycle Accident Injury Attorney
If you or a loved one have been involved in a motorcycle accident, then you should take the proper measures to ensure you receive the compensation you deserve. Contact St. Petersburg Personal Injury Attorneys McQuaid & Douglas today and speak with an attorney. For over 60 years our firm has been successfully helping people who have been injured due to someone else's carelessness. We have been nationally ranked for decades by US News and World Reports as a Tier 1 law firm, which is the highest ranking that can be received. Sean McQuaid and Jonathon Douglas have dedicated their careers to continuing the firms legacy of superior legal representation.
Remember that we never charge a fee, unless we win. Call us today at 727-381-2300 so that we may answer your questions, help you navigate the complexities of insurance claims, and recover the compensation that you deserve.
We work hard to make sure each and every client gets the attention that they deserve. We appreciate feedback from our clients and reviews are validation of our work. Every 5 star review that we receive lets us know that our services were appreciated by our clients.
S.t Petersburg Personal Injury Attorneys McQuaid & Douglas
5858 Central Ave suite a
St. Petersburg, FL 33707
(727) 381-2300