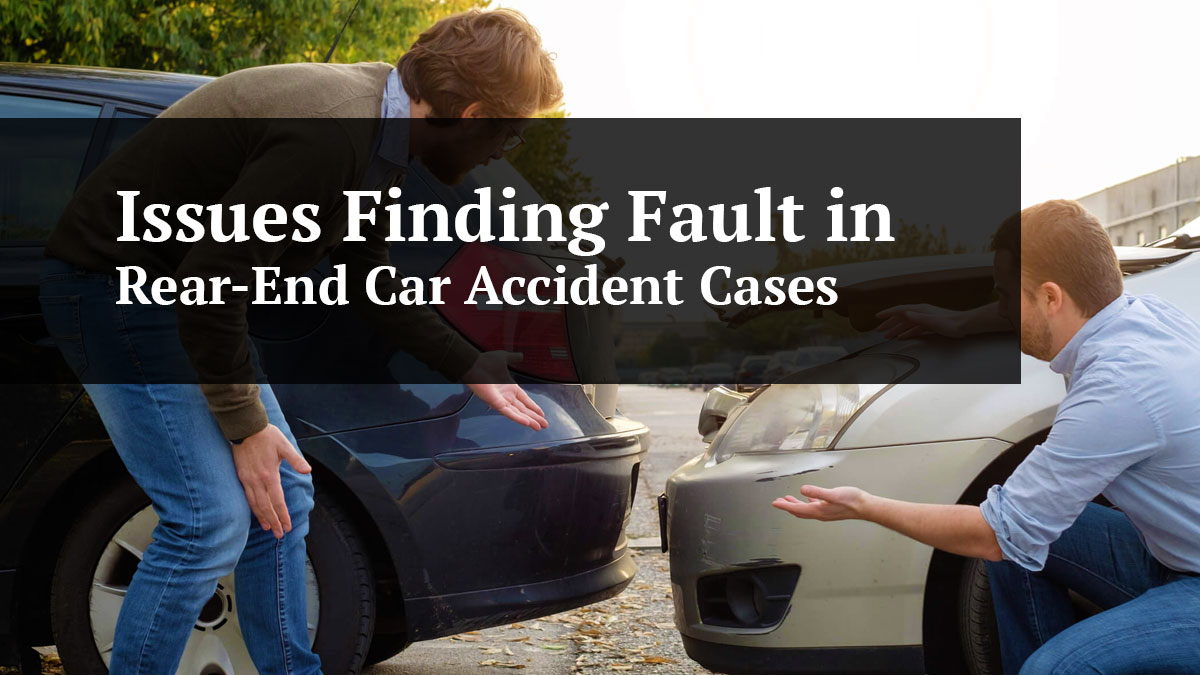 On March 8, 2019, Florida's 5th District Court of Appeal delivered a damaging blow to people who were injured in rear-end car accidents. In Restal v. Nocera, Case Nos. 5D17-2, 5D17-1635, (Fla. 5th DCA 2019), there was an appeal from a Brevard County case in which Ms. Nocera won at trial after her car was rear-ended by Mr. Restal. However, the appellate court decided that the case should be returned to the trial judge for a new trial to decide whether Ms. Nocera was also at fault for the accident.
It Is Important to Understand the Facts of a Car Accident Case
There was a car accident in Brevard County when Mr. Restal's car struck the rear of Ms. Nocera's. She filed suit for injuries sustained in the crash. During depositions, Ms. Nocera stated that she was looking to make a U-turn, moved toward the median and slowed down to about thirty miles an hour. She realized that she could not make a U-turn at that spot, and her car was hit from behind by Mr. Restal. She testified that she never used her brakes at all and did not fully move into the turn lane. Mr. Restal's testimony was that Ms. Nocera slammed on her brakes while moving toward the no u-turn median when he hit her. He testified that she came to a rolling stop. He further stated that he was only a car and a half-length behind her when she applied her brakes and admitted that he could have avoided the collision had he left more space between vehicles. Based on Mr. Restal's admission and the presumption of liability for causing a rear-end accident, the trial judge granted summary judgment against him and the trial was held simply on how much Ms. Nocera was owed.
Reasoning Why Trial Judge Was Wrong that Mr. Restal was 100% at Fault for the Rear-End Accident
The issue that the appellate court had was over the trial judge's determination that Mr. Restal was 100% at-fault for the accident. The appellate court said that even though Mr. Restal admitted that he was following too closely and clearly struck Ms. Nocera from behind, his claims that she slowed down rapidly and partially crossed into a no u-turn median was enough to overcome the legal presumptions in her favor. The appellate court said that when someone hits another car from behind, a rebuttable presumption of negligence is created against the driver of the rear vehicle. See Clampitt v. D.J. Spencer Sales, 786 So.2d 570, 572-73 (Fla. 2001). However, even though it is presumed that the rear driver is the sole cause, if there is evidence that the front driver was also at fault, the rear driver can try and rebut the presumption. See Birge v. Charron, 107 So.3d 350, 360 (Fla. 2012). In this case, the court said that Mr. Restal should be able to testify that he was only partially at fault for causing the accident despite all of the presumptions and evidence against him.
What is troubling about this appellate court decision is that even after the trial judge heard the testimony of Mr. Restal that he admitted he was following Ms. Nocera too closely and struck her from behind, it decided to reverse the decision and let Mr. Restal try to place blame on Ms. Nocera. Issues of credibility of witnesses should be within the discretion of the trial court and do not need to be micromanaged by an appellate court who has never seen or heard the witnesses. This case appeared to be an obvious one to apportion 100% fault to Mr. Restal based on the presumption that he caused a rear-end accident, and still that is not how this case ended up. If appellate courts are going to cause obvious issues of liability to be re-litigated, it will cause a mess for car accident cases to get settled without a full-blown jury trial. People rarely accept 100% of the blame for an accident and when you admit you caused an accident due to following too closely, you shouldn't get the chance to go into court and try to deflect blame.
If you have questions about how this case will affect your car accident claim, please feel free to contact us. This case clearly will be used by insurance lawyers and insurance companies to discount the amount they offer for settlement when their drivers claim anything inconsistent with being 100% at fault. This case is going to make settling cases much harder for car accident lawyers. If you would like to speak to us, consultations for accident cases and all personal injury matters are free of charge.
Contact an Auto Accident Attorney
If you or a loved one have been injured in a car accident, then you should take the proper measures to ensure you receive the compensation you deserve. Contact St.Petersburg Personal Injury Attorneys McQuaid & Douglas today and speak with an attorney. For over 60 years our firm has been successfully helping people who have been injured due to someone else's carelessness. We have been nationally ranked for decades by US News and World Reports as a Tier 1 law firm, which is the highest ranking that can be received. Sean McQuaid and Jonathon Douglas have dedicated their careers to continuing the firms legacy of superior legal representation.
Remember that we never charge a fee, unless we win. Call us today at 727-381-2300 so that we may answer your questions, help you navigate the complexities of insurance claims, and recover the compensation that you deserve.
We work hard to make sure each and every client gets the attention that they deserve. We appreciate feedback from our clients and reviews are validation of our work. Every 5 star review that we receive lets us know that our services were appreciated by our clients.
St. Petersburg Personal Injury Attorneys McQuaid & Douglas
5858 Central Ave suite a
St. Petersburg, FL 33707
(727) 381-2300