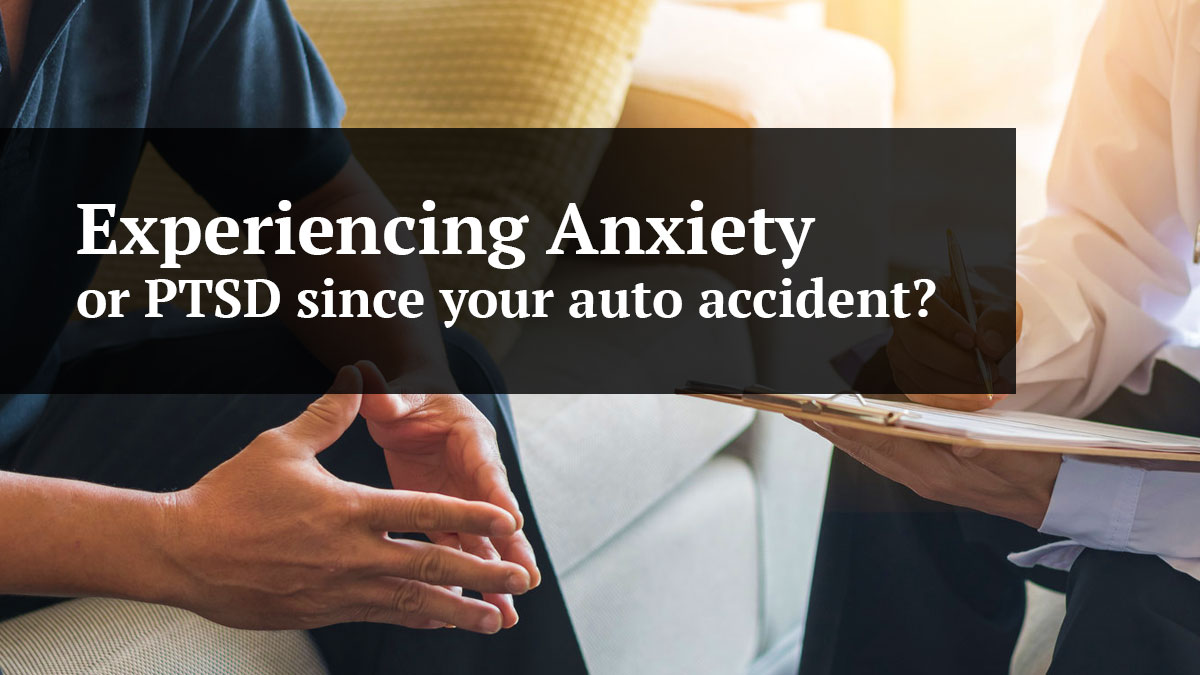 If you have been injured in an auto accident in Florida, you may be experiencing anxiety or PTSD related to the crash. These symptoms are often overshadowed by the physical injuries sustained and go untreated. The psychological effects of a severe auto accident go far beyond trauma to the body. I am often contacted by clients who have been in a serious auto accident with complaints of anxiety or PTSD. Many of the medical providers my clients are receiving treatment from for their physical injuries are simply not equipped to address auto accident related mental health problems. Thus, my clients often turn for me for advice about what they can do to get help.
Common Symptoms of Anxiety or PTSD After an Auto Accident
The most common complaint that is relayed to me after a serious auto accident is anxiety about driving. I constantly hear complaints by clients that they can no longer drive or are constantly expecting another crash. I was recently told by a female client that she took another route to work for months after the auto accident because she was so nervous.
Additional symptoms of Anxiety, PTSD or Mental Health Issues
Increased anxiety and/or uneasiness
Heart palpitations
Trembling
Continuous dreams or nightmares about the accident
Chest pain
Fear of driving or riding in a car
Shortness of breath
Irritability
Restlessness
Feeling disconnected emotionally
Difficulty concentrating since the auto accident
Self-medication by using drugs or alcohol to cope
If you have repeatedly experienced any of the above symptoms following an auto accident, you likely have some degree of mental health trauma. The degree of the trauma is really what dictates the level of treatment.
At our office, when clients report that they are experiencing these issues, I normally inquire about the length of time of the symptoms and whether they are to the degree that the client wants to speak to a professional. If the client desires to seek treatment, I will refer them to a psychologist, psychiatrist, or counselor with experience in auto accident trauma. If the client has health insurance, I always prefer to send them to someone in-network. Mental health counseling can be expensive and unfortunately, insurance companies simply do not place significant value toward these effects. So, getting proper medical care while limiting out of pocket expense and medication costs is always our goal.
If you have been involved in a serious auto accident and are experiencing anxiety, PTSD, or other mental health issues, please understand that these symptoms are more common than you may believe. There is no shame in getting professional help and letting your lawyer know about what you are undergoing. If I am aware that a client is struggling, I can usually arrange for the proper help. At the end of the day, when it is time to recover compensation for the auto accident, these issues will be appropriately presented as part of our claim.
Contact an Auto Accident Injury Attorney
If you or a loved one have been involved in a serious auto accident resulting in anxiety, PTSD or other mental health issues, then you should take the proper measures to ensure you receive the compensation you deserve. Contact St. Petersburg Personal Injury Attorneys McQuaid & Douglas today and speak with an attorney. For over 60 years our firm has been successfully helping people who have been injured due to someone else's carelessness. We have been nationally ranked for decades by US News and World Reports as a Tier 1 law firm, which is the highest ranking that can be received. Sean McQuaid and Jonathon Douglas have dedicated their careers to continuing the firms legacy of superior legal representation.
Remember that we never charge a fee, unless we win. Call us today at 727-381-2300 so that we may answer your questions, help you navigate the complexities of insurance claims, and recover the compensation that you deserve.
We work hard to make sure each and every client gets the attention that they deserve. We appreciate feedback from our clients and reviews are validation of our work. Every 5 star review that we receive lets us know that our services were appreciated by our clients.
St. Petersburg Personal Injury Attorneys McQuaid & Douglas
5858 Central Ave suite a
St. Petersburg, FL 33707
(727) 381-2300