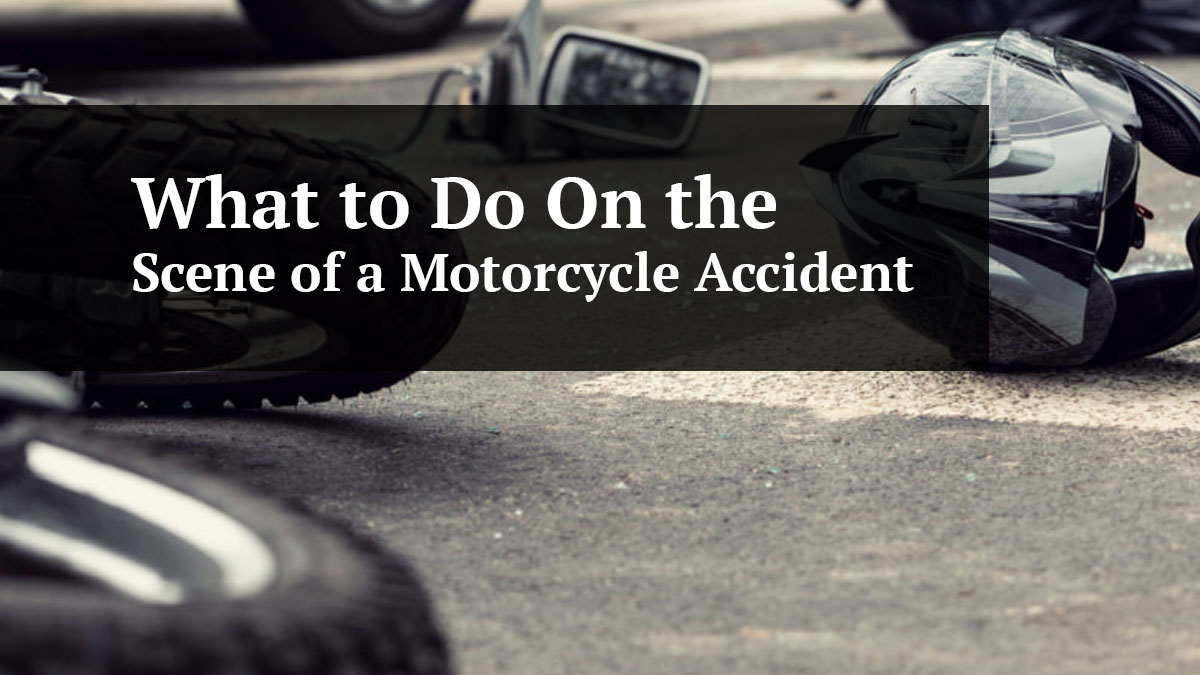 We hope that you are not in a motorcycle accident, but the roads can be extremely dangerous in Pinellas County, Florida for motorcycles. Our high percentage of elderly drivers, tourists and visitors increase the likelihood that you will be in some type of accident. Even the safest and best defensive drivers cannot avoid all dangerous situations The best we can do for you at this point is to provide a guide so that you are prepared if an accident occurs.
Get Off the Road After a Motorcycle Accident:
Unlike in a car accident where you are required to remain in or by your vehicle, due to the visibility challenges with motorcycles, it is recommended to move yourself away from traffic and off the road. However, do not move too far from the accident location because you are still required by law to remain at the scene.
Call 911 After a Motorcycle Accident:
Always call 911 for help after a motorcycle accident. Try your best to describe your location and remember to mention that a motorcycle was involved. While you can mention any injuries, there is no need to go into detail. 911 operators are trained to talk and keep you on the phone, so be wary of what you say. All of the calls to 911 are recorded.
Assess Your Injuries After a Motorcycle Accident:
Adrenaline normally kicks in after a motorcycle accident and it is tough to determine every injury. If you are bleeding or have road rash, do your best to apply pressure and stop the bleeding. If you have sustained a head injury, the common signs are confusion, disorientation and/or nausea. While back and neck injuries are common, it is not uncommon for these injuries to take some time to fully set in.
Inspect Your Helmet After a Motorcycle Accident:
Assuming that you were wearing a helmet during the accident, inspect it for any damage. If the helmet is cracked or significantly damaged, make sure you get checked out for a concussion or other brain injury.
Collect Contact Information After a Motorcycle Accident:
Do not rely on the police to document all of the witness contact information. Motorcycle accident scenes can be confusing and police officers can get confused. I have seen countless cases where a police officer attributes a statement to the wrong witness or simply fails to record the witness contact information. It is always suggested to retrieve what you can on your own to supplement the efforts of law enforcement.
Take Pictures After a Motorcycle Accident:
Taking pictures of the condition of the motorcycle and the other vehicle(s) is important and some of the best evidence as to the level of the impact and fault. You also should document any visible injuries and damage to clothing and your helmet.
Cooperate with Law Enforcement After a Motorcycle Accident:
Notifying the police is a must for any accident. Regardless of the extent of the accident, police need to investigate and assist with the assessing of fault. Even if the fault for the motorcycle accident seems clear, do not trust the other party to do the right thing after the fact especially if there are serious injuries. People get scared and it is human nature to attempt to shift blame. The accident or crash report created by law enforcement is utilized by insurance companies to pay for property damage and bodily injury claims. The better the accident report is in your favor, the better the odds at recovering compensation quickly.
Contact a Motorcycle Accident Injury Attorney
If you or a loved one have been involved in a motorcycle accident, then you should take the proper measures to ensure you receive the compensation you deserve. Contact St. Petersburg Personal Injury Attorneys McQuaid & Douglas today and speak with an attorney. For over 60 years our firm has been successfully helping people who have been injured due to someone else's carelessness. We have been nationally ranked for decades by US News and World Reports as a Tier 1 law firm, which is the highest ranking that can be received. Sean McQuaid and Jonathon Douglas have dedicated their careers to continuing the firms legacy of superior legal representation.
Remember that we never charge a fee, unless we win. Call us today at 727-381-2300 so that we may answer your questions, help you navigate the complexities of insurance claims, and recover the compensation that you deserve.
We work hard to make sure each and every client gets the attention that they deserve. We appreciate feedback from our clients and reviews are validation of our work. Every 5 star review that we receive lets us know that our services were appreciated by our clients.
St. Petersburg Personal Injury Attorneys McQuaid & Douglas
5858 Central Ave suite a
St. Petersburg, FL 33707
(727) 381-2300