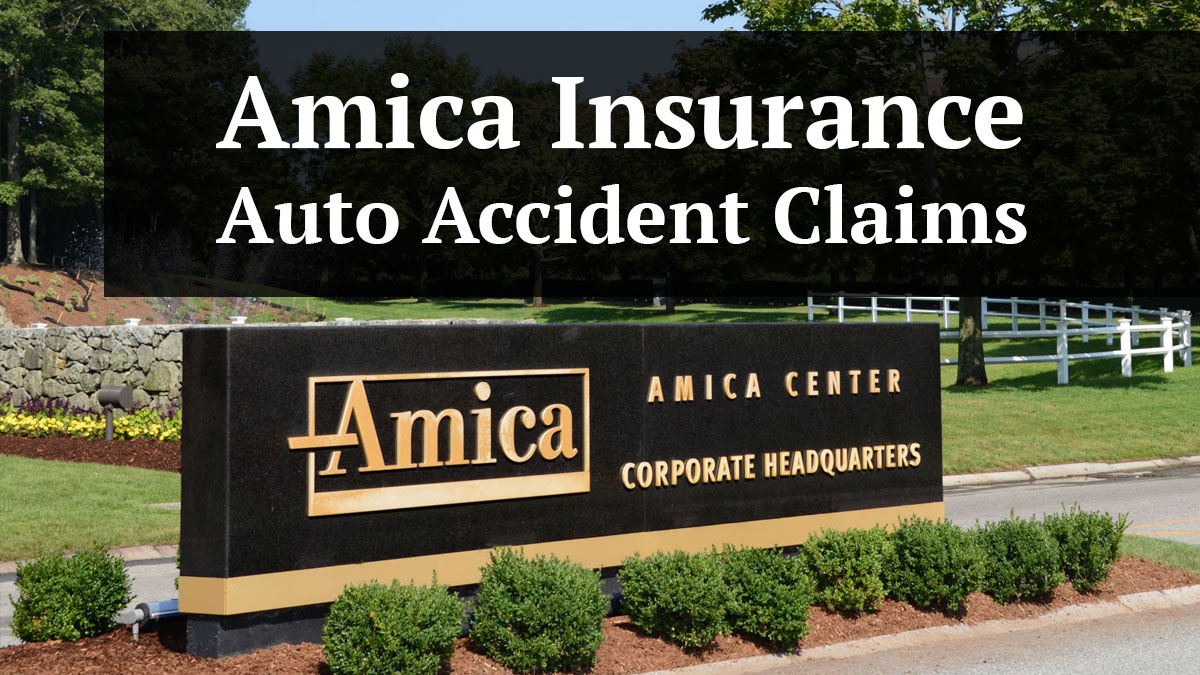 Although Amica Insurance is not one of the largest auto insurance companies in Florida, we have handled many Amica insurance claims. If you carry Amica Insurance or the at-fault driver carried Amica insurance, we are very familiar with the adjusters and the claim handling process. We know when to fight and when to negotiate auto injury claims for the best interest of our clients. We have had great success in resolving claims involving Amica. We have found that the adjusters are eager to resolve the claims quickly in order to avoid lawsuits. We have a good working relationship with Amica Insurance auto adjusters. I have personally been told by an Amica Insurance adjuster that they get so many auto accident claims from Florida that for every claim they pay, two more pop up. So, they are motivated to resolve the injury claims simply to keep up with the demand.
About Amica Insurance
Amica is an acronym for Automobile Mutual Insurance Company of America. It was established in Providence, Rhode Island in 1907 and is the oldest insurer of automobiles in the country. It has offices in 49 states and the District of Columbia. Consumer watchdogs tend to give Amica high ratings for its handling of car accident injury claims. However, Amica is still an insurance company and a business. Paying auto accident claims costs money and like any insurance company, Amica does not like to do so.
Setting up a Claim with Amica Insurance after an Auto Accident
Following an auto accident, you will need to set up a claim with Amica Insurance. The number to set up the claim is 1-800-242-6422. If you are an Amica customer, you also can log into your account on www.amica.com to report the claim. If you have been injured, let the Amica adjuster know what the issue is, but I recommend to not go into detail if you can avoid it. If you are insured with Amica, you will have an obligation to cooperate with the adjuster and even give a recorded statement. If you are not insured with Amica, be polite, but you have no obligation to speak to them about the details of your injuries.
Making a Claim for Injuries against Amica Insurance
As mentioned in the above, there are two scenarios when you could be making a claim for injuries against Amica after an auto accident. The first, and most common scenario occurs when the driver of the at-fault car has Amica as its insurance company. The second scenario only comes into play if you carry uninsured or underinsured motorist (UM) coverage with Amica. I have found that most people who carry Amica also carry UM insurance. In this situation, the at-fault driver either carried no bodily injury coverage or not enough. If this was the case, you can then make a claim against Amica to compensate you for your injuries.
Negotiating an Injury Claim against Amica
After you are finished with your medical treatment, we file a demand for damages against Amica. The next step is the negotiating process. The negotiating process consists of back and forth exchanges between your lawyer and Amica's insurance adjuster. I have found in the past that the Amica adjuster will begin negotiations with a lower initial offer and will increase that offer much more so than other insurance companies if they feel they can get to a reasonable point to resolve the claim. Knowing this information can avoid a lawsuit and speed up the resolution of the claim. My clients appreciate it when I can get the case resolved quickly to reduce the anxiety over the situation and put money in their pocket.
Amica Auto Accident Attorney
From our perspective, Amica is not a difficult company to work with, but it is still an insurance company. So, the comparison is clearly relative. If you are not prepared and do not have an experienced auto accident lawyer, there is no doubt that you will be taken advantage of. Our office has handled countless claims against Amica Insurance and is in a position to advise our clients in order to maximize their recovery. Our attorney's fees are based on a contingency or a percentage of the settlement. If no recovery is made, you do not owe us anything. Therefore, there is no risk to open a claim. If you have questions or issues about how Amica Insurance is handling a claim, please contact us for a free consultation.