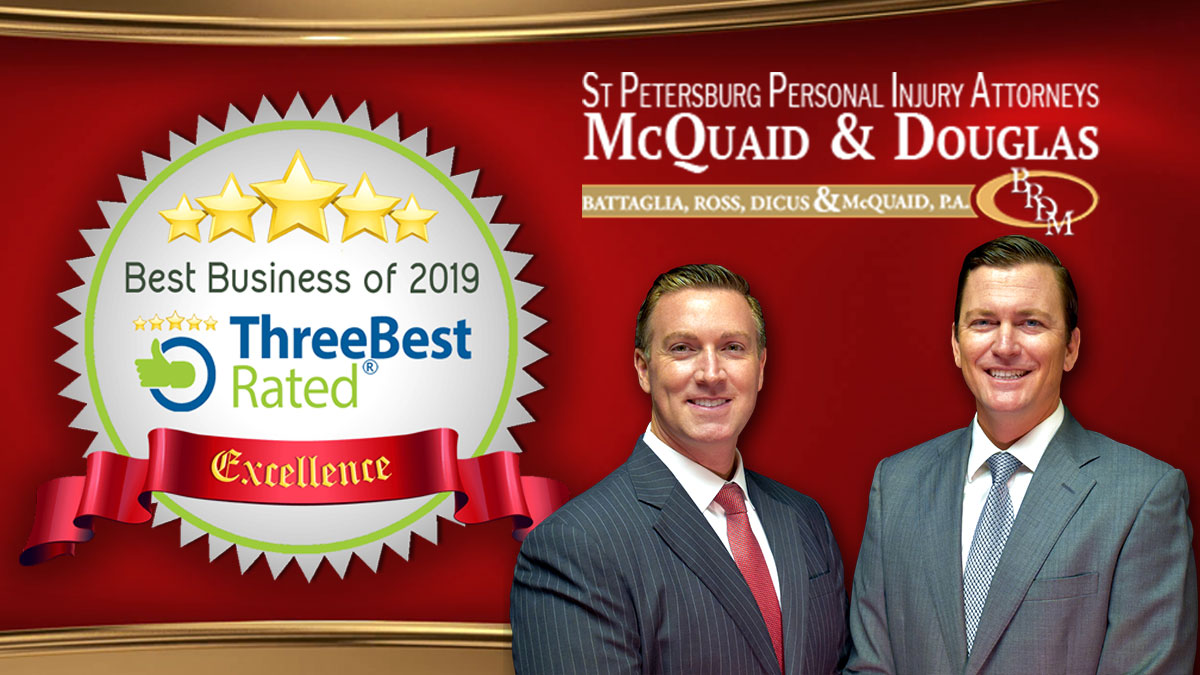 St Petersburg Personal Injury Attorneys McQuaid & Douglas have been awarded Best Personal Injury Lawyers in St. Petersburg, FL for the second year in a row!
Sean McQuaid and Jonathon Douglas have been selected for the "Top 3 Personal Injury Lawyers in St. Petersburg" by ThreeBestRated.com® for 2019. They previously received this award in 2018. This honor is based in part upon Sean and Jonathon's repeated success in handling car accident, truck accident, motorcycle accident and other personal injury claims. Additionally, Sean and Jonathon have 55 five star reviews on Google and countless of other flattering reviews on Facebook and Yelp. Sean and Jonathon are dedicated to personal attention for their personal injury clients.
Jonathon and Sean have developed a successful personal injury practice in St. Petersburg. They pride themselves on having great communication with their clients. They answer all questions in a straightforward manner. They look out for their clients' best interests and always protect them. The most common area that clients do not understand is the payment of medical bills. Sean and Jonathon make sure that the medical bills are repaid out of the settlement and the client never is responsible to pay anything out of pocket. This team of successful lawyers has contributed greatly to the legal community. If you have been injured due to no fault of your own, please contact them for a free consultation.
About Three Best Rated®
Three Best Rated® was created with the simple goal of finding the top 3 local businesses, professionals, restaurants, health care providers, and everything in-between, in any city. Every business is meticulously handpicked by our employees. We check business's reputation, history, complaints, ratings, proximity, satisfaction, trust, cost, general excellence, reviews, and more, using our 50-Point Inspection. We only display businesses that are verified by our employees. Other places will call this "hard work" and "unnecessary". We call it "due diligence" and "the right thing to do".
View the listing of their Top 3 Personal Injury Lawyers in St. Pete at https://threebestrated.com/personal-injury-lawyers-in-st-petersburg-fl