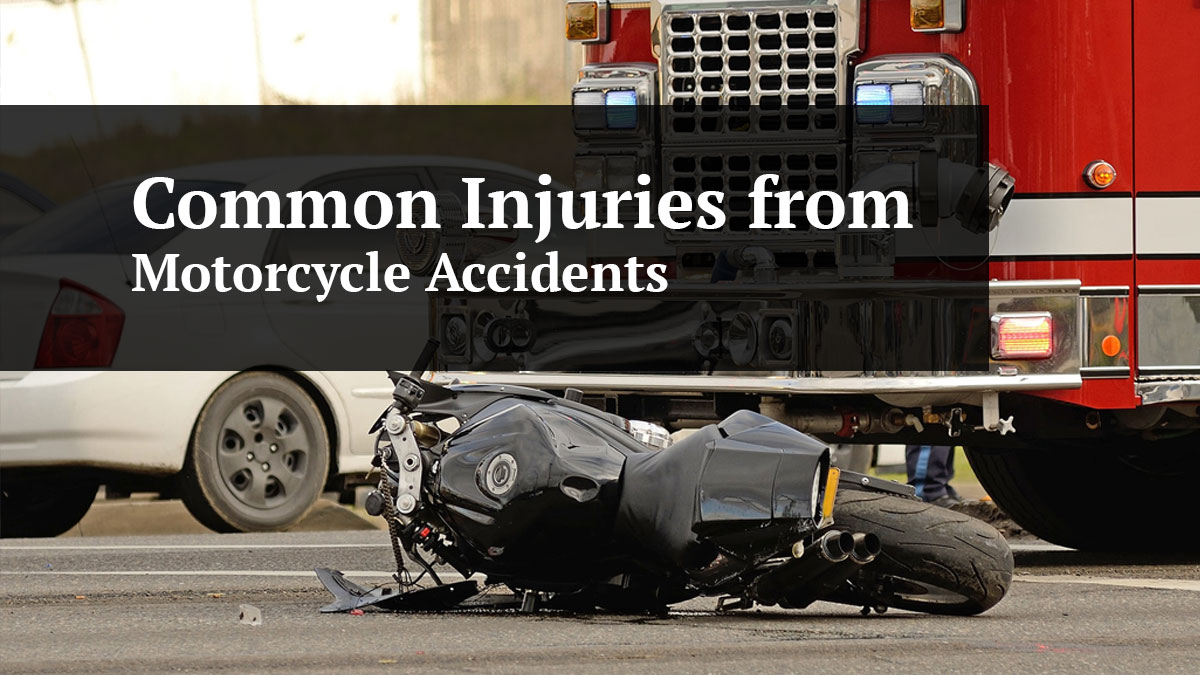 Back and neck injuries are the most common physical ailments from motorcycle accidents. While road rash, broken bones, and head injuries are all possible, it seems that in virtually every motorcycle crash, the head or neck is somehow compromised due to the impact. As a motorcycle accident attorney, I see my clients experience disc injuries in the cervical (neck), thoracic (upper back), and lumbar (mid to lower back) regions.
Back and Neck Injuries
A motorcycle accident that causes a spinal cord injury to the back or neck disrupts the spinal nerves causing painful symptoms. If you have a spinal cord injury to the neck or back, common symptoms are numbness, loss of range of motion and loss of control over that area of your body. In order to treat these injuries obtaining an MRI or X-ray to assess the level of damage is the first step. Once the extent of the injury is known, medical treatment may include chiropractic care, physical therapy, pain management medication, injections, or even surgery.
Spinal cord injuries
As mentioned above, spinal cord injuries after a motorcycle accident are very painful. The injured area may be sensitive to the touch and cause limited movement. The more serious the spinal cord injury, the more likely there is to be blood clotting, pressure sores, and any number of other debilitating conditions. Common spinal cord injuries are fractures, complete separation (also called dislocation) of the vertebrae, or misalignment (also called sublation) of the vertebrae.
Hiring a Motorcycle Accident Lawyer
Hiring an experienced motorcycle accident lawyer immediately is important because spinal cord injuries to the neck and back require serious medical and legal attention. Neck and back injuries can vary greatly in severity from sprains to paralysis, but a spinal cord injury should always be taken seriously because they often have lifelong consequences. At our firm, we immediately investigate each accident claim and work alongside your team of doctors to ensure we have up to date information on your injuries. Motorcycle accidents can happen at any time and while we hope you don't experience this type of trauma, we hope that you are as prepared as you can be if this type of unfortunate event befalls you. Our firm has been representing people injured in motorcycle accidents in St. Petersburg, Pinellas County, and all of Tampa Bay for over 60 years. We are well respected by insurance companies, defense lawyers, and provide an exceptional level of service to our clients during extremely difficult times in their lives. If you or a loved one has experienced a head or neck injury from a motorcycle accident, we would be honored to meet with you for a free consultation to discuss the viability of a claim.
Contact a Motorcycle Accident Injury Attorney
If you or a loved one have been involved in a motorcycle accident, then you should take the proper measures to ensure you receive the compensation you deserve. Contact St. Petersburg Personal Injury Attorneys McQuaid & Douglas today and speak with an attorney. For over 60 years our firm has been successfully helping people who have been injured due to someone else's carelessness. We have been nationally ranked for decades by US News and World Reports as a Tier 1 law firm, which is the highest ranking that can be received. Sean McQuaid and Jonathon Douglas have dedicated their careers to continuing the firms legacy of superior legal representation.
Remember that we never charge a fee, unless we win. Call us today at 727-381-2300 so that we may answer your questions, help you navigate the complexities of insurance claims, and recover the compensation that you deserve.
We work hard to make sure each and every client gets the attention that they deserve. We appreciate feedback from our clients and reviews are validation of our work. Every 5 star review that we receive lets us know that our services were appreciated by our clients.
St. Petersburg Personal Injury Attorneys McQuaid & Douglas
5858 Central Ave suite a
St. Petersburg, FL 33707
(727) 381-2300