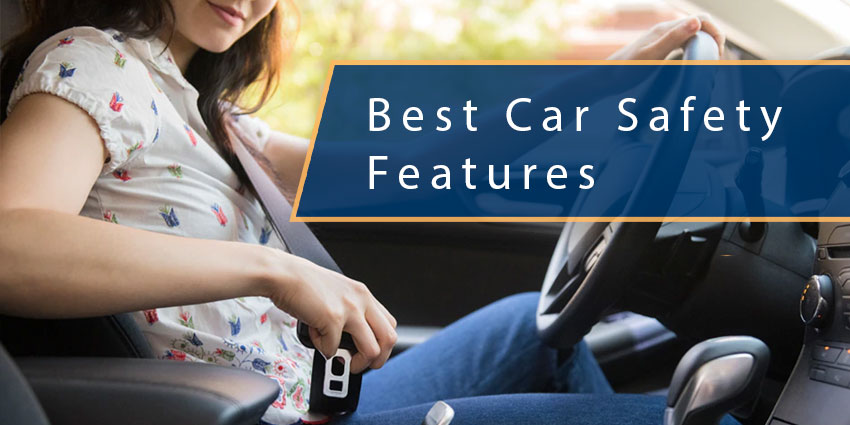 The purpose of car safety features is to reduce the frequency of automobile accidents, as well as minimize the damage and injuries sustained from an accident. The vast majority of accidents are caused by human error. To combat this, auto manufacturers are designing vehicles with various new features that reduce or eliminate human mistakes that might lead to an accident.
In this article, we will provide information on a few of the best car safety features, and some of the newest ones.
Equipment and Technology
Seat Belts
Air Bags
Anti-Lock Brake Systems (ABS)
Electronic Stability Control
Backup Camera
Adaptive Cruise Control
Blind Spot Detection
Emergency Braking Assistance
Seat Belts
Today's seat belts use a three-point restraint system that secures a person in their seat with a belt across the lap and another that crosses the body from the waist to the shoulder. Seatbelts are standard and required in all vehicles today and are a ticketable offense, if not worn properly. Most seat belts today also have a pretensioner, which keeps the seatbelt tight against the body, and locks when the brakes are applied. In Florida, seat belt laws have been in place since 1986, with a revision of the law in 2009. While the statistics for lives saved by wearing a seatbelt are somewhat dated, it is estimated that in the US, in a 5-year period, over 72,000 lives were saved.
Air Bags
Air bags, invented more than 70 years ago, have evolved significantly and have become one of the best safety features in vehicles. The placement of air bags in vehicles has changed to protect passengers better. They provide cushioning against the force of a collision and have proven to vastly improve driver and passenger safety in the event of a crash. Airbags are connected to sensors that will trigger the inflation of the airbag, in milliseconds, in the event of an impact. The use of airbags has been proven to reduce trauma and injury during accidents, but they are designed to be used in conjunction with seatbelt restraints. All new vehicles in the United States must have at least a driver-side front airbag, but side airbags and airbags for passengers are becoming equally as important.
Anti-Lock Brake Systems (ABS)
The Anti-Lock Brake System stops the vehicle's wheels from locking up in the event of hard braking and allows the driver to maintain control of the vehicle and continue to steer. When the wheels lock, the driver is not able to control where the vehicle goes. The ABS consists of sensors on each wheel that communicate to a computer to allow maximum braking while still letting the driver steer.
Electronic Stability Control
The electronic stability control helps to reduce spin-outs and plow-outs. Electronic stability control systems, required in all new cars since September 1, 2011, use automatic computer-controlled braking of wheels to assist you in maintaining control if you begin to lose control of your vehicle. Electronic stability control uses a sensor that works to detect any loss of traction from the vehicle and then reduces the loss of steering control.
Backup Camera
The backup camera consists of a rearview video system that helps prevent accidents and injuries resulting from driving in reverse by showing objects that are directly behind your vehicle, and if an object may be coming into your vehicle's path. Research has shown that a high number of incidents happen not just when someone or something is behind the vehicle, but more often because a person or object was coming into the vehicle's path from a side. Now, rearview video systems, a required safety technology on all new cars since May 1, 2018, show a wider view.
Adaptive Cruise Control
Adaptive cruise control uses radar or lasers to sense the difference between you and the car in front of you and then adjusts your cruise control speed accordingly. This is a great feature for highway driving because if a car suddenly pulls in front of you, your car will automatically adjust its speed.
Blind Spot Detection
Blind spot detection uses either digital cameras or sensors to monitor if there is a vehicle in an adjacent lane. The system, which is offered as standard or optional equipment on many new cars, sends a warning to the driver that it may be unsafe to merge or change lanes.
Emergency Brake Assist
Emergency brake assist is a sensor that recognizes when a driver makes an immediate stop and adds extra pressure to the brakes to reduce stopping time. This safety feature helps a car stop quicker to avoid a collision.
ACCIDENTS STILL HAPPEN
It is important to remember that even a vehicle equipped with the best safety equipment and features can be involved in a car accident. With advanced technology finding its way into our vehicles, that technology is not perfect and can fail. If you or a loved one has been injured in an accident, then you should take the appropriate steps to ensure you receive the compensation you deserve. Contact a trusted, respectable personal injury attorney today.
For over 60 years our firm has been successfully helping people who have been injured due to someone else's carelessness. We have been nationally ranked for decades by US News and World Reports as a Tier 1 law firm, which is the highest rank that can be received. Sean McQuaid and Jonathon Douglas have dedicated their careers to continuing the firm's legacy of superior legal representation.
Remember that we never charge a fee unless we win. Call us today so that we may answer your questions, help you navigate the complexities of insurance claims, and recover the compensation that you deserve.
We work hard to make sure each and every client gets the attention that they deserve. We appreciate feedback from our clients and reviews are validation of our work.
Every 5-star review that we receive lets us know that our services were appreciated by our clients.