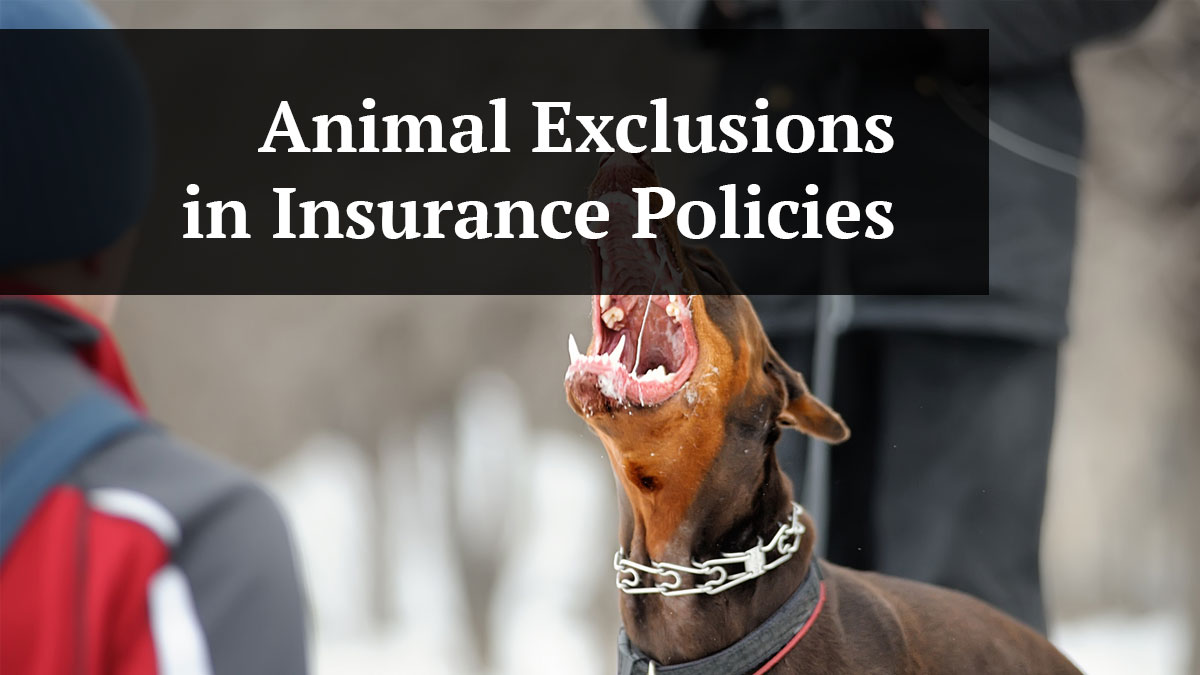 According to reports, approximately one-third of all claims against homeowners insurance policies are a result of injuries sustained from a dog or other animals. Historically, these claims were mostly dog bites because the law imposes strict liability on owners. However, as a personal injury attorney in St. Petersburg, I have personally observed that the majority of dog or animal injuries are not from bites to people. At our firm, we have noticed that most of our clients get injured when they have fallen while trying to stop a dog fight or been tripped by an unrestrained dog.
Most of the injury cases we see from these dog accidents are serious. Broken wrists, hips or back injuries are common due to the awkward nature of the falls. But, what we have also noticed is that there is a growing trend by insurance companies to exclude coverage for these dog or other animal incidents. Quietly, over time, insurance companies have been excluding bodily injury claims "caused by or arising out of any animal." Most homeowners have no idea that they are not covered for these losses and only find out after someone has been hurt by their dog or animal. This means that the homeowner is personally liable for the injuries sustained to the injured person. Imagine the surprise to many of these homeowners who have not been diligent in reviewing their insurance policies.
The good news is that some policies will still provide a small medical payment for those injured by dogs or animals. The typical payment is one to two thousand dollars, so it will help with some medical bills. But, the medical payment will not go very far protecting a homeowner if the injury is severe.
So, the advice for all homeowners is to review your policy and the policy exclusions to protect yourself. If you have been injured by a homeowner's dog or another animal, we can pull the policy information to determine whether there is coverage and answer any questions that you may have while you recover from your injuries. Fortunately, we have found that Citizens Insurance in Florida still provides animal and dog coverage as a standard in their policies. But, many of the smaller and less expensive companies such a Heritage Insurance, do not.
Contact a Dog Bite Injury Attorney
If you or a loved one have been involved in a dog bite, then you should take the proper measures to ensure you receive the compensation you deserve. Contact St. Petersburg Personal Injury Attorneys McQuaid & Douglas today and speak with an attorney. For over 60 years our firm has been successfully helping people who have been injured due to someone else's carelessness. We have been nationally ranked for decades by US News and World Reports as a Tier 1 law firm, which is the highest ranking that can be received. Sean McQuaid and Jonathon Douglas have dedicated their careers to continuing the firms legacy of superior legal representation.
Remember that we never charge a fee, unless we win. Call us today at 727-381-2300 so that we may answer your questions, help you navigate the complexities of insurance claims, and recover the compensation that you deserve.
We work hard to make sure each and every client gets the attention that they deserve. We appreciate feedback from our clients and reviews are validation of our work. Every 5 star review that we receive lets us know that our services were appreciated by our clients.
St. Petersburg Personal Injury Attorneys McQuaid & Douglas
5858 Central Ave suite a
St. Petersburg, FL 33707
(727) 381-2300