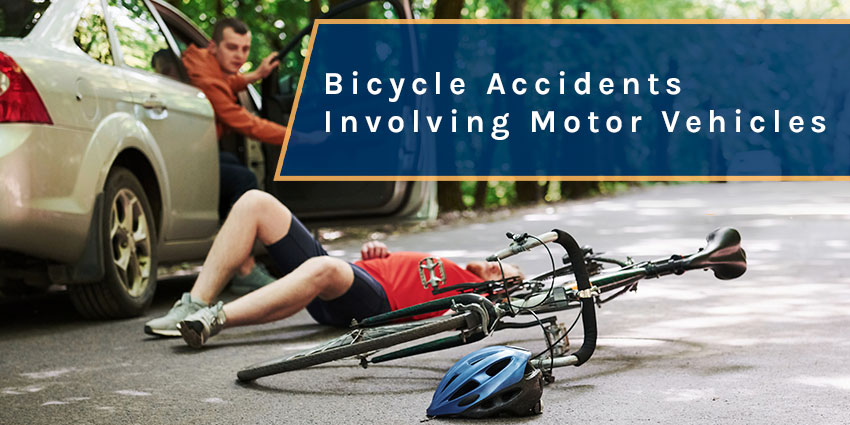 Bicyclists in St. Petersburg are expected to follow the same traffic laws as vehicles and motorists who share the road.
A St. Petersburg bicycle accident attorney can assess your case to help determine liability. Each case has its own unique set of facts so you need a professional who is experienced in handling these particular types of cases.
St. Petersburg Bicyclists Must Follow the Same Laws as Motorists
Even though bikes aren't the same as vehicles, the laws are still similar. Bicycles must follow the same rules that motor vehicle operators follow on the road. For example, they have an obligation to make safe lane changes, yield to pedestrians, stay off of the sidewalks, and obey traffic signs and signals.
Bicycle Accident Statistics
From 2014 to 2021, Florida reported over 600 bike accident fatalities. The National Highway Traffic Safety Administration also published a report with a statistical projected increase of 10.5% in bicycle fatalities for 2022. Florida's national average of bicycle death rates is slightly higher than the US average, at 0.75 per 100,000 people (the national average is .26 per 100,000).
Bicycle accidents are more likely to occur in urban areas where cyclists and motor vehicle operators share the road.
If a bicyclist disobeys traffic signs and signals, they can be held liable for injuries and damages, just like any other motorist sharing the roadways. Just in 2021, Florida reported about 6,399 bicycle accidents, including 79 fatal accidents and over 3,102 reported injuries. These statistics make Florida one of the top states for bicycle fatalities.
In 2021, Pinellas County recorded over 84 pedestrian and bicyclist deaths, making it the most dangerous city in the country for cyclists that year.
Comparative Negligence in St. Petersburg Bicycle Accidents
Florida follows comparative negligence laws which means multiple parties can share fault in an accident. Anyone who operates a motor vehicle or bicycle on the roads of Florida has a duty of care to operate safely and avoid harming others. When operators fail to maintain a reasonable level of caution, they are violating traffic laws and being negligent. Thus, driver or bicyclists negligence means liability and responsibility for covering accident damages.
Determining Liability in a St. Petersburg Bicycle Accident
Determining liability in an accident means establishing fault. This usually requires an investigation unless it's very obvious that one party was at fault (but even then, sometimes an investigation is necessary).
Bicycle riders should ride in the same direction as traffic, stay in their bicycle lanes or as close to the edge of the road as they can, and allow the right of way to other cyclists and pedestrians. Following traffic rules can help avoid accidents.
As a bicyclist, it's important to understand your legal rights and how to protect them after getting injured by a negligent driver. St. Petersburg law provides the same protections to pedestrians and bicyclists as motorists. For example, if a car runs a red light and causes an accident that leaves you injured, you can hold that driver accountable and find them liable for your damages. Likewise, if you run a red light and cause an accident, you might be found liable for any damages that occur in the accident.
Filing a Bicycle Accident Claim in St. Petersburg
If you are injured on your bike because of someone else's negligence or carelessness, you may have grounds for a bicycle accident claim. The concept of "negligence" legally holds drivers and bicyclists to a standard of safe driving. If they drive or operate carelessly, they could be found negligent and therefore responsible for any resulting injuries and damages they caused.
So, the first step to winning money in a bicycle accident claim is proving negligence. Legally, this concept is called "proving liability". Proving liability can become a very complex and debated topic in a bicycle accident claim. If there are no witnesses, it comes down to your word against theirs. Perhaps the driver will claim that you darted out in front of them and they couldn't avoid the accident.
As the injured victim, you carry the burden of proof. That means you need to prove the other party's negligence to establish liability. Then you are entitled to receive compensation for your injuries. Once you can prove liability, your St. Petersburg bicycle accident lawyer will help you recover all damages you're eligible for, including:
Hospital bills
Medical expenses
Lost wages and the cost of any reduced earning potential
Pain and suffering
Loss of enjoyment of life
Working with an experienced lawyer provides numerous advantages that will pay off in the end. First, you'll have a better shot at winning full and fair compensation. They will provide legal counsel to help you avoid common mistakes that people make when filing a personal injury claim. Moreover, they know how to gather all the evidence you need to support your claim and handle insurance adjusters.
Does Insurance Cover Bicycle Accidents?
All drivers in St. Petersburg must carry personal injury protection (PIP) as well as property liability insurance. Being that Florida is a no-fault state, motorists and cyclists usually file a personal injury claim through their own PIP coverage first. It doesn't matter who is at fault. But, if the bicyclist doesn't have PIP coverage, they cannot file a claim for injuries under the driver's insurance.
Now, if a cyclist hits a car, the driver can pursue the bicyclists who are liable for the damages. The driver can also sue the cyclist for property damage if the bicyclist was negligent.
The Most Common Causes of Bicycle Accidents in St. Petersburg
According to statistics from the Florida Department of Highway Safety and Motor Vehicles reports the following factors to be the leading causes of fatal bicycle accidents in St. Petersburg, Florida:
Negligent operation of motor vehicles
Failure to yield to the right of way by drivers and bicyclists
Failure to stay in the proper lane (e.g, bicyclist swerving out of the bike lane, or drivers not staying in their lanes)
Drivers runnin off the roadway and hitting cyclists
Drivers or cyclists running a red light
Getting Your Bike Fixed or Replaced After an Accident in St. Petersburg
Many people's first question following an accident is "How do I get a new bike?" If it was another motorist that hit you, their auto insurance might cover your losses, including a new bicycle or repair costs.
If a pedestrian is at fault, their insurance might cover your damages. For instance, let's say a careless pedestrian walked out into the street in front of you or a vehicle and caused the accident. If they have homeowners insurance, that might be the way to get damage compensation. The same goes for an accident that was caused by a lawnmower or golf cart. Their homeowner's insurance or business insurance policy would be one option for coverage.
Another scenario would be if the accident was caused by a dangerous condition on the street, wherein the responsible party might be the city or other government municipality. Get help from a legal professional who can assess your case to help you determine who is liable and seek damage recovery through all possible avenues.
What Damages Can I Seek After a After a St. Petersburg Bicycle Accident
After getting injured in a bicycle accident caused by a negligent driver or pedestrian, you have the right to seek compensation. Having skilled Legal representation can make all the difference in getting fairly compensated for all your losses. You deserve to get the maximum amount possible to help you recover physically, mentally, emotionally, and financially. A St. Petersburg personal injury attorney may be able to help you get compensation for the following damages:
All medical expenses related to the accident. Any medical treatment and services you require due to accident injuries are subject to recovery. That includes hospitalization, surgeries, medical procedures, physical rehabilitation, occupational therapy, prescriptions, and any other medical bills.
Any future or anticipated medical expenses and on-going medical care, such as in-home care or assisted living
Lost income due to your injuries
Diminished earning capacity
Reduced quality of life due to injuries, scarring and disfigurement, or a permanent disability
Physical pain and suffering
Emotional distress
Any other treatment expenses, including mental health services
Contact an Experienced St. Petersburg Bicycle Accident Lawyer Today
Navigating a bicycle accident claim is not a simple process, especially while you're injured. Contact our attorneys today for skilled legal counsel you need to get the maximum compensation possible. We offer a free initial case review.