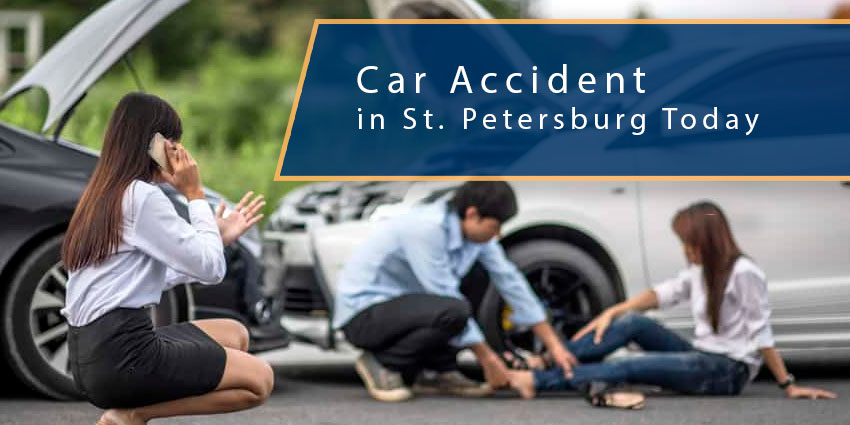 This article is for people who have been involved in a car accident in St. Petersburg today. As a car accident attorney in St. Petersburg, I can help you understand what to expect next. I handle these situations daily, so I have seen it all. If you have been injured, or are just sore or stiff, you will need to start protecting yourself and your family. You weren't prepared for this situation. You didn't want to be in an accident. But, you now are going to have to deal with the reality. There is money to be recovered to help you and your family, so please read the following. If you follow my advice, you will increase your chances of getting through this more successfully.
Steps After a Car Accident in St. Petersburg Today
1) Get Seen by a Doctor
Because the car accident in St. Petersburg was today, if you haven't gone to the hospital or Urgent Care yet, then go tomorrow. If you are in any bit of pain, you must get checked out to start the clock ticking for any potential claim. Your medical bills will be paid through your own no fault insurance (also called PIP), so there is no risk. You have no idea if the pain will go away or get worse, so you will need to be seen by someone. This first treatment is huge in the eyes of the insurance company when they calculate how much your case is worth. I also strongly suggest that you don't go to your primary care or family doctor. They don't know how to handle car accident cases. They will waste your time and mess up your case.
2) Notify Your Insurance Company of the Accident
You have no obligation to speak to the insurance company for the at-fault vehicle about your injuries. But, you want to set up the claim with your own insurance company quickly. You will need a claim number to get your car repaired and to get your medical bills handled. You don't need to go into detail about your injuries, but never tell them that you are fine. Additionally, never give a recorded statement without first speaking to a lawyer.
3) Don't Have Gaps or Delays in Your Medical Treatment
There is never a good reason to wait to see a doctor or to miss appointments. If you don't have transportation, I guarantee that I can find you a doctor who will get you an Uber or Lyft. The insurance companies look to see how serious you take your appointments. If you have gaps, they will argue that you can't be hurt that bad. Don't give them any reason to pay you less than what you deserve.
4) Handle the Vehicle Damage Claim and Rental Car
I encourage you to handle the property damage and rental car issues on your own. I can help, but I don't know the value of your car or where you want your car fixed. There is no reason why you can't handle the damage portion and rental car on your own. If there is a problem with the rental car, I usually can step in to help.
5) Stay Off Social Media
If you have social media, please stay off it or make sure that your settings are private. The insurance companies will look at what you are posting. They will try to spin anything that you do against you. This means that if you go out to eat, don't post photos of you smiling or having a good time. Don't post about vacations or trips. They are looking for any reason to argue that your life has not been affected by the accident, so use common sense.
How to Handle the Insurance Company
When you contact the insurance company after the car accident in St. Petersburg today, you should have your driver's license and the driver's exchange form with you. The driver's exchange form is a long, thin piece of paper that is given to you by the police. It lists all of the information for your insurance company to set up the claim. During your initial call, the insurance company will simply be inputting information into their system and getting you a claim number. After the fact, your claim may be assigned to multiple specialized claim adjusters. For example, if you choose to handle the damage to your car through your own company, you will be assigned a property damage adjuster. Your medical bills will be assigned to a PIP adjuster. And, if you wind up making any further claims against your own insurance company, you will be assigned a bodily injury, or casualty adjuster.
My advice is to always be polite even if the insurance company is frustrating. I know that some of the low level companies like Pearl Holdings, The General, or Dairyland have terrible customer service. Just do your best to be patient. They always pay out the claims, it just takes a lot of effort. If you want our office to step in, we are happy to do so.
How Do You Know if You Should Speak to a Car Accident Lawyer?
If you didn't cause the accident and have any injuries, you should speak to a lawyer. After the car accident in St. Petersburg today, speaking to a lawyer is probably the last thing that you want to do. But, it might be the most important thing that you do. Simply getting a consultation to make sure that you are doing the right thing can be invaluable. It doesn't cost anything to simply reach out to a car accident lawyer for a quick call. There is no pressure to hire that lawyer, so take advantage of the free advice.
When Should You Contact a Car Accident in St. Petersburg Today?
After the car accident in St. Petersburg today, you should speak to a lawyer as soon as possible. The first few days after the car accident are the most important, so time is of the essence. During this time, the claim needs to be set up properly, the accident report obtained, an investigation conducted, and your medical treatment needs to be coordinated. If you try to do all of this on your own, I promise that you will be leaving money on the table at the end of the claim.
How Much Does a Car Accident Lawyer in St. Petersburg Cost?
Car accident lawyers in St. Petersburg all charge in the same way. The agreement is called a contingency. This means that the lawyer is paid a percentage of the money that he/she recovers for you. If the lawyer cannot recover any money, then you don't owe anything. For you, this means that there is no risk to hiring a lawyer. And, because all car accident lawyers charge the same percentage, you are able to hire the best lawyer that you can find. For almost all car accident claims, the percentage charged is one-third, but for claims against the state or a government agency, the fee is lowered to twenty-five percent. The best part about a contingency fee agreement is that you never have to put any money down, make a payment plan, or pay a retainer. The lawyer is basically paid by the car insurance company.
Tips For Your Car Accident Case
Go to the Hospital For Any Serious Injuries
You should always err on the side of caution and get checked out after the car accident in St. Petersburg today. I know that it is time consuming and inconvenient to go to the hospital, but it will be well worth it. The visit will be paid by PIP car insurance. The hospital will also usually write off any outstanding balances. It also will increase the value of your injury claim.
If your injuries do not rise to the level of needing a hospital visit, then go to an Urgent care. The most important thing that you can do to increase the value of your case is to get seen by a doctor immediately. If you don't know where to go, I recommend that you go to St. Anthony's Hospital..
I have found that they provide great medical care and are reasonable with their bills. If you have a serious trauma related incident, then Bayfront Hospital is our choice.
Don't Go See a Family Doctor or General Practitioner
One of the biggest mistakes after a car accident in St. Petersburg is to go to your family or general practice doctor for your injuries. I cannot tell you how many times that I have heard from clients that they called their family doctor, set an appointment up for a few days later, only to have that appointment canceled because the doctor does not handle car accidents. I also have seen these doctors simply prescribe muscle relaxers and tell people that they will be fine with rest. Because these doctors do not specialize in car accident injuries, they do not properly treat people's injuries. They also do not document the injuries for any potential claim. My advice is to find a doctor or a chiropractor who specializes in these specific injuries. They will know how to provide medical treatment, what diagnostic testing is necessary, and will refer you to other medical specialists to help your specific issue. Trust me on this one. If you need a referral, I can help by sending to someone who is both good and convenient.
Keep Track of All Out of Pocket Expenses
All of your out of pocket expenses can be reimbursed by the car insurance companies. There is no reason why you should lose a single penny as a result of the car accident. My advice is to keep track of your receipts. Screenshots of payments are fine too. I have seen that many people lose track of co-pays for medication or even for Uber of Lyft rides. The car insurance will pay for these, you just need to submit the proof.
Take a Lot of Photos
In the world of car accidents, pictures are truly worth a thousand words. I cannot emphasize how important it is to document the damage to the car. If you have any visible injuries, take photos before they heal. These pictures will be used to determine every issue in the car accident claim. They will also directly relate to how much your case is worth. I advise all of my clients to take as many pictures as they can and then to let me decide which ones to use.
Never Tell the Insurance Company That You Are Fine
This piece of advice is mostly common sense, but you would be surprised by how many people say this. I suspect that it is just the way people talk, but it will hurt your case. I have also seen many people who truly have injuries, but think that they will get better. They tell the insurance company that they are fine only to find out later that the injuries aren't healing and that they need medical help. If you have any injury, just tell the insurance company that you are sore or are hurting. Don't try to tough it out. Leave the answer vague so that you don't unintentionally say something that will come back to haunt you.
Do Your Research Before Hiring a Car Accident Lawyer
The biggest decision that you are going to have to make is which car accident lawyer to choose. There are a lot of lawyers in St. Petersburg competing for your case, so please do your homework. Even if you know someone or have a referral, always make sure that you check the person out online. I recommend that you read the lawyer's Google reviews. There are also many websites that rate a lawyer's credentials. If you can't find the lawyer on one of those sites, beware. All of the best car accident lawyers in St. Petersburg have awards and ratings that can be verified. I promise you that a few minutes doing online research can avoid a lot of problems in the future. If you don't feel comfortable with doing the research, ask a friend or family member to help.
Contact A Car Accident Attorney in St. Petersburg
I understand that the car accident in St. Petersburg today has now affected your life. If you would like to speak to me, I am certain that I can help. I know all of the doctors and medical providers and can set you up with the best treatment possible. I know how to help you with your car and the rental car. I will be able to get the accident report quickly and get it over to the insurance company and speed up their investigation. I also will handle all of the communication with the insurance company. I find that my clients do not want to deal with the insurance companies, so we control the flow of information. My clients report that it is a big burden lifted off them once I get involved.
If you have any questions about the car accident in St. Petersburg today, please contact me for a free consultation. There is no pressure to hire me and I will be glad to give you some help. I have handled countless car accident cases in St. Petersburg and I am certain that I will have any answers that you need. Best of luck to you and your family during this difficult time.
This article, Car Accident in St. Petersburg Today, was researched and written by Sean McQuaid. St. Petersburg Personal Injury Attorneys McQuaid & Douglas is the personal injury and car accident division of Battaglia, Ross, Dicus & McQuaid, P.A. Mr. McQuaid is president and managing partner of Battaglia, Ross, Dicus & McQuaid, P.A. He is the former president of the St. Petersburg Bar Association for 2020-21. Mr. McQuaid has been named a Florida Super Lawyer, Florida Trend Legal Elite, and AV rated by Martindale-Hubbell. Mr. McQuaid is a graduate of Princeton University and Stetson College of Law. He has lived and practiced law in St. Petersburg since 1997. He is compassionate and highly competitive in his cases with a tremendous record of success.