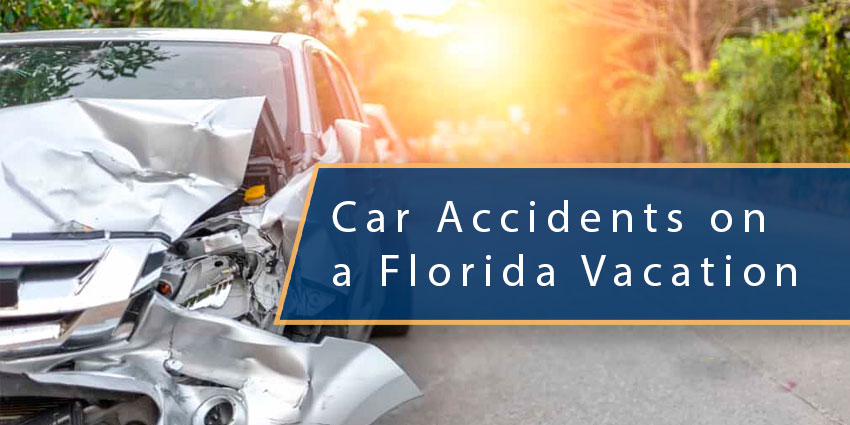 If you have the misfortune of being involved in a car accident while vacationing in Florida, knowing what you should do can help protect your rights to recover the compensation you deserve.
Florida is one of the most popular vacation destinations in the United States, drawing people from all over the world to enjoy the beautiful weather, beaches, amusement parks, natural wonders, and diverse cultures. Unfortunately, the vast number of visitors to the Sunshine State also means Florida has a high number of auto accidents every year. Being involved in a car accident while on vacation adds another dimension to the complexity of recovering financial losses resulting from an auto collision.
Because personal injury laws vary from state to state, you should contact a knowledgeable and respected Florida attorney immediately following a car accident. McQuaid & Douglas will ensure that you understand what you may be entitled to recover, what you can expect to happen in the coming weeks or months, and provide sound, professional advice.
To help you achieve the best possible outcome for your case, here are a few that you should know and do.
1. Call the Police or Local Law Enforcement
If you are involved in a 'significant' car accident in Florida, you are legally required to report the accident to the police. An accident resulting in financial losses of $500 or more is considered 'significant'.
The police officer will complete an official police report, which identifies the parties involved, the location of the accident, relevant details about the scene, and the vehicle involved. The report will also include any witnesses to the accident as well. Police will collect evidence and look for any impairment from those involved in the accident, such as alcohol or drug consumption, that may prove pivotal in your claim. Police officers will listen to statements and include in the record their conclusion as to how the accident occurred. The official police report can be crucial in any personal injury claim.
2. Get Medical Attention
Get care for your injuries as soon as possible. Many victims involved in an accident may initially feel fine, experience little to no pain, and have no visible injuries. However, once the adrenaline from the accident wears off, the pain can come on quickly. It is always wise to be examined by a doctor as soon as possible. Nothing is more important than your health.
Another important reason to get medical care right away is that the insurance company will look at how quickly you sought medical care after the car accident, as they may believe it is an indication of the seriousness of your injuries. Once you start your medical care, it is important that you complete the treatment plan from your doctor and therapists. If you miss appointments and do not complete the recommended treatment plan, it can affect the value of your claim with the insurance company.
3. Collect Evidence from the Scene
It is always a good idea to collect as much evidence as you can after a car accident. Photographs are relied on heavily by insurance adjusters, judges, and juries to determine liability. Be sure to take clear pictures of the accident scene, including the vehicles involved, the surrounding area, crosswalks, and traffic signals and signs. Take pictures from several locations so that you capture different angles of the collision.
Take pictures of your injuries, and when possible, the injuries of any other party involved.
4. Keep Records
It is important to understand that you must provide evidence that supports your claim for damages in order to recover compensation. Evidence is usually demonstrated with photographs and documentation. The following documents are some of the key items you should gather:
All medical-related records, including doctor's appointments, treatments, therapy, medications, surgeries, and hospital visits. Be sure to include the associated bills and insurance statements.
Keep records of how the incident impacts you and your family's daily life, such as missed workdays, and routine activities that you can no longer undertake.
5. Update Your Travel Itinerary
If you have been involved in a serious car accident while on vacation, it is highly likely that your travel plans will be impacted. If you are injured, you may need to change plans to begin preliminary medical care immediately to avoid future injury.
If you must cancel reservations or other travel plans, keep a record of expenses that are incurred as a direct result of the accident. If the other driver is liable, you may be eligible to recoup some or all of these costs.
If you suffered broken bones or other trauma or injury, you should check with the airline to see if they have rules or guidelines related to flying with an injury. For example, some airlines may not allow you to fly within the first 24 hours of having a cast put on because there is a risk of swelling and blood clotting. They may also ask for a release to fly from your doctor.
6. Contact a Personal Injury Attorney
If you have been involved in a car accident in Florida, please do not wait to get the straightforward legal advice you need. Contact McQuaid & Douglas, trusted, respectable personal injury attorneys, who will fight for the full and fair compensation you deserve.
We are here to answer all the questions you may have and explain the options available to you. We will provide you with the best advice for your specific situation, and can even help you find doctors, therapists, rehabilitation services, and counseling for you and your family if needed.
For over 60 years our firm has been successfully helping people who have been injured due to someone else's carelessness. We have been nationally ranked for decades by US News and World Reports as a Tier 1 law firm, which is the highest-ranking that can be received. Sean McQuaid and Jonathon Douglas have dedicated their careers to continuing the firm's legacy of superior legal representation.