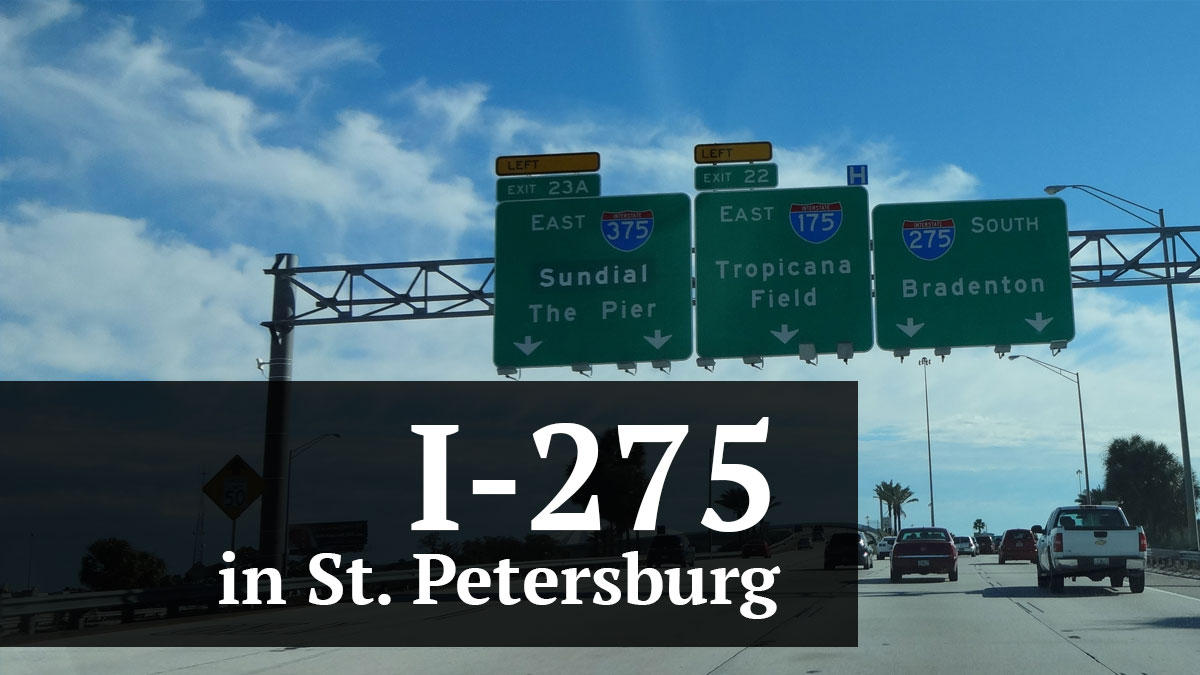 Interstate 275 in St. Petersburg can be a dangerous stretch of road. Although the lanes of travel are flat and straight, except for the downtown area, there are still a number of crashes daily. Most of these accidents are caused by driver error, or in legal terms, negligence. Improper merging, careless driving, distracted driving, and speeding all contribute to regular accidents on I-275 that injure people.
Hazardous Area on Southbound I-275
One area that has caught my attention as a particular hazard is on the Southbound lanes on I-275 just past the Tropicana Field Exit 22. As traffic passes Tropicana field on the left, I-175 and I-275 merge. At this merge point, there are two lanes of traffic on I-275 southbound and one westbound lane of traffic coming from I-175. When it rains, the point where the lanes merge has a tendency to accumulate water and cause cars to lose control. Over the years, I have personally handled multiple accidents on this very stretch of road. I have also seen many crashes on the wet roads simply on my way to the office. The most common cause of car accidents in this area is when cars hydroplane on the built up water on the road. Hydroplaning occurs when there is more water on the road than the tire can separate. The water pressure is forced under the tire causing it to separate from the road and lose traction. Once a tire hydroplanes, the car loses steering, braking and power control. At high speeds, this can be an extremely dangerous problem.
St. Petersburg Personal Injury Attorneys McQuaid & Douglas
At St. Petersburg Personal Injury Attorneys McQuaid & Douglas, we specialize in car accidents on I-275 in St. Petersburg. While we hope that you have not been injured in an accident, the reality is that there are a lot of unsafe drivers on the road and road hazards that make accidents sometimes unavoidable. Should you suffer an injury, this article is written to describe what your next steps should be.
Always Contact Law Enforcement
All car accidents on I-275 in St. Petersburg are under the jurisdiction of the Florida Highway Patrol (FHP). After you call 911 to report the accident, you will be routed to FHP.
It is imperative in every car accident case to report the incident to law enforcement. Having a Trooper investigate the accident and write a report is important to establishing liability and determining contact information for insurance purposes. If you simply exchange information with the other driver, you are at their mercy. Not only will an insurance company automatically assume that you didn't think the accident was serious enough to call the police, but they will not be bound by anything that their insured told you at the scene. Thus, even if the other driver apologized to you at the scene and asked you not to call the police, the insurance company will do their own investigation to determine fault. If the other driver tries to blame you in any manner, you have just lost money. Thus, even in a minor accident, you should always err on the side of caution and call the police.
Document the Accident on I-275
One way that you can help your case while protecting yourself is to document the accident. That means that you should take pictures of the cars at the scene. I also encourage my clients to take pictures of the at-fault driver and any witnesses.
Additionally, you should independently take down the contact information of the other driver and the witnesses. FHP is one of the most notorious agencies for making mistakes in reports. I cannot tell you how many times names, addresses or phone numbers are wrong when I get the accident report. By the time I contact the Trooper about the problem, he usually has discarded his notes and that information is lost. So, getting the names and phone numbers of everyone involved is a way to be prepared for the worst case scenario.
Following the accident, I encourage my clients to take pictures of any visible injuries. Abrasions, cuts, swelling and bruises should be documented. If you have been given a bandage, cast, or even a neck brace, you should have someone take pictures of you in that condition. When it comes to making a demand on the insurance company, these pictures will be valuable to explain what you have gone through.
Seek Immediate Medical Treatment
After the accident on I-275 in St. Petersburg, many people make the mistake by waiting to see if they will get better before seeing a doctor. This is a mistake. If you delay your medical treatment, you will have lost value on your claim because the insurance company will argue that you could not have been that badly injured.
There are two hospitals close to I-275 in St. Petersburg- St. Anthony's Hospital and Bayfront Health. Either hospital is fine to handle your emergency medical care.
If your injuries do not rise to the level of requiring a trip to the hospital, then Urgent Care should be your next option. There are multiple walk-in clinics or Urgent Care centers in St. Pete that can accommodate you. However, I advise to call in advance before you show up. Sometimes these clinics will want you to have an insurance claim number from your insurance company before they will see you.
If for some reason you have not gone to the hospital or to an urgent care, it is imperative that you get in to see a car accident specialist as soon as possible. You simply cannot wait days, it has to be immediate. If you do not know a doctor who specializes in car accident injuries, then feel free to contact our office for a recommendation.
Contact a Car Accident Attorney
If you have been injured in a car accident on I-275 in St. Petersburg, we can help. We have represented countless people successfully that are in your same situation. Although insurance claims can be confusing, we are here to assist and guide you through the process. Our goal is to make the process as smooth as possible, answer your questions, and maximize the recovery in the case. If you have questions about how to start an injury claim, please contact us for a free consultation.