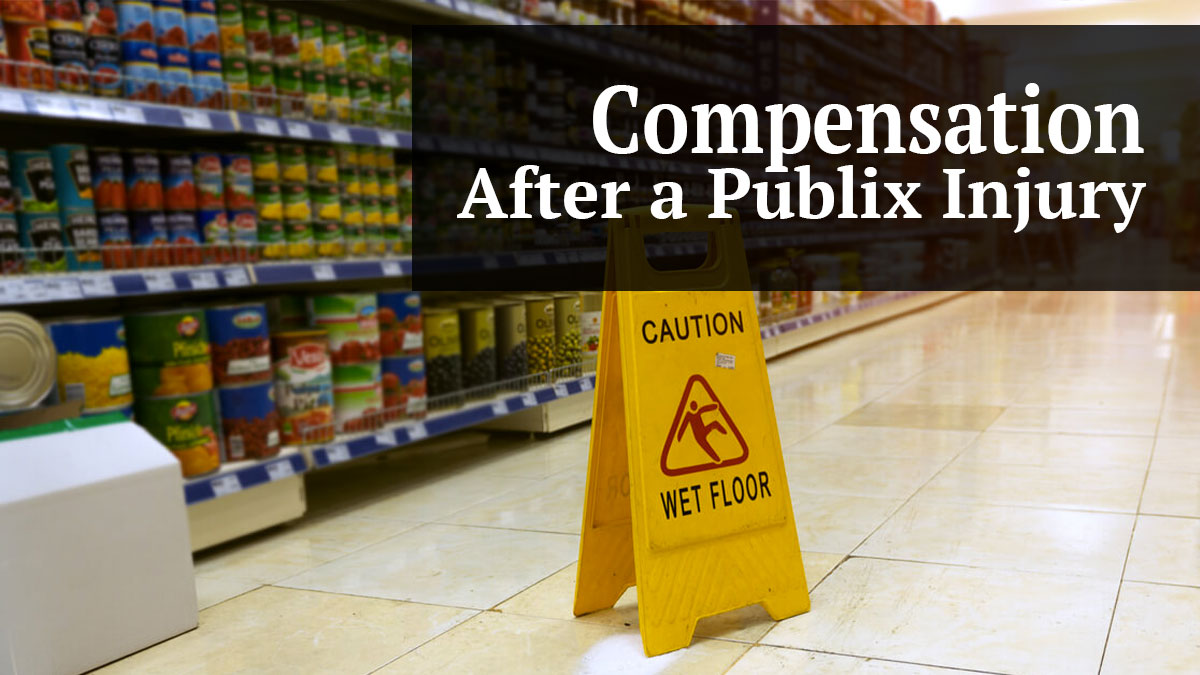 Publix may seem like the last place you would expect to get injured, but it happens more often than you might think. The answer is, yes, you may be able to get compensated for an injury in a Publix store. Here's when you can, and why:
Accidents in Publix Stores
Many Florida residents go to Publix Stores for their grocery shopping. In fact, it is the most popular chain of grocery stores in the state. Grocery stores seem like safe places that we all go to every week. But in reality, like any business, there may be hazards in waiting.
Hazards 'In waiting,' because they shouldn't arise. They should be avoidable, either by being cleared up fast or by providing customers with a clear warning.
It's the duty of a Publix Store owner and staff to ensure you're safe. If you get injured because they didn't do enough to keep you safe, then Publix is to blame – not you.
So even if you feel foolish for slipping on a wet floor, it's not your fault if you weren't clearly warned.
What Can You Be Compensated for After an Injury in a Publix Store?
The good news is, you can receive compensation for your damages with the help of a personal injury attorney. By making a personal injury claim, you could receive financial cover for:
Medical expenses
Rehabilitation costs
Loss of earnings
Loss of future earnings
Pain and suffering
Disfigurement and scarring
And More
What to Do If You've Suffered an Injury in a Publix Store?
Firstly, you should notify the store manager even if you're in pain.
By documenting it, the store can make a record of it so there is evidence and so CCTV footage can be accessed later.
By notifying them, that footage should be preserved.
Don't be embarrassed, even if it seems like a minor or silly injury. You might wake up tomorrow with much worse pain.
You should also take photos of the incident. For example, if you slipped on a fruit – take a photo of the fruit. Or if you tripped on a cable – take a photo of the cable. Or perhaps you cut yourself badly on a sharp piece of metal – take a photo of it. If your clothing was wet from slipping in a puddle of water, take pictures of the wet marks.
Preserve your footwear. Often our clients are accused of wearing worn-out shoes, especially flip flops. By preserving your shoes, you have proof that wasn't the case.
Finally, you should save all receipts, pay stubs, invoices and tax returns since your accident. These can be used to prove your loss of earnings, medical bills and other expenses.
File a Personal Injury Claim
Filing a personal injury claim following an injury in a Publix Store can help you receive the compensation you deserve.
Naturally, you might feel anxious about tackling a large corporation like Publix. It's highly advised that you seek the legal support and expertise of a personal injury attorney.
This is also important as it can be the difference between getting a relatively quick resolution and a stressful, drawn-out lawsuit.
Publix's risk management department cares about its reputation and will try to provide you the coverage you deserve.
Avoiding Low Ball Settlement Offers
Although being greedy is a mistake, so too is accepting a low ball settlement offer. Yes, you might be keen to get your bills paid for fast, but you shouldn't be pressured into less than you deserve.
This was more than an inconvenience to you; this was an injury and stress that you didn't deserve.
We always work to ensure we get more than a low ball settlement offer – making sure you're taken care of and can get back to living. We take care of negotiating with claims adjusters and insurance adjusters too.
You'll Need Evidence for Publix Personal Injury Claims.
Most importantly, you'll need evidence. We'll need to prove that your injury in a Publix store was due to their negligence.
The more evidence we have, the stronger chance we have. Photographs, videos and witness accounts can all help. Thankfully, Publix will have plenty of video footage.
If the injury was caused by a dangerous condition, then you should have been warned (with a sign, for example), or that condition should have been cleared up. If that didn't happen, Publix won't have much to defend with.
Your personal injury attorney will help collect the crucial evidence needed.
Common Types of Publix Injuries
Head injuries
Broken or fractured bones
Hip fractures
Hand injuries
Shoulder injuries
Back injuries
Muscle tears
Cuts and bruises
Common Causes of Publix Injuries
Slips and falls from wet floors
Broken jars and spilled food in aisles
Tripping on cables and products
Uneven pavements, sidewalks and potholes in the parking lot
Poor lighting in or outside the store
How Long Do You Have to Claim Against Publix Injuries?
In Florida, you have four years to sue Publix for its negligence and to make a personal injury claim.
Florida Statute 95.11 states you have four years if the action was founded on negligence. For wrongful deaths, the requirement is to file a claim within two years after the date of death. But, don't wait this long to contact an attorney. If you do, Publix is not going to pay you.
How Much Compensation Could You Receive?
This is a very broad question because all manner of injuries and severity of injuries occur. Simply put, the compensation should be at least the total amount of the damages you've suffered.
But, here's an example. In our experience, Publix risk management adjusters will call you immediately after an accident and try to get you to settle. If you tell them that you went to the hospital, they will offer $2500. If you tell them that you were injured at all, they will offer $1500. They make these offers to you before you or they even know what is wrong with you. It is a ploy to make you take the bait and stop your claim. In every case, we have recovered at least 10x this initial offer. Think about that before you take their offer.
Have You Suffered an Injury in a Publix Store? Contact a Personal Injury Attorney in Florida Today
If you have suffered an injury in a Publix store that wasn't your fault, then you deserve to receive compensation for your suffering and financial losses.
Regardless of the severity, or if you're feeling self-doubt over whose fault it was, contact us today for a free consultation.
Personal Injury Attorneys McQuaid & Douglas have been providing exceptional legal assistance to Florida residents for personal injury claims for decades. As partners at a U.S. News and World ReportsTier 1 Law Firm, Battaglia, Ross, Dicus & McQuaid, P.A., they give you the best chance of receiving the compensation you deserve.