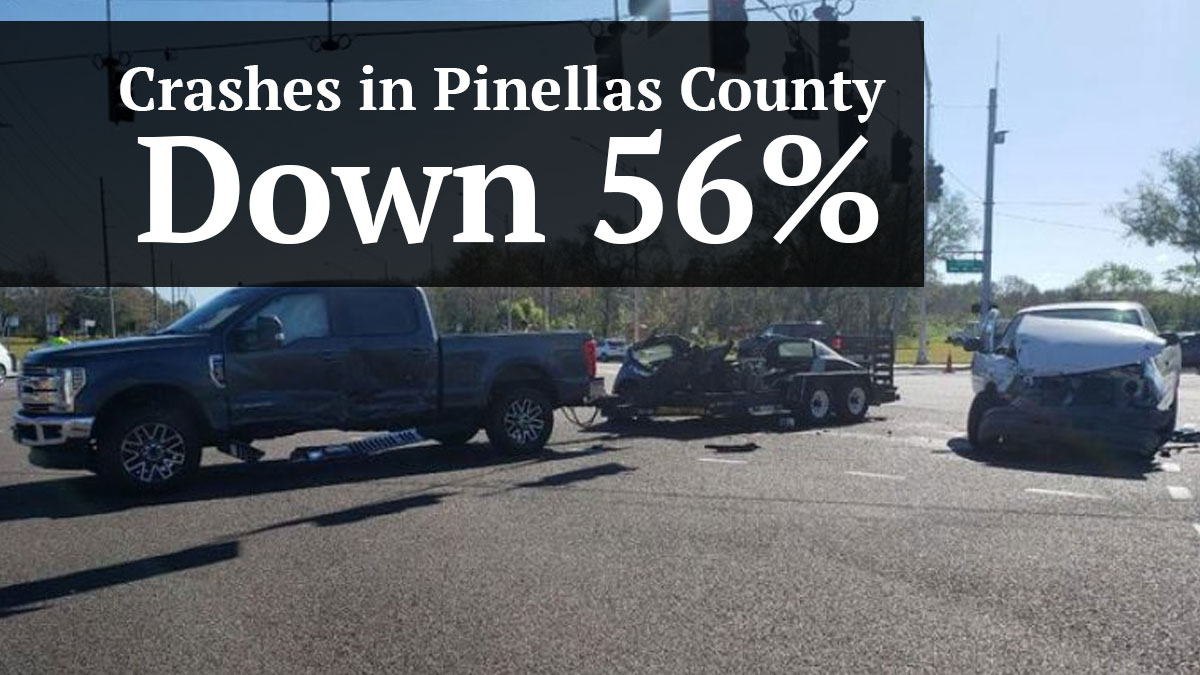 The Coronavirus pandemic has been disastrous for many families and the economy. It has changed us permanently in many ways. But, not all news from the shutdown has been bad. There have been benefits to the environment. There was a general sense of comradery among those suffering from the effects. Many families got to spend time at home with their children. And, crashes that cause injury and death to our citizens in Pinellas County, throughout Tampa Bay and the State of Florida were dramatically down.
According to new data released by the Florida Department of Highway Safety and Motor Vehicles, crashes involving cars, bikes, motorcycles, and pedestrians were cut dramatically in April 2020. Across Florida, drivers were involved in 16,191 crashes. This figure is less than half of the 33,692 crashes that occurred in April 2019. While that means that many people were still injured on our roads, a reduction of that amount certainly was a positive side effect of the stay at home orders across the state.
The data from Tampa Bay was consistent. In Pinellas County, crashes dropped from 1,462 in April 2019 to merely 645, a 56% decrease. In Hillsborough County, crashes dropped from 2,476 to 1,119, a 55% decrease. In Pasco County, crashes dropped from 608 to 359, a 41% drop.
This reduction in car, bike, motorcycle, and pedestrian crashes was certainly mostly due to the stay at home orders. With more people working from home or without a job, there were fewer people commuting and causing heavy traffic patterns. Or, if they had an essential job, they were just driving to their office and back, not stopping to shop or run errands. It also is believed that because bars and restaurants were essentially closed, there were fewer instances of risky behavior such as drinking and driving. Lastly, it is thought that distracted driving was also down. Drivers had less to do during the month, so texting, use of phones, and GPS usage should have been reduced. With more people paying attention to their driving, the chances that an accident occurred were reduced.
Not all data about driving patterns during April was positive. A red light camera vendor collected data that showed that speeding was up by 7%. The rate of red light violations increased by a massive 30%. If you were on the roads in Tampa Bay during April, you likely observed similar driving patterns. Law enforcement did not appear to be patrolling the roads as usual. Because of the openness of the roads due to lack of vehicles, drivers really let loose on the roads. There was almost a feeling of lawlessness on the roads during this time.
It remains to be seen how traffic patterns will affect crashes moving forward. Many businesses are still allowing some, if not all of their employees to continue to work from home. Assuming that these new work habits continue permanently, the reduction in traffic should reduce accidents moving forward.
What Should You Do If You Are Injured in a Car, Bike, Motorcycle or Pedestrian Accident?
The steps that you should take after being in an accident are the same now as they were prior to COVID. While there was a period of time when everything was disrupted, that has passed.
Contact Law Enforcement
There was a period of time during lockdown that law enforcement was not responding to minor incidents. But, that time has passed and things are getting back to normal. If you have been involved in either a pedestrian, bike, motorcycle, or car accident, it needs to be documented. Exchanging information can work, but it does not guarantee anything. Having a law enforcement officer respond to the scene, investigate, and determine fault is key to setting up your ability to recover compensation.
Seek Emergency Medical Care
The next critical step is to seek medical care. During COVID lockdowns, people were afraid to go to the hospital for fear of getting sick. Those fears have now calmed due to the precautions that have been put in place. Therefore, if you need emergency medical care, seek it. A trip to the hospital or Urgent Care is very important to signal to the insurance company that your injuries are serious.
Get Treatment For Your Injuries
If you know a doctor who specializes in car, bike, motorcycle, and pedestrian crash injuries, then seek out medical care with him or her. If you do not know who to seek treatment with, then my office can provide you recommendations. The treatment can begin with a chiropractor or any doctor who specializes in these types of accidents. But, the biggest harm to your case is to delay days or even weeks after the accident to seek treatment. It may sound alarmist, but every day that there is a delay or gap in treatment is lost value/money on your claim. Therefore, getting in quickly to see someone and getting a treatment plan of action in place is extremely important. This fact is a symptom of the insurance claim system where the circumstances of your cases are part of a computer equation. Gaps and delays are counted negatively by the equation and the insurance company will offer you less money. Therefore, I advise all of my clients not to give them an opportunity to make this argument-getting treatment quickly and then following the treatment schedule is all you need to do to maximize the value of your claim.
Contact a Tampa Bay Accident Attorney
At St. Petersburg Personal Injury Attorneys McQuaid & Douglas, we know how difficult the last few months were for residents of Tampa Bay. Our area is mostly a service industry and tourist economy and the stay-at-home order hit families hard. When the tragedy of a crash with an injury is added to the equation, people's lives are thrown into turmoil.
If you or a loved one has been seriously injured in a car accident, bike accident, motorcycle accident, or pedestrian accident, we are here to help. We have a proven track record of success in handling these claims. Currently, we are meeting clients however they feel comfortable. Our office is still open and we are observing social distancing guidelines due to COVID. We are also available for telephone or video consultations. Our consultations are always free and we never pressure anyone into a decision. We wish you safety and good health during this time.
This article talks about a recent post put out by the Tampa Bay Times:
https://www.tampabay.com/news/health/2020/05/30/crashes-are-down-more-than-50-percent-across-tampa-bay-and-florida/