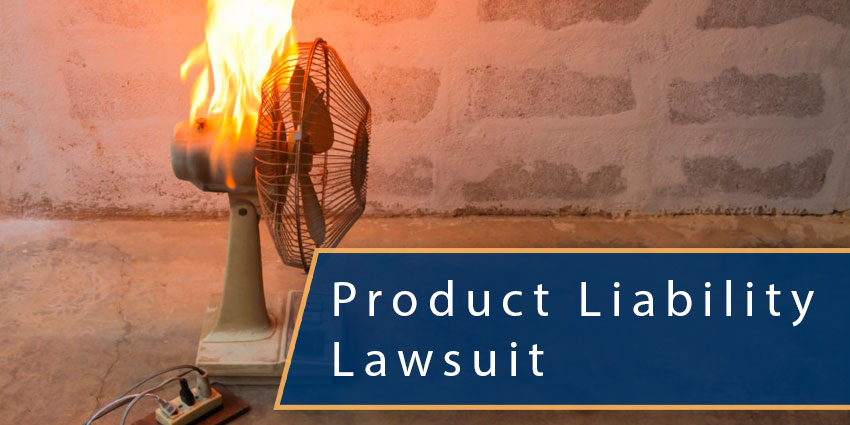 If you've been injured due to a defective product, you may be able to file a product liability lawsuit. Doing so can allow you to recover damages for your injuries.
In this article, we'll help you determine if your injury fits the requirements to file a claim:
What Is a Product Liability Lawsuit?
Product liability lawsuits and product liability claims are types of legal actions taken by an injured consumer against a party responsible for the product defect.
Product liability lawsuits can provide injury victims with compensation for damages, including medical expenses, loss of income and pain or suffering.
The U.S. Consumer Product Safety Commission states that defective products cause over 29 million injuries and 21,400 deaths each year.
Can I Make a Product Liability Claim?
To determine if you can make a product liability claim, you'll need to answer the following questions:
How Were You Injured?
A product liability claim can only be made if the injury was caused by a dangerous or defective product. You cannot make a claim if you used a product in an inappropriate or dangerous manner.
You can make a claim if the injury was caused because:
The product failed or broke.
The product injured you during regular use.
The product's materials injured you or caused a health issue, such as cancer.
The product didn't come with safety warnings that could have prevented your injuries.
The product was advertised for a use that wasn't safe.
Which Type of Product Defect Injured You?
Manufacturing Defect
Manufacturing defects are frequently seen amongst product liability claims. You can make a claim if your injury was caused by a defect in the way the product was built – which may have been triggered by poor workmanship, factory issues or poor materials.
For example, if you suffered a broken hip because a new chair collapsed while in use, then it may have been due to a manufacturing defect.
Manufacturing defects are usually only found in individual models or in batches.
Design Defects
Design defects are caused by mistakes or fundamental flaws in the design process of the product. That means that every product of this model will feature the same defect, which may mean you are one of many other consumers who have been injured.
For example, if a power tool's safety guard wasn't big enough to prevent an injury, then it would likely be due to a design defect.
Failure to Warn Defects
If you were injured while using a product because there weren't adequate warnings on how to use or not use the product, or because there were no warnings about dangerous materials or chemicals, then you may be able to file a personal injury claim.
For example, a medical product may not warn of side effects that cause you serious illness or health issues.
Breach of Warranty Defects
Finally, a breach of warranty defect occurs when a product does not perform as designed or for its stated purpose.
In a breach of warranty situation, you may suffer physical injuries when the product does not perform consistent with the express or implied warranty, despite the product not actually breaking.
How Can I File a Product Liability Claim?
To file a product liability claim, you should first contact an experienced and reputable personal injury attorney. They can help you identify the relevant parties, fill out the required legal documents and take the appropriate legal action. They'll also will help you collect evidence and communicate with the opposing parties on your behalf.
You should take the time to gather any evidence that could support your case, such as:
Photos of your injuries.
Photos of the accident scene.
Photos of the product.
Keep any receipts for the product.
Keep any receipts of related bills and expenses since the accident.
Visit a doctor and keep all doctors' notes.
Who's Liable for My Injuries Caused by a Faulty Product?
If you're filing a product liability lawsuit, you will need to name a defendant,meaning the at fault party(s). In most cases, there will be more than one liable party. You should consider every party involved in the chain of distribution, including:
Design company
Manufacturers
Retailers
Wholesalers and Distributors
Advertisers
More specifically, this may include quality-control engineers, craftsmen, marketing teams, designers, pharmacies, health care professionals, contractors and consultants.
We've seen claims against various sizes of defendants including small independent stores to large, multinational companies.
What Must I Prove to Win a Defective Products Liability Claim?
To win a defective product lawsuit, you will need to present evidence. This may be done in court, but often settlements can be reeached outside of court, with the assistance of a product liability lawyer.
Generally, a product liability lawsuit consists of four elements:
1. You must prove you have been injured by the product.
2. You must prove that the product was defective, lacked sufficient warnings or instructions, or misled you on how to use it safely.
3. You must prove the defect caused the injuries and damages.
4. You were using the product in the manner that it was intended for.
How Long Do I Have to File a Product Liability Lawsuit?
Product liability lawsuit deadlines vary in each state. In Florida, a claim filed under the theory of strict liability or negligence must be made within four years since the cause of action accrues.
However, if you've used a product that has later been revealed to cause illness (such as J&J's talcum powder cancer links) then you should contact a personal injury lawyer as soon as possible as they can help you take legal action to win the compensation you deserve.
What Damages Can I Recover From a Defective Product Lawsuit?
If you've been injured due to a faulty product, you may be able to win the following damages through a personal injury claim:
Economic Damages
Medical Bills (since the date of the accident)
Rehabilitation Costs
Treatment Costs
Lost Wages
Loss of Future Earnings
Childcare Costs
Medical Device and Equipment Costs
Transportation Expenses
Future medical costs
Non-Economic Damages
Loss of Consortium
Depression
Pain and Suffering
Mental Anguish
Scarring or Disfigurement
Long-Term Disability
Contact a Product Liability Lawyer in Florida
If you or a loved one have suffered an injury due to an unsafe product, our Florida product liability lawyers can help.
We will fight aggressively on your behalf to win the compensation you deserve and to get your life back on track.
Free Consultations
Personal Injury Attorneys McQuaid & Douglas have been providing exceptional legal assistance to Florida residents for personal injury claims for decades. Our consultations are compassionate and free of charge.
Personal Injury Attorneys McQuaid & Douglas is the personal injury and wrongful death division of Battaglia, Ross, Dicus & McQuaid, P.A. Our firm was founded in 1958 and is a U.S. News and World Reports Tier 1 Law Firm.
With decades of legal experience and resources, they are equipped to give you the best chance of receiving the compensation you deserve. Serving the state of Florida with offices in St Petersburg and Riverview, they are here for you.