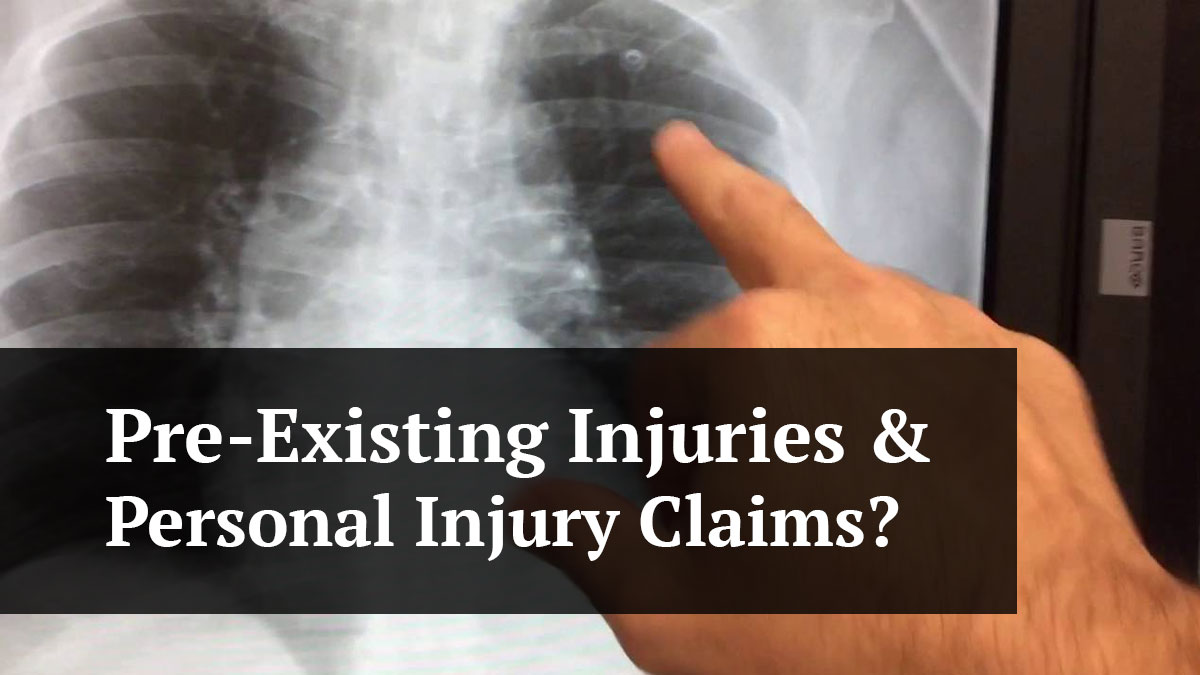 It goes without saying that every personal injury case is different – different facts, different injuries, different insurance companies, and different clients. Our clients come to us from many walks of life with many different pre-existing experiences, and in some cases, many different pre-existing injuries. The term "pre-existing injury" is used to describe an injury which pre-existed the accident for which we are representing our client. Pre-existing injuries can have a huge impact on how an insurance company values a personal injury case, but they do not foreclose making a claim for injury, even if the same part of your body was injured. The purpose of this article is to generally explore the impact pre-existing injuries have on a personal injury claim.
Insurance Companies and Pre-Existing Injuries
One of the insurance company's biggest tricks is to mine your prior medical records for any sign of pre-existing injuries or complaints to the same part of the body that has been injured in a traumatic event such as a car accident or a slip or trip and fall. The insurance companies attempt to use prior medical records to suggest that the injury related to the traumatic event was not actually caused by the traumatic event. This type of argument is called a causation argument. If there are prior medical records suggesting that a pre-existing injury existed to the same area of the body at the time of the traumatic event, then the insurance company will use these prior records in their attempts to devalue the claim. However, a pre-existing injury does not prevent a claim from being successful.
To get around the insurance company's tactics with regard to pre-existing injuries, we endeavor to gather evidence to prove that the traumatic event caused the pre-existing injury to become aggravated. This is easily done if the pre-existing medical records involve imagining studies such as MRI's or X-Ray's. We will have your medical providers perform a before and after comparison of the imaging studies and they will easily be able to see any differences or aggravation caused by the traumatic event.
Another strategy which we can leverage for our clients with pre-existing injuries is to explore whether the traumatic event reactivated an injury which had previously healed or had previously been asymptomatic. This scenario arises when there may have been a shoulder injury, for example, which either healed on its own or was surgically repaired but the recent traumatic event caused this pre-existing injury to re-occur or reactivate.
While insurance companies will do everything they can to attempt to use pre-existing injuries to devalue your claim, knowing how to address and neutralize these arguments are key. Sometimes, the existence of a pre-existing injury is one roadblock which prevents a case from settling during the pre-suit claims process because the insurance company simply won't put enough value on the file. This can be a reason a lawsuit is filed and more work will be necessary to prove to the insurance company that it is in their best interest to resolve the case rather than go to trial. Our experienced team of trial attorneys is ready to help secure the full value to your injury claim – even if there are pre-existing injuries. Contact St. Petersburg Personal Injury Attorneys McQuaid & Douglas for your free consultation.
Contact a Personal Injury Attorney
If you or a loved one have been injured in an accident, then you should take the proper measures to ensure you receive the compensation you deserve. Contact St. Petersburg Personal Injury Attorneys McQuaid & Douglas today and speak with an attorney. For over 60 years our firm has been successfully helping people who have been injured due to someone else's carelessness. We have been nationally ranked for decades by US News and World Reports as a Tier 1 law firm, which is the highest ranking that can be received. Sean McQuaid and Jonathon Douglas have dedicated their careers to continuing the firms legacy of superior legal representation.
Remember that we never charge a fee, unless we win. Call us today at 727-381-2300 so that we may answer your questions, help you navigate the complexities of insurance claims, and recover the compensation that you deserve.
We work hard to make sure each and every client gets the attention that they deserve. We appreciate feedback from our clients and reviews are validation of our work. Every 5-star review that we receive lets us know that our services were appreciated by our clients.
St. Petersburg Personal Injury Attorneys McQuaid & Douglas
5858 Central Ave suite a, St. Petersburg, FL (727) 381-2300
5 out of 5 based on 20 reviews
Sean McQuaid and Jonathon Douglas were voted best personal injury attorneys in Saint Petersburg, Florida for 2019.