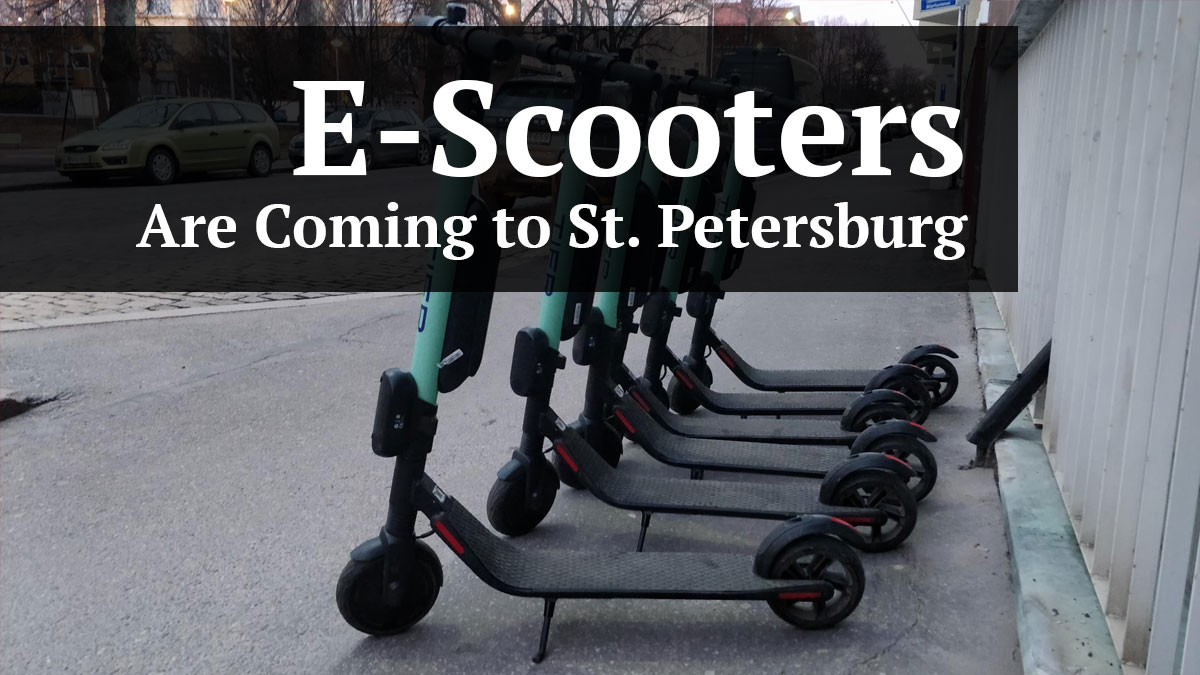 The City of St. Petersburg announced that it plans on bringing electric scooters (e-scooters) downtown by the fall of 2019. If you have noticed the e-scooter program implemented in Tampa, you likely have realized how city transportation is being transformed. You also may have recognized the risk of accidents between scooters, pedestrians and cars.
This e-scooter revolution has been supported by the Florida Legislature's passage of House Bill 453. On June 18, 2019, Governor DeSantis signed the bill into law. Now codified in Florida Statute 316.2128, e-scooters are now given the same rights as bicycles. This new law means that e-scooters can be operated on roads throughout Florida. Cities such as St. Petersburg have taken note and are actively working on ways to implement an e-scooter program.
Tentative Plans for St. Petersburg's E-Scooter Program
Much of the details for St. Petersburg's e-scooter program was learned from interviews conducted with the Tampa Bay Times. According to the article, St. Petersburg is drafting an ordinance to regulate the use of scooters and is seeking bids from scooter companies. St. Petersburg City Council will ultimately decide the guidelines for this scooter program.
E-Scooter Safety Risks in St. Petersburg
According to City representatives, e-scooters will be banned from sidewalks in St. Petersburg. This ban is due to the number of sidewalk cafes and how busy the sidewalks are downtown. This means that scooters will be operated on the roads and in bicycle lanes.
Another issue is whether helmets will be required. Right now, there are no plans to require scooter operators to wear helmets.
Scooters do not need to be insured or registered. Thus, whether there is insurance available to compensate for property damage or injuries is still being determined. It would seem that the same insurance guidelines as bicycles would apply.
Speed will also be an issue. While the scooters are permitted by the new Florida Statute to travel up to 20 mph, it is likely that St. Petersburg will limit the speed to 15 mph.
E-Scooter injuries and accidents related to scooters are obviously a major concern. The City has been monitoring injury and death rates from other cities around the country. As of the date of this article, there has been at least one death to a scooter operator in Tampa. However, St, Petersburg views that case as an aberration and is continuing with its plans.
E-Scooter Accidents
There will inevitably be many accidents involving e-scooters in St. Petersburg. If you have been in downtown Tampa, you have seen the scooters zipping around. You have seen scooters laying on sidewalks. You may have even had to look both ways before simply exiting a business to avoid a collision.
Despite these concerns, scooters are here and their presence will eventually change the way we all navigate. Until that happens, there will be E-Scooter accidents and injuries. Handling the insurance claims for these accidents and trying to determine fault will be complicated. At St. Petersburg Personal Injury Attorneys McQuaid & Douglas, we are committed to untangling these complicated scooter accident issues. We are technologically savvy and able to handle any and all e-scooter accident questions.
Contact a Personal Injury Attorney
If you or a loved one have been injured in an accident, then you should take the proper measures to ensure you receive the compensation you deserve. Contact St. Petersburg Personal Injury Attorneys McQuaid & Douglas today and speak with an attorney. For over 60 years our firm has been successfully helping people who have been injured due to someone else's carelessness. We have been nationally ranked for decades by US News and World Reports as a Tier 1 law firm, which is the highest ranking that can be received. Sean McQuaid and Jonathon Douglas have dedicated their careers to continuing the firms legacy of superior legal representation.
Remember that we never charge a fee, unless we win. Call us today at 727-381-2300 so that we may answer your questions, help you navigate the complexities of insurance claims, and recover the compensation that you deserve.
We work hard to make sure each and every client gets the attention that they deserve. We appreciate feedback from our clients and reviews are validation of our work. Every 5-star review that we receive lets us know that our services were appreciated by our clients.
St. Petersburg Personal Injury Attorneys McQuaid & Douglas
5858 Central Ave suite a, St. Petersburg, FL (727) 381-2300
5 out of 5 based on 20 reviews
Sean McQuaid and Jonathon Douglas were voted best personal injury attorneys in Saint Petersburg, Florida for 2019.