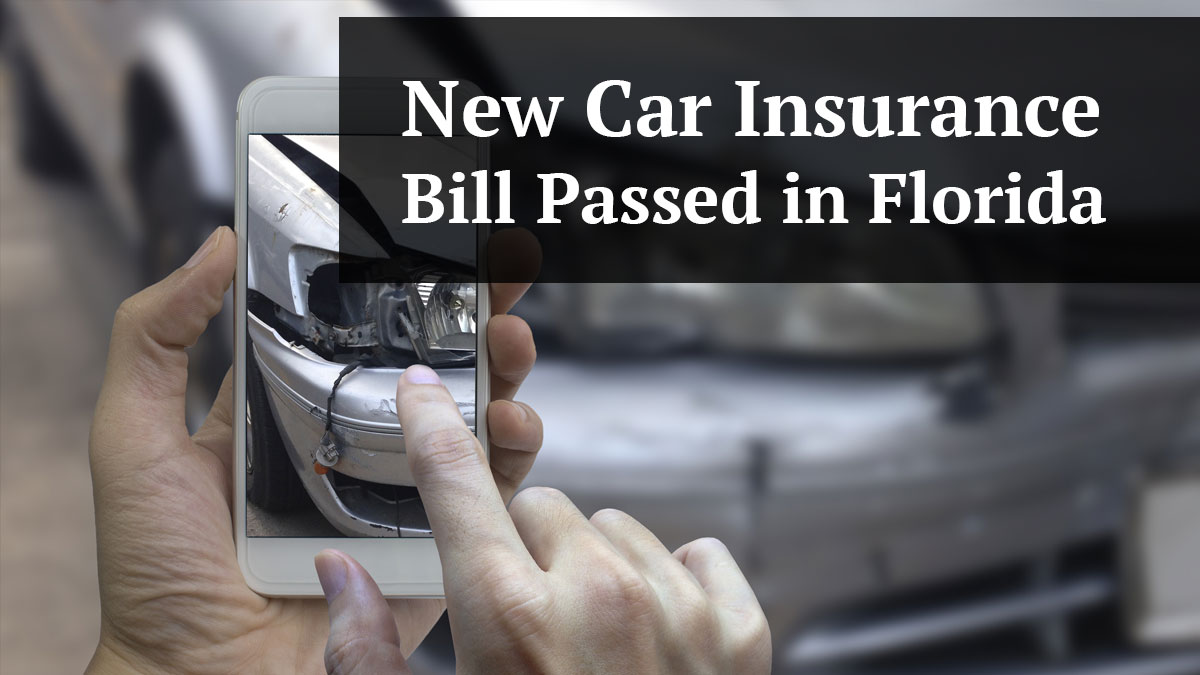 The Florida Senate has voted with a majority of 88-15 to repeal Florida's no-fault car insurance law. The law which required all drivers to carry Personal Injury Protection (PIP) will be replaced by a mandatory $25,000 Bodily-injury liability insurance (BI).
Here's what the new Florida car insurance bill means for Floridian drivers:
What Is the New Florida Car Insurance Bill?
Before the Senate's vote, Florida had a 'no-fault' car insurance law, which required all drivers to carry a $10,000 PIP that covered their own injuries regardless of who was at fault in an auto accident. But PIP didn't cover 'pain and suffering and other non-monetary damages triggered by auto accidents.
Now, from Jan 1. 2022 under Senate Bill 54, drivers are protected through new minimum financial responsibility requirements:
New Requirements for Car Insurance in Florida
The new plan requires all drivers to carry Bodily-injury liability insurance for:
For bodily injury of one person in any accident of $25,000.
AND $50,000 for two or more people in any one accident.
SB54 also:
Retains the existing $10,000 financial responsibility requirement for property damage.
Ends the limitations on recovering pain and suffering damages from PIP insureds, which before required BI that resulted in death and permanent injury.
Medical Payments Coverage Requirement
SB54 will require Medpay with limits of $5,000 or $10,000 – without a deductible to cover medical expenses of those insured.
Insurers can also offer other policy limits over $5,000 and deductibles of up to $500. But the bill requires all insurers to reserve the initial $5,000 of MedPay benefits for 30 days to compensate providers of emergency services or hospital inpatient care.
A New Framework for Florida Car Insurance Bad Faith
SB54 creates a new way to govern claim handling practices of vehicle owners and all third-party bad faith failure to settle actions (related to Florida car insurance claims).
Insurers will now have to follow claims standards based on long-established good faith duties.
This should hopefully prevent auto accident injury victims from being unfairly treated during settlement negotiations and claim handling.
Named Driver Exclusions Now Allowed
SB54 also allows for the exclusion of a named individual in insurance coverages under a private passenger motor vehicle policy – when the written consent of the policyholder is provided.
Why The Change?
On paper, the idea is to decrease rates by increasing the amount of coverage on Florida's road.
Senate President Wilton Simpson (R-Trilby) said, "Florida is one of only two states in the country that does not currently require drivers to carry liability coverage that would immediately kick in if they cause harm to another person while operating a motor vehicle,"
"For everyone's protection, drivers must be insured at sufficient levels. PIP coverage levels are clearly insufficient. It's the right time for Florida to move to mandatory coverage for bodily injury liability."
A Long Sought After Change
The removal of the 'no-fault' requirement has long been pushed for. The idea originated in the 1960s when two Harvard professors proposed to reduce rising insurance premiums.
They argued in their Law Review that if everyone carried insurance to cover themselves, premiums would go down. In 1972, Florida adopted the idea.
Efforts to make change had failed for years as lobbying groups, including trial lawyers and insurance companies, battled against each other.
Rep. Erin Grall, R-Vero Beach said, "You have physicians, medical groups, different entities that survive off of this predatory scheme of reimbursement rates. We have various stakeholders who have been accustomed to this line of payment, which they don't want to let go of."
But now, the bill has been passed after senators crafted a bill that pleased both sides. It was signed in just 39 minutes.
What Does This Mean for Florida Motorists?
These are some of the most sweeping changes to Florida's car insurance laws for nearly 50 years. SB54 means Florida is no longer one of only two states that don't require drivers to hold PIP insurance.
By January 1, 2022, nearly every driver in Florida is likely to have a new insurance policy valid for the new laws.
Lower or Higher Rates?
As you likely know, Florida car insurance costs have gone sky-high in recent years. Although coverage requirements in the State are some of the lowest in the nation, drivers in Florida pay some of the highest average insurance bills (5th in 2015).
It's too early to judge whether these changes will be cheaper for Florida drivers, but a recent study by the State of Florida found claimed drivers could save up to $81 per vehicle.
Many low-income Floridians will likely see rates increase, as they will now be required to carry more insurance.
Some outlets believe rates may go down for most Florida drivers if they already carry BI coverage. Rates may also decrease as the amount of insurance coverage on our roads increases.
Could We See Even Fewer Insured Drivers?
Sen. Jeff Brandes, R-St. Petersburg believes that the bill could have an unintended impact. Currently, one in five drivers in Florida are uninsured. Raising the minimum coverage could result in even fewer insured drivers.
Brandes said, "You can't go home and look your constituents in the eye and say, 'This is going to lower your rates. For your poorest constituents, it may raise their rates 15, 20, 70 percent. We don't know. And that isn't right."
The American Property Casualty Insurance Association, an insurance trade group, states that around 40% of Florida drivers carry insurance below the bill's requirement. The group claims their rates may rise by $165 per year.
Does Colorado Show That Things Could Backfire?
In 2003, Colorado abandoned its no-fault system for MBI. At first, premiums went down. But now Colorado's auto insurance premiums are rising. Fast.
Colorado is now ranked 3rd in the US for rising car insurance premiums, causing an increase in the number of car insurance litigation.
Opponents claim that by eliminating PIP, Florida could see a vast increase in the number of injured by uninsured motorists – citing Colorado as an example of how things could go wrong.
It's worth noting that with over 100 million tourists every year, Florida's roads are full of uninsured or incorrectly insured drivers.
Commissioner David Altmaier (Florida's Insurance Regulator) said earlier this year that he was hesitant to back Florida's car insurance changes, urging that it needed more study.
"We're not convinced those issues will be solved if we repeal PIP," Altmaier said. "It's not just a Florida issue. It's a nationwide issue," he said.
Between 2011 and 2017, the rate of Florida's auto insurance increased by 23%. That's the same rate as the rest of the country – suggesting he may be right.
Florida Auto Accident Facts and Statistics:
In 2020, there were:
340, 552 auto accidents in Florida.
3,328 fatalities from car crashes.
212, 142 injuries.
92,029 hit and run incidents.
264 hit and run fatalities.
20,965 hit and run injuries.
14, 311 accidents in Pinellas County
8,412 injuries in Pinellas County.
Statistics from: Florida Highway Safety and Motor Vehicles.
Auto Accident Attorney in Florida
If you've been in an auto accident and need legal support, regardless of your circumstances, then contact us today. Battaglia, Ross, Dicus & McQuaid, P.A.. has specialized in personal injuries, car insurance disputes and defense for those involved in auto accidents since 1958.
If you have any questions regarding the new SB54 bill and what that means to you, contact us today.