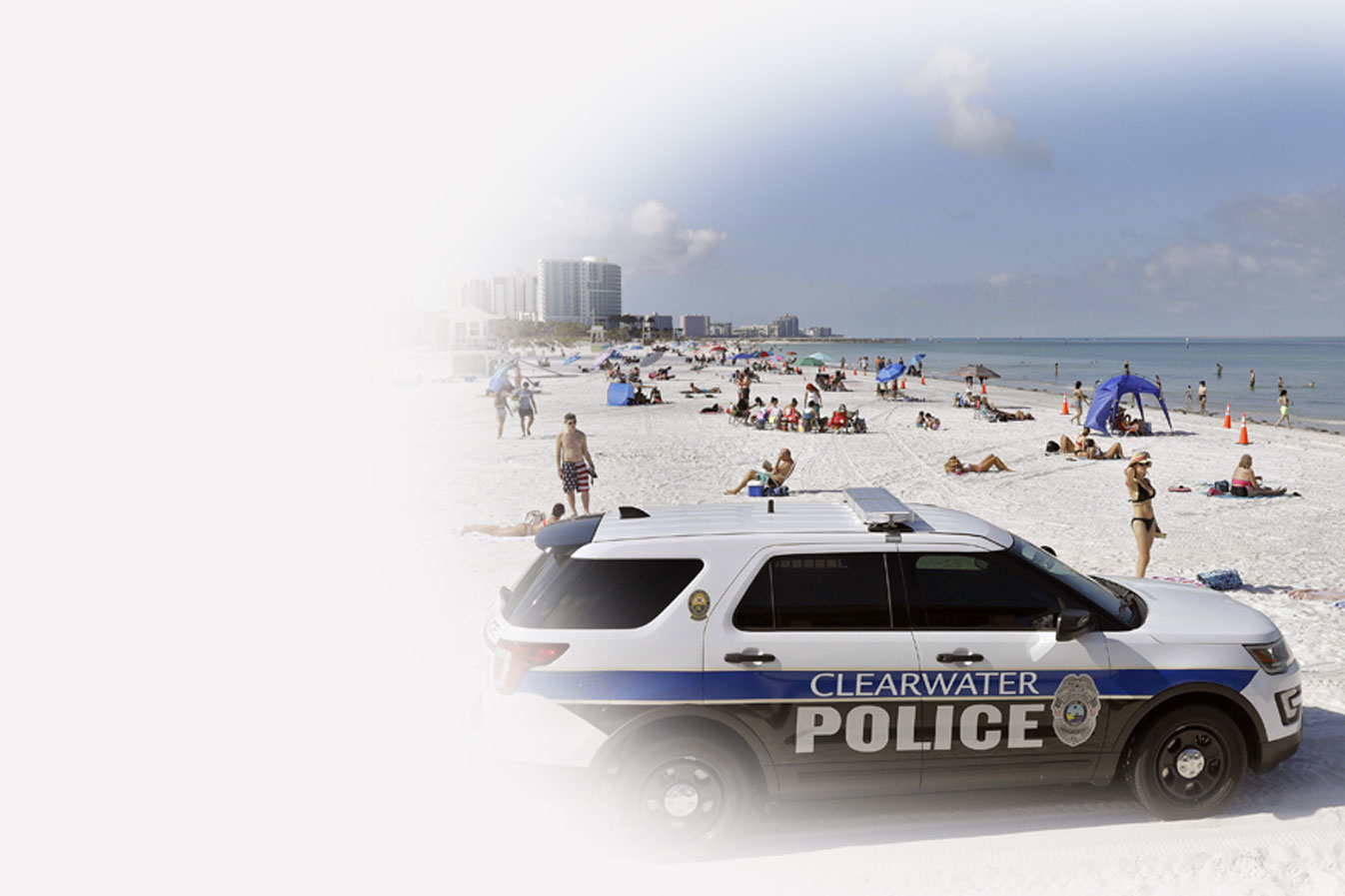 With thousands of miles of coastline and some 600 miles of beaches, Florida is one of the top travel destinations in the World. Nearly 100 million tourists and visitors visit Florida annually. But unfortunately, Florida also has a leading statistic that is quite unfortunate – beachgoers getting run over by automobiles.
Imagine yourself sunbathing on a crowded Florida beach when you suddenly get run over by an SUV. After getting run over or hit by a car, the obvious thing to do is contact law enforcement to file a police report. But what do you do if a Police vehicle hits you? While it sounds inconceivable and unlikely, there have been recent episodes of police vehicles running people over.
Pinellas beach cops have recently had several incidents of running people over, yet they continue beach patrol with scant regulations. Local agencies have responded by saying that officers must drive quickly to respond to calls. However, experts say the large vehicles on the beach come with serious risks. For example, driving in a large SUV limits your line of sight down to the ground, making it harder to see people lying in the sand.
The risks have been more evident in the past two years, with three counts of Pinellas Beach cops running people over. Furthermore, over the past several years, there have been 20 accounts of Florida police on beach patrol running over sunbathers.
Pinellas County Incidents
Two years ago, in May 2020, William Koziarz was enjoying his day at the beach when the unthinkable happened. As Koziarz was lying on the beach listening to music, an Indian Shores police officer on beach patrol ran over him. The officer was driving an Indian Shores Police Department Ford Explorer. Koziarz says that he didn't hear the vehicle coming.
William Koziarz was shocked and confused; despite a sign on the beach prohibiting motorized vehicles, he still got run over by a police vehicle.
Following the incident, Mr. Koziarz spent two weeks in the intensive care unit. He suffered soft tissue separation from bones in several parts of his body. Today, two years later, Koziarz is still having nightmares and dealing with the life-altering consequences of being run over.
His medical bills have totaled $450,000, which doesn't include the ongoing physical therapy he will require for years to come. The 68-year-old now walks with a limp and takes pain medication to manage the pain.
In February, another similar incident occurred when a Clearwater police officer was driving a Ford Explorer on the beach and ran over a man's leg.
And yet another similar incident occurred in May when a Pinellas beach patrol deputy responded to a 911 call. The deputy was driving a Chevrolet Tahoe this time when he ran over a woman's upper back and right side.
A Lack of Agency Policy Reformation
Four law enforcement agencies are primarily responsible for beach patrol in Pinellas County. Those include the sheriff's office, Clearwater police, Treasure Island police, and Indian Shores police.
Despite the accidents involving beach patrol running over patrons, only one of those agencies has changed its policy regarding SUV use on the beach. The Indian Shores police department only adopted the policy after the incident with Koziarz. A local attorney commented on the incidents, "turtle eggs on Florida beaches are better protected than people."
In light of the incident with Koziarz, the Indian Shores Police Department now uses a single-person ATV and a "mule," like an ATV with a flatbed. Additionally, officers are required to go through training to operate the vehicles. The ATVs allow for greater visibility and mobility on the beach compared to SUVs.
However, according to Sheriff Bob Gualtieri, SUVs are still necessary for operational purposes. Relying primarily on ATVs is not practical for the Pinellas County beach patrol, especially while several deputies are on patrol duty at a given time. He continues that SUVs are more efficient for beach patrol and that people want to see a law enforcement presence. However, as long as law enforcement still uses SUVs for beach patrol, the risk of beachgoers getting run over will remain.
Get Legal Help for Your Injuries
People flock to the beaches of Florida to relax and listen to the soothing sounds of the ocean. But some unfortunate, innocent victims have been run over by a vehicle. And while beach patrons getting run over is rare, pedestrian accidents happen every day. The aftermath of getting hit by a car undoubtedly causes shock and trauma for the victim.
Any way you see it, getting run over by a car is horrifying and probably more alarming if the perpetrator is a law enforcement vehicle. No matter what the case, it's best to contact an experienced attorney handling these types of cases. If you were hit or run over by a negligent vehicle operator, contact a Florida personal injury lawyer immediately.
An accident involving police officers or any government entity differs from a normal one. In addition, filing a personal injury claim involving a police officer will be very different from a typical personal injury claim.
Filing a claim or lawsuit against any government entity, like police officers, can be a challenging and complicated process. But you can still seek compensation and hold the negligent parties accountable. Therefore, it's essential to have an experienced personal injury lawyer who understands the law. With proper legal counsel, you can seek maximum compensation for the damages and losses incurred.
Contact a Florida Personal Injury Lawyer
Our Florida personal injury lawyers specialize in representing victims of personal injury claims. Unfortunately, getting run over by an SUV can lead to catastrophic injuries and permanent disabilities. If you were injured due to someone else's negligent actions, you have the right to seek compensation for medical bills and other expenses.
The outcome after being run over can be devastating and change the entire course of your life. While no amount of money can make up for severe injuries or long-term disability, a personal injury lawsuit can help you hold the negligent parties accountable.
We understand how complicated it can be to fight a legal battle while facing injuries, psychological distress, and grieving. That's why we will cater to all of your needs and handle your case from beginning to end. In addition, we'll provide expert legal counsel with the compassion you deserve so you can focus on recovering.
Our attorneys will fight to ensure you receive maximum compensation for your injuries, medical expenses, lost wages due to missed work, pain, suffering, and more. Call our Florida personal injury attorneys today for a free, no-obligation consultation.