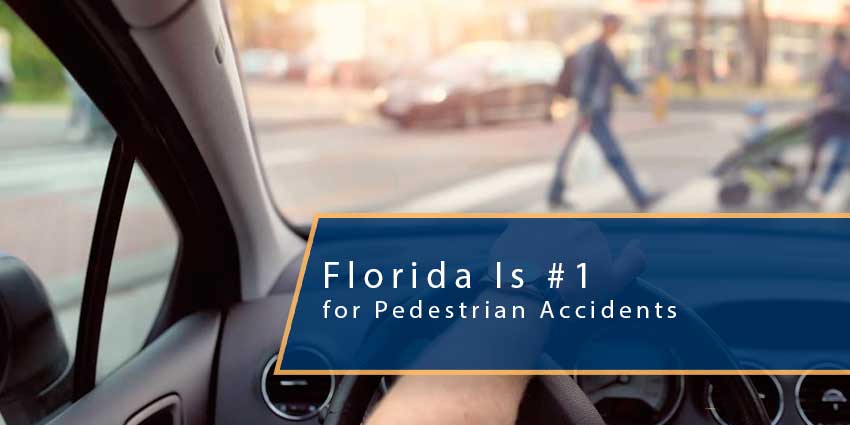 Nowhere in the country is it more unsafe to be a pedestrian than in Florida. Florida was ranked No. 1 for pedestrian accident fatalities in 2021, according to a report from Smart Growth America, a pedestrian-safety organization. Florida has consistently ranked in the top 3 states for pedestrian accidents over the past decade.
Florida Highway Safety and Motor Vehicles Statistic for 2021:
For Hillsborough, Manatee, Pasco, and Pinellas counties
Total Pedestrian Crashes 1,456
Total Pedestrian Injuries 1,165
Total Pedestrian Fatalities 165
For the State of Florida
Total Pedestrian Crashes 9,450
Total Pedestrian Injuries 7,285
Total Pedestrian Fatalities 817
Florida's high percentage of residents between the ages of 50 to 75 is most certainly a contributing factor to the high number of pedestrian/vehicle accidents. Issues with hearing, vision, and/or mobility challenges all increase the risks of being involved in a pedestrian accident.
The same report also showed a higher number of pedestrian fatalities in lower-income neighborhoods. This is attributed to fewer sidewalks, and fewer marked crosswalks and signals – both of which are designed to slower, safer speeds.
Vehicular/pedestrian accidents are most frequently a result of:
Careless or reckless driving
Use of excessive speed
Failure to come to a complete stop
Drinking and driving
Distracted driving
Poor road conditions and road construction
While pedestrian accidents can and do occur anywhere, the most common locations are; in or near intersections and crosswalks, neighborhoods, school zones, and, of course, tourist areas.
All car accidents have the potential to result in serious injuries, but none more so than an accident involving a pedestrian. Without any protection to the body, even the smallest impact from a vehicle can cause significant, even life-changing injuries.
Fla. Stat. § 316.130(15) requires Due Caution and Care toward Pedestrians: This law directs automobile drivers to use due caution and care all the time to avoid any possible collision with them. The rule also demands special care toward children, the disabled, and mobility-challenged individuals.
Everyone on the road is responsible for following traffic laws, whether you are a driver, cyclist, or pedestrian. Pedestrians must walk on sidewalks, wherever there is one present. They must follow all traffic signals, unless directed otherwise by a police officer. And a pedestrian may not enter a crosswalk when a vehicle is legally entering an intersection. Adherence to these laws will determine who is at fault when an accident occurs. Florida's comparative negligence law says that there are degrees to which negligence can be determined. One party may be 100% negligent, or both parties can be negligent to some degree. Even if a pedestrian has some degree of negligence, they may still be entitled to receive compensation for medical expenses, loss of wages, pain and suffering, and other damages as a result of the accident.
If you or a loved one has been involved in a pedestrian accident, it is important that you take the proper and necessary steps to protect your rights.
Contact the Police
Notify the Police of the accident immediately. The police officer will complete an official police report, which identifies the parties involved, the location of the accident, relevant details about the scene, and the vehicle involved. The report will also include any witnesses to the accident as well. Police will collect evidence and look for any impairment from those involved in the accident, such as alcohol or drug consumption, that may prove pivotal in your claim. Police officers will listen to statements and include in the record their conclusion as to how the accident occurred. The official police report can be crucial in any personal injury claim.
Collect Evidence
If you're able to, collecting your own evidence is always advised.
Take pictures of the accident. Be sure the photos clearly show the vehicle, crosswalks, signals, and the surrounding area. Take pictures from different angles of the accident location.
Take pictures of your injuries, and when possible, the injuries of any other party involved.
Obtain contact information from the other people involved and any witnesses to the accident.
Receive Medical Attention
Get care for injuries as soon as possible.
Keep a file with doctor's notes and medical bills.
Keep a journal of any pain or suffering you experience after the accident.
Even if you are not in pain and feel fine, it is always advisable to be examined by a doctor. Many victims involved in pedestrian accidents may initially feel fine or believe they only have a few scrapes and scratches. However, once the adrenaline from the accident wears off, the pain can come on quickly.
What if Someone Has Died in a Pedestrian Accident in Florida?
If someone has been killed in a pedestrian accident in Florida, the surviving family may be able to file a wrongful death claim. Wrongful death claims provide surviving families with damages to help them cover the costs related to the death and for their economic and non-economic suffering in the future.
CONTACT A PERSONAL INJURY ATTORNEY
If you or a loved one has been injured in a pedestrian accident, then you should take the appropriate steps to ensure you receive the compensation you deserve. Contact a trusted, respectable personal injury attorney today.
For over 60 years our firm has been successfully helping people who have been injured due to someone else's carelessness. We have been nationally ranked for decades by US News and World Reports as a Tier 1 law firm, which is the highest-ranking that can be received. Sean McQuaid and Jonathon Douglas have dedicated their careers to continuing the firm's legacy of superior legal representation.
Remember that we never charge a fee unless we win. Call us today so that we may answer your questions, help you navigate the complexities of insurance claims, and recover the compensation that you deserve.
We work hard to make sure each and every client gets the attention that they deserve. We appreciate feedback from our clients and reviews are validation of our work. Every 5-star review that we receive lets us know that our services were appreciated by our clients.