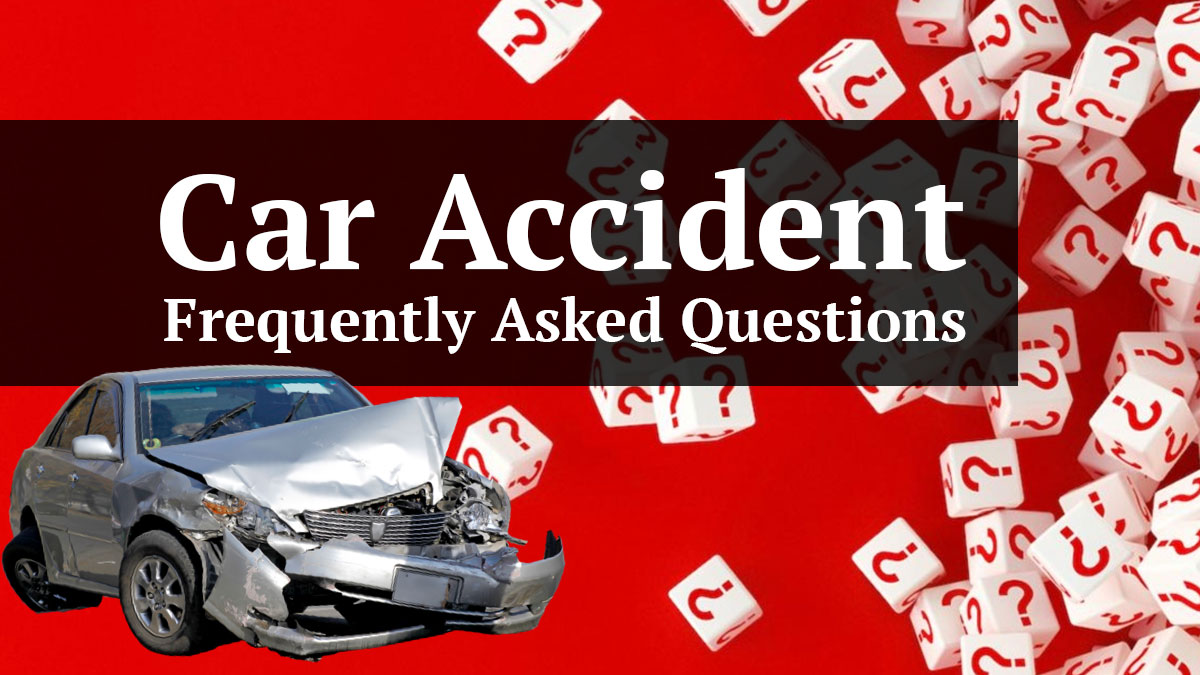 If you are involved in a car accident and suffered injuries in the St. Petersburg or Pinellas County area, it can be a stressful and overwhelming time. You will likely be in pain, without a car, and dealing with the uncertainty of an insurance company. After handling car accident injury cases for decades, I have compiled several frequently asked questions to serve as a quick resource. If you have additional questions after reviewing the following information, please contact St. Petersburg Personal Injury Attorneys McQuaid & Douglas for a free consultation.
When Should I Contact an Attorney After a Car Accident?
After you contact legal authorities and get treated for any potential injuries, contact a car accident attorney. There is a window of time that Florida state law gives victims to file a lawsuit, which is also known as the statute of limitations. This time frame is typically four years from the date of the accident. After this date, the ability to earn compensation can be lost. It is best to contact a car accident attorney as soon as possible so that you are aware of all of your options and do not lose out on being compensated.
Am I Required to File a Police Report After a Car Accident?
It is not legally required to file a police report following a car accident if there are no apparent injuries and property damage is less than $500, but it is always a good idea. You simply cannot rely on the insurance company for the at-fault driver to accept responsibility for causing the car accident.
What Should I Do If Someone Lied on a Car Accident Report?
This can get tricky as determining who is at fault relies on the information that is provided by both parties. Lying about a car accident to police or an insurance company is a criminal offense. Unfortunately, it can be hard to prove that the other party is lying. This is why it is crucial to take pictures of the scene, document, gather information from witnesses, exchange contact information with all parties involved, and file a police report to help provide the most accurate information. This information is used to help determine who is truly at fault.
Am I Required to Provide a Statement to My Insurance Company After a Car Accident?
In most cases after a car accident, your insurance carrier will request a statement from you. If you refuse to speak with them, they may deny your claim. This is based on the contract for car insurance between you and your insurance company. However, it is best to have an attorney present with you when you make a statement.
Am I Required to Speak to the Other Driver's Insurance Company?
After a car accident, you will be contacted by the other driver's insurance company, but you are not required to record a statement with them as their interests do not align with yours. Their goal is to represent their client and minimize costs while your goal is to be compensated the amount that you deserve. If you record a statement with their insurance company, it can be used against you later. Speak with an auto accident attorney who can represent you and speak on your behalf to determine when a recorded statement is necessary.
Should I See a Doctor If I Am Not Injured by a Car Accident?
It is always recommended that you see a doctor if you are involved in an auto accident, even minor ones, to check your health and well-being whether symptoms are present or not. Some symptoms are not present right away and can take hours or days to arise. It is not always easy to spot an injury and often times, we do not think to visit a doctor when nothing feels out of the ordinary. However, it is essential to do so in order to be properly diagnosed. It is best to see a medical professional who can properly diagnose you and determine if you suffered from any injuries.
Can I Still Be Compensated Since Florida is a No-Fault State?
Florida is a no-fault insurance state which means that victims of accidents must try to receive compensation for their medical bills, lost wages, and other out of pocket expenses from their own insurance policy before trying to earn it from other parties. There is a false assumption that because Florida is a no-fault state, other drivers cannot be sued for injuries caused in the accident. This is untrue. A victim of a car accident can still earn compensation from the other driver or from his or her uninsured motorist coverage in the case of a personal injury claim.
Who is At Fault When Someone is Rear Ended in a Car Accident?
In most cases, the driver who hits the back of another vehicle is at fault. In fact, the law presumes that the driver that struck you from behind is at fault for causing the car accident. There are some cases where this does not hold to be true such as the misuse of brakes or causing multiple vehicles to crash. If a driver slams on their brakes and you crash into them, you are likely not at fault. If a driver hits your vehicle pushing it forward and forcing you to hit the back of another vehicle, you are also likely not at fault.
Can I Receive Compensation If the Car Accident Is My Fault?
No. However, because Florida is a no-fault state, every driver is required to carry Personal Injury Protection (PIP) through their insurance. PIP pays the medical bills and lost wages for injuries caused by an accident and your insurance carrier may be responsible to pay your claim up to $10,000. So, while you may not be able to put any money in your pocket, hopefully your medical bills and any lost wages will be covered.
St. Petersburg Car Accident Attorneys
If you have been injured in a car accident, you should contact an attorney as soon as possible regardless of the level of property damage or injury. The first few days after a car accident are the most important to protect and develop the viability of a claim. This is due to the fact that you only have 14 days to start treatment in order to unlock the full $10,000 in PIP benefits. Equally important is finding a medical provider that is experienced in handling car accident claims. If you have any questions about your car accident or the manner in which the insurance company is treating you, then contact our office. Our consultations are always free and there is no obligation. If you believe that you may have a claim, I encourage you to use our experience to your advantage.
Contact a Personal Injury Attorney
If you or a loved one have been injured in an accident, then you should take the proper measures to ensure you receive the compensation you deserve. Contact St. Petersburg Personal Injury Attorneys McQuaid & Douglas today and speak with an attorney. For over 60 years our firm has been successfully helping people who have been injured due to someone else's carelessness. We have been nationally ranked for decades by US News and World Reports as a Tier 1 law firm, which is the highest ranking that can be received. Sean McQuaid and Jonathon Douglas have dedicated their careers to continuing the firms legacy of superior legal representation.
Remember that we never charge a fee, unless we win. Call us today at 727-381-2300 so that we may answer your questions, help you navigate the complexities of insurance claims, and recover the compensation that you deserve.
We work hard to make sure each and every client gets the attention that they deserve. We appreciate feedback from our clients and reviews are validation of our work. Every 5-star review that we receive lets us know that our services were appreciated by our clients.
St. Petersburg Personal Injury Attorneys McQuaid & Douglas
5858 Central Ave suite a, St. Petersburg, FL (727) 381-2300
5 out of 5 based on 20 reviews
Sean McQuaid and Jonathon Douglas were voted best personal injury attorneys in Saint Petersburg, Florida for 2019.