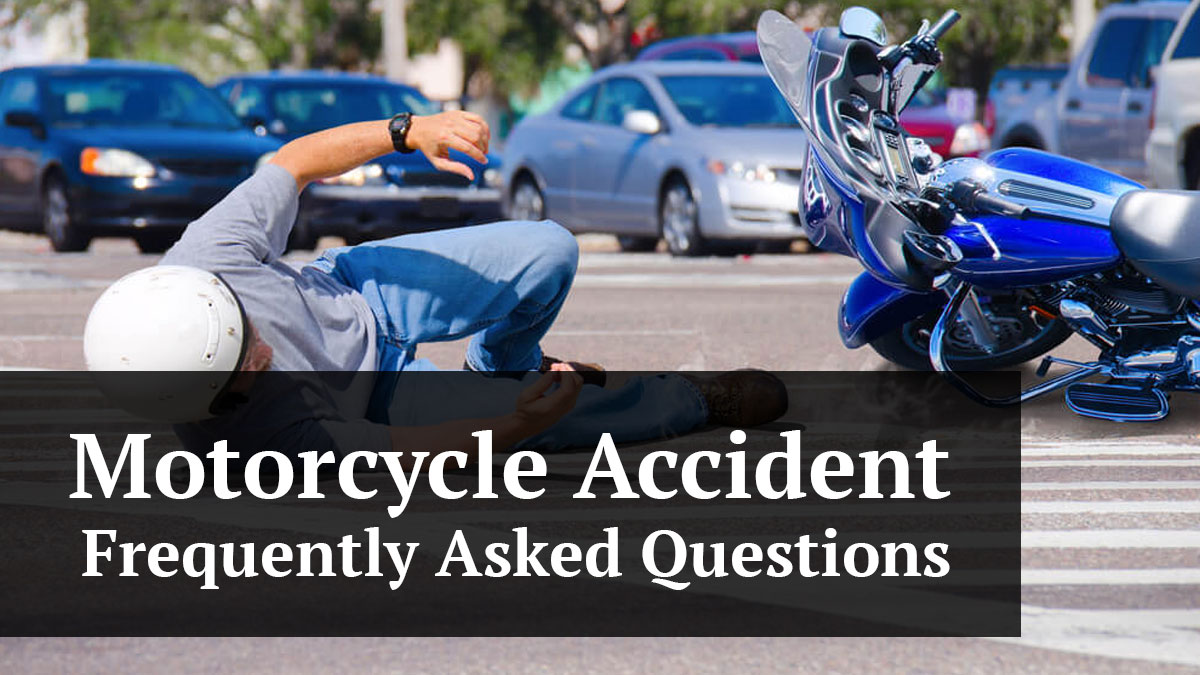 Handling motorcycle accident claims in St. Petersburg for over 20 years, I receive a lot of questions by clients that are common to most cases. In an effort to provide a resource for those injured in motorcycle accidents, I have compiled many of those questions below.
What damages can I receive after a motorcycle accident?
The common types of damages that are recoverable after a motorcycle accident are lost wages, medical bills and pain, and suffering. The damages to your motorcycle will be covered by the at-fault driver's insurance and those issues are normally resolved quickly.
What should I do to protect my claim after a motorcycle accident?
My advice is to always report the motorcycle accident to police. Although you may trust the other driver who caused and admitted to it, that person's insurance company has no obligation to honor their representations to you. I also recommend taking pictures of the locations of the vehicles and the damage at the scene. Furthermore, take pictures of all visible injuries.
Do I have to speak to the at-fault driver's insurance company after a motorcycle accident?
You have no obligation to speak to the other driver's insurance company, but there are circumstances that you will want to do so. If that insurance company is repairing your motorcycle, then you will want to cooperate. Likewise, if they make you an offer because your motorcycle was deemed a total loss, you will also want to be cooperative. When it comes to discussing your injuries, I always advise people to let the motorcycle accident lawyer handle those communications. You are also not required to give the other insurance company a recorded statement if you do not wish to.
What should I tell my Doctor about the motorcycle accident?
It is always wise to give the doctor a full description of how the accident occurred and of your injuries. I tell my clients not to be proud or tough about their injuries to the doctor because if the injury is not noted, the insurance company will not compensate you for it. It is important to describe the incident to your doctor because the insurance company will be checking for any inconsistencies between the doctor's report and the report that the law enforcement officer drafted.
How long do I have to bring a motorcycle accident claim?
The statute of limitations in Florida to bring a motorcycle accident claim is four (4) years. Now, that doesn't mean that you should wait that long to speak to a motorcycle attorney. If you have had significant gaps or delays in treatment, your case will likely be undervalued by the insurance company. But, just because you waited does not mean that your case does not have any value. I advise speaking to a motorcycle accident lawyer to find out the best plan of attack before you decide to abandon a claim.
What is the difference between a car accident and a motorcycle accident?
The main difference between car accidents and motorcycle accidents is the type of insurance that is available to pay for your medical bills. For a car accident, PIP or no-fault benefits are required up to $10,000. For a motorcycle accident, those benefits are not available. Thus, if you are injured after a motorcycle accident, you will have to submit your bills through health insurance or get treated on a letter of protection. (similar to an IOU to the treatment provider)
How much is my motorcycle accident case worth?
The honest answer to this question is that every case is different. However, an experienced motorcycle accident lawyer can generally estimate what the settlement value of the case is worth by looking at factors such as;
the liability for the accident (how it happened)
the severity of the accident
your injuries
your prior medical history of similar injuries
the amount of your medical bills
lost wages
how much insurance is available to pursue
Do I need a lawyer for a motorcycle accident claim?
While you are never required to hire a lawyer to assist you with a motorcycle accident claim, I have yet to meet any layperson who can put together a claim as well as an experienced lawyer. There are so many nuances to a motorcycle claim that most people would never realize. The insurance companies have put up so many roadblocks to the claim handling process, that it really does take someone who has done this in the past.
How much do motorcycle accident lawyer charge?
All fees for motorcycle accident lawyers are on a contingency basis. That means that there is no cost to the client unless money is recovered. The standard fee in Florida is 33% if the claim can be settled without a lawsuit. If a lawsuit is filed, the fee then becomes 40%. Most cases settle before a lawsuit is filed and we always settle cases to ensure that the client is happy with what they are receiving.