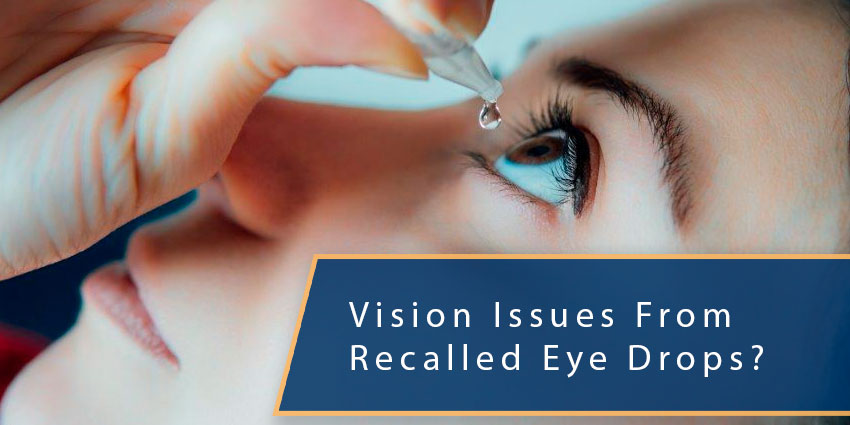 Several brands of eye drops have been recalled after reports of vision loss, eye infection, and death. The CDC has reported 68 cases of infections in over 16 states and three deaths linked to the contaminated eye drops.
The eye drops are said to be tainted with a drug-resistant bacteria, making infected patients hard to treat with antibiotics.
If you are experiencing vision loss or any other long-term damage after using defective eye drops, contact our Florida product liability lawyers now to see how we can help you.
What Eye Drops Were Recalled?
EzriCare and Delsam Pharma's eye drops have been recalled. These eye drops are manufactured by Global Pharma Healthcare and made in India.
Aptoex and Pharamcare USA have also recalled eye drops for sterility concerns but have not yet been linked to any cases of infection or vision loss. Experts say not everyone using eye drops needs to worry – that only those who have used recalled eye drops.
You can visit our page here for more information about the recalled eye drops and why you might need strong legal representation.
How Did the Eye Drops Become Contaminated With a Drug-Resistant Bacteria?
The recalled eye drops were manufactured in India, where the drug-resistant bacteria most likely contaminated the product. The bacteria has previously caused infectious outbreaks and death and is often spread in medical settings.
What Are the Side Effects of Using Defective Eye Drops?
The CDC has reported at least 68 infections, five cases of permanent vision loss, four eye removal surgeries, and three deaths. Symptoms of an eye infection include pain, eye discharge, redness, sensitivity to light, irritation, and itching.
Anyone who experiences unusual symptoms after using artificial tears or eye drops should seek medical attention immediately.
Who Is Liable for Vision Loss Caused by Tricare Eye Drops?
When someone is injured by a defective product, they can hold any of the following parties liable for damages:
Manufacturer
Distributor
Retailer
Designer
That means you can hold the company responsible for manufacturing or selling you the eye drops, or even the clinic that gave them to you.
EzriCare is currently facing a lawsuit due violating FDA regulations for good manufacturing practices. Those violations include inadequate microbial testing and defective packaging. Their eye drops are also preservative-free, which makes them more susceptible to infectious contamination.
Consumer Rights Are Protected by Florida Law
Any person who was harmed by a defective drug or product has the right to file a claim against the manufacturer. Florida's laws provide protections for consumers, who are allowed to seek compensation for their damages. Damages might include medical bills, lost income, and any other inconveniences such as vision loss or vision impairment.
Hire Florida's Top Attorneys To Handle Your Recalled Eye Drops Case
The manufacturing company, Global Pharma Healthcare, did cooperate with FDA recommendations to issue a recall on the eye drops. However, they were still negligent in several ways, which means they probably cannot avoid litigation. The good news for any person injured by their eye drops is that they can hold the company accountable for losses.
While you do have rights as an injured victim, there is a statute of limits in Florida for product liability claims. Therefore, it's in your best interest to contact an attorney as soon as possible.
If you experienced any side effects after using recalled eye drops, including vision loss, blindness, or infections, you may be eligible to file a lawsuit.
Contact us today to schedule your free consultation. Or, for more information about us and how we can help you get compensation for your losses, click here.