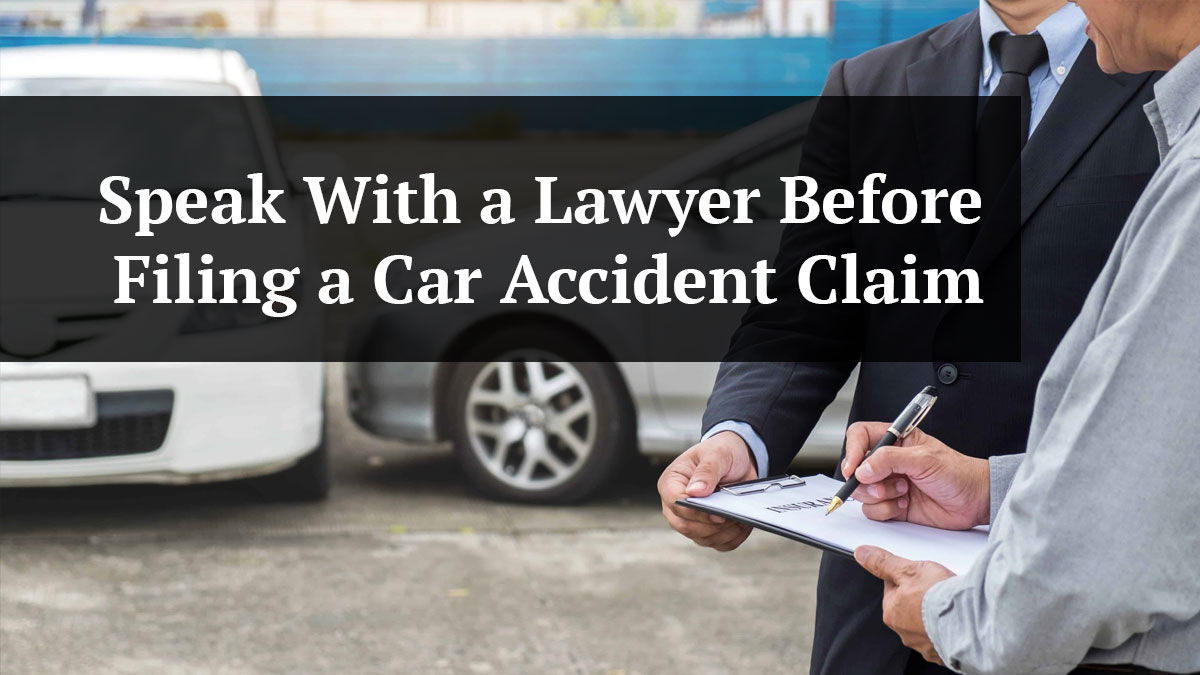 You are never required to hire a lawyer to help you after a car accident. However, if you have been injured by someone else, hiring an experienced car accident lawyer is the only way to ensure that you are not being taken advantage of. The sad truth is that insurance companies pay less to claimants that do not have lawyers. There are many reasons for the lower payments, but it mainly comes down to working the claim and presenting it in a manner that triggers the highest compensation. If you attempt to handle the car accident claim on your own, there is a good chance that you will miss certain factors that the insurance company uses to decide how much money to pay. So, regardless of the extent of the injury, it is always worth it, in the end, to have a lawyer handle the claim.
Why You Should Speak With a Lawyer Before Filing a Car Accident Claim
To recover the money, you will either have to file a claim with the at-fault driver's insurance company, your own insurance company, or perhaps both. While the at-fault driver is responsible to pay for your property damage to your car and your injuries, your own car insurance policy pays your medical bills up to $10,000. This is also called PIP, or no-fault insurance.
While you are required to cooperate with your own insurance company after a car accident, you have no obligation to speak to the at-fault company. Many unrepresented people give recorded statements to the at-fault company and it negatively affects the claim immediately. If you are too cooperative or downplay the severity of the injury, the insurance company will use that recorded statement against you for the rest of the case. Even if you do not agree for the conversation to be recorded, be certain that the insurance adjuster has made notes that are entered into your file. Depending on what you say, these statements also will be used against you when they evaluate your claim and injury payment. In some situations, the at-fault insurance company is the same company as your own! We have seen this more frequently with Geico. Since so many drivers in St. Petersburg and in Tampa Bay have switched to Geico, it is actually fairly common that both parties will be insured by them. In this circumstance, it can be confusing about which adjuster you have to cooperate with. However, at the end of the day, you are still going to have to give a statement, so having a car accident lawyer with you is always the best idea.
If You Do Not Have a Lawyer for Your Car Accident Claim, the Insurance Company Can Use Your Words Against You
If you try to make a car accident claim on your own, every word that you make or submit is going to be used against you. I have had many clients come to me after trying to settle a claim on their own and after numerous calls, faxes or emails to the adjuster. Every time you send something in writing to the insurance company, that writing becomes evidence. Rest assured, if the case cannot be settled, those writings will be picked apart by an insurance company lawyer and used to undermine your claim.
To the contrary, if a car accident lawyer submits the correspondence to the insurance company, it is not admissible and cannot be used against you. So, this is a major factor that should be considered by anyone trying to make a claim on their own.
A Lawyer Helps You Figure Out What Your Damages Are
Unless you have extensive experience in the injury claims world, there is no way that a layperson accurately knows what their damages are. While there is no exact formula, an experienced car accident lawyer can predict the range of the case's value and will know when to settle or when to keep fighting. This only comes with experience after handling many car accident claims.
Damages that can be recovered include past and future medical bills, lost wages, and pain and suffering. Most people who do not have experience in the car accident injury field simply do not know how to present these figures accurately and leave money on the table.
Many people incorrectly think that after they are in a car accident, they don't have a valuable claim unless bones were broken. That is simply not how the system is set up. All injuries after a car accident that wasn't your fault have some value. It is up to you and your car accident lawyer to correctly assert the claim. If you have tried and failed at settling your case on your own and you believe you are being taken advantage of, call an experienced car accident lawyer. Consultations are free and there is never any risk to speak to a lawyer. There are many times that I speak to potential clients after a car accident and tell them that it doesn't make sense to hire a lawyer based on the facts that are presented. But, there are also many times that I am shocked by people with extremely valuable injury claims that have no idea how much money they are missing out on. Think of it this way, an insurance company is not going to tell you if they would have paid more to settle your claim. Only a car accident lawyer will truly know if the settlement is fair.
Contact a Personal Injury Attorney
If you or a loved one have been injured in an accident, then you should take the proper measures to ensure you receive the compensation you deserve. Contact St. Petersburg Personal Injury Attorneys McQuaid & Douglas today and speak with an attorney. For over 60 years our firm has been successfully helping people who have been injured due to someone else's carelessness. We have been nationally ranked for decades by US News and World Reports as a Tier 1 law firm, which is the highest ranking that can be received. Sean McQuaid and Jonathon Douglas have dedicated their careers to continuing the firms legacy of superior legal representation.
Remember that we never charge a fee, unless we win. Call us today at 727-381-2300 so that we may answer your questions, help you navigate the complexities of insurance claims, and recover the compensation that you deserve.
We work hard to make sure each and every client gets the attention that they deserve. We appreciate feedback from our clients and reviews are validation of our work. Every 5-star review that we receive lets us know that our services were appreciated by our clients.
St. Petersburg Personal Injury Attorneys McQuaid & Douglas
5858 Central Ave suite a, St. Petersburg, FL (727) 381-2300
5 out of 5 based on 20 reviews
Sean McQuaid and Jonathon Douglas were voted best personal injury attorneys in Saint Petersburg, Florida for 2019.