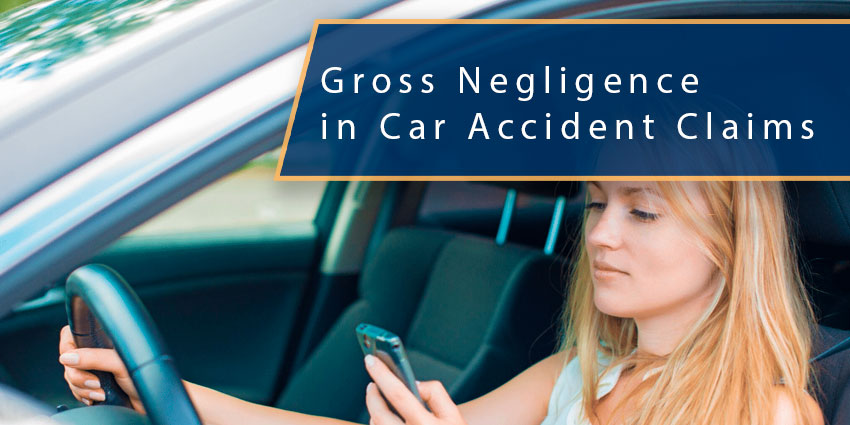 If you have been injured in a car accident in Florida, you may be entitled to compensation from the other party involved. Florida, along with several other states in the US adheres to a "no-fault" insurance practice. "No-fault" simply means that any driver involved in an accident must first file a claim under their personal injury protection policy with their insurance company to receive compensation for damages, including medical bills, lost income, and other financial losses – regardless of fault or liability.
Depending on the circumstances of the accident, proving fault can be very simple and clear-cut. However, frequently determining liability can be more complicated. Fault or liability is primarily determined by the degree of negligence that can be attributed to each party involved.
Negligence generally means careless or inadvertent conduct that results in harm or damage. One can be negligent by failing to do something, such as not coming to a complete stop at an intersection when you do not have the right-of-way, as well as by actively doing something, such as running a red light.
Gross negligence, under Florida Statutes Section 768.72, is defined as "conduct [that] was so reckless or wanting in care that it constituted a conscious disregard or indifference to the life, safety, or rights of persons exposed to such conduct." Gross negligence is a heightened degree of negligence representing an extreme departure from the ordinary standard of care. Gross negligence is defined as willful, wanton, and reckless conduct affecting the life or property of another. Running a red light would be considered negligent, whereas running a red light at high speed while talking on the phone would be gross negligence.
Examples of Gross Negligence in a Car Accident
Drunk driving or driving under the influence is a common example of gross negligence. The presumption is that the driver knowingly made a conscious choice to drink before driving the vehicle. By doing so, it can be claimed that the driver willfully and recklessly acted in a manner that disregarded the safety, life, and rights of other people.
Driving while using a cell phone is another example of gross negligence that has become much more common. How many times each day do you see people on their cell phones, driving down the road or highway engaged in an animated discussion, paying little attention to other drivers, pedestrians, or their surroundings. This disregard for other people is gross negligence.
Speeding and reckless driving may also be determined to be gross negligence. For example, speeding through a school zone. Anyone driving through a posted school zone should have reasonable knowledge and expect children to be present. Using excessive speed driving through an area that is known to have children walking and playing in that area shows a blatant disregard for the life and safety of those children.
Negligence vs. Gross Negligence – Why Does It Matter?
Ok, so now you know the legal difference between negligence and gross negligence. But what does that mean for you? If you are injured and your attorney is able to prove that the other driver was guilty of gross negligence, then the judge or jury can also award punitive damages. Punitive damages are intended to punish the person found to have acted grossly negligent. It's meant to deter actions of gross negligence from occurring in the future. Punitive damages are not awarded in regular negligence cases.
In Florida, there are limitations or caps on the amount of court-ordered punitive damages. One such limitation states that a victim can receive punitive damages that are up to three times the compensatory damages, or you can receive $500,000, whichever is higher. For example, if you were awarded compensatory damages in the amount of $250,000, you could receive no more than $750,000 in punitive damages. If you were awarded compensatory damages in the amount of $150,000, you could receive no more than $500,000 in punitive damages.
The court reviews your case and all available evidence. Based on the evidence presented, a decision will be made if a claim for gross negligence can proceed. Both parties have the opportunity to present arguments for or against the claim for punitive damages. The judge will then decide whether punitive damages can be granted.
Gross negligence is complicated, however, if you believe you have grounds for such a case, you should discuss your situation right away with a personal injury attorney who will help you determine if you should pursue your case. If someone took part in intentional actions that meet the threshold of gross negligence, then they should be held accountable for them. You have rights, and you must seek help to make the best case possible not only for yourself but anyone else who could be hurt by similar actions in the future.
CONTACT A PERSONAL INJURY ATTORNEY
If you or a loved one has been injured in a car accident, then you should take the appropriate steps to ensure you receive the compensation you deserve. Contact a trusted, respectable personal injury attorney today.
For over 60 years our firm has been successfully helping people who have been injured due to someone else's carelessness. We have been nationally ranked for decades by US News and World Reports as a Tier 1 law firm, which is the highest-ranking that can be received. Sean McQuaid and Jonathon Douglas have dedicated their careers to continuing the firm's legacy of superior legal representation.
Remember that we never charge a fee unless we win. Call us today so that we may answer your questions, help you navigate the complexities of insurance claims, and recover the compensation that you deserve.
We work hard to make sure each and every client gets the attention that they deserve. We appreciate feedback from our clients and reviews are validation of our work.
Every 5-star review that we receive lets us know that our services were appreciated by our clients.