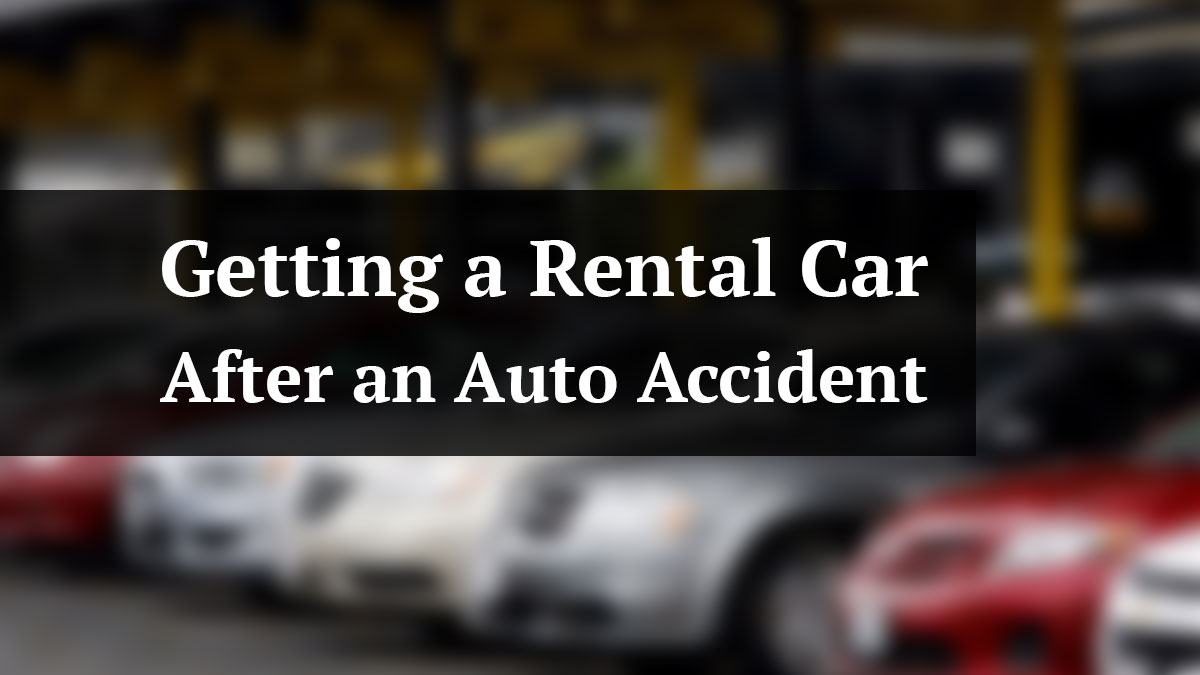 Getting a rental car after an auto accident in Florida can be a challenge. Most people have no idea whether they are eligible for one or even the first step to take to find out. Since insurance companies are normally not very helpful about explaining this process, I created this guide to help people understand what their rights are. Hopefully, this guide can provide the answers you seek and point you in the right direction to getting a rental car after an auto accident.
Step One to Getting a Rental Car After an Auto Accident
Report the Auto Accident and Get a Claim Number
Reporting the auto accident to the insurance company seems like common sense, but every day that you delay is a day that you will not get a rental car. Not only is it wise to get the accident reported, you have a contractual obligation with your own insurance company to report the accident within a reasonable time frame and to cooperate with them. The same is not true with respect to the other insurance company. You have no obligation to speak to them or cooperate with their investigation. That being said, not everyone may be as responsible as you. Not every other driver will report the accident quickly or cooperate the way you would. In these situations, there is nothing wrong with calling the other insurance company and reporting the accident. There is one caveat. If you have been injured by the other driver, do not go into detail about your injuries with the other company unless your lawyer knows and consents to it.
Step Two to Getting a Rental Car After an Auto Accident
Check Your Insurance Policy
Looking at your insurance policy can be confusing. In order to find your rental car insurance coverage, you can either call your insurance company or look it up under your policy. If you look at your policy, go to the Declarations (Dec) page. You can do this on either a paper version or via your app. On the Dec page, it will list all of your coverages. If you have rental car insurance, you may see a note such as 25/750. This means that you have $25 of coverage toward a rental per day for a total of $750. Under this policy example, you would have 30 days of coverage (30 x $25= $750).
Step Three to Getting a Rental Car After an Auto Accident
Fault Must be Determined by the Insurance Companies
This phase is often the most frustrating for people because they know what happened and don't understand why they have to wait. But, determining fault for the accident is a condition precedent to getting a rental car. In other words, the insurance companies will not agree to pay for a rental until after they have conducted an investigation. As you may expect, not every driver is eager to admit fault even if they were in the wrong. That means that the insurance company must wait to interview their insured and review the accident report. Accident reports usually take 7-10 days to become available. And, if there is an open investigation involving serious bodily injury, death, or even a hit and run, it will take even longer. But, once the investigation is complete and the companies decide who is at-fault for the auto accident, you can then proceed to the next step, below.
Step Four to Getting a Rental Car After an Auto Accident
If You Were Found to Be At-Fault for the Auto Accident
Regardless of whether you agree with the decision to find you at-fault, you are stuck with their decision. This decision will likely determine if you get a rental car at all. If you were at-fault for causing the accident, you will have to go through your own insurance company. You will only get the rental car if you had previously purchased rental car insurance on your policy. If you did not, you will have to pay for the rental car out of pocket.
If You Were Not At-Fault for the Auto Accident
If you did not cause the accident, you have more options. If the at-fault driver has property damage coverage (at least $10,000 of coverage is required in Florida) then you can be provided a rental car paid for by that company. If the at-fault driver does not have property damage coverage or the amount of property damage will exceed the policy limits, you can run the rental car through your own insurance policy (if you carry rental car insurance).
What Happens If the Vehicle Can Be Repaired?
If your vehicle can be repaired, then you may get a rental car according to the above analysis about fault and available insurance coverage.
What Happens If the Vehicle Is a Total Loss?
If your vehicle is a total loss, you may get a rental car while the amount of the pay-out is being negotiated. Again, whether you qualify for a rental depends on fault and the available insurance coverage. If you have financed the vehicle or have any other liens on it, the payment must go to satisfy those responsibilities before you receive any money. Lastly, if you owe more than the vehicle is worth, you will only be compensated for the difference if you carry gap insurance. The unfortunate reality is that the insurance companies are only obligated to pay for the value of the vehicle, regardless of how much you may owe.
While you are negotiating the amount of the loss, make sure you do your research on its approximate value. I recommend going to Kelly Blue Book and entering the description of your vehicle. Kelley Blue Book is an excellent resource to accurately and quickly learn values. Additionally, if you have had any recent repairs or have any upgrades to your vehicle, make sure you provide proof to the insurance company. If you leave these items out of your negotiations, you will lose value that you otherwise deserve.
What Type of Rental Car Will I Get?
If you qualify for a rental, you are entitled to a vehicle of a comparable make, model and type as the one you were driving. For example, if you were driving a sedan, you should get a sedan, and so forth. But, if your coverage is limited to a certain dollar amount per day, you are limited to that budget regardless of the type of vehicle you may have been driving at the time of the accident.
How Long Will I Get a Rental Car For?
If your vehicle is being repaired, it is normal to be able to get a rental car while it is in the shop. If the vehicle is a total loss, then they will normally offer you a rental for a certain time. This time is normally 30 days or less.
Will I Have to Pay Anything For the Rental Car?
You usually do not have to pay if the rental car is covered by the insurance company. But, there are many types of policies out there. I cannot guarantee that your insurance coverage does not have some type of limitation or co-pay. You must check your policy or call the insurance company to double check.
As far as what the car rental company may do, they may charge you a deposit. They may also require you to provide a credit card prior to renting the car to you. If you do not have the money for the deposit or a credit card, then you will need to contact the insurance company that is paying for the rental to see if an exception can be made.
St. Petersburg Personal Injury Attorneys McQuaid & Douglas
We hope that this article was informative and that you were not injured in the accident that led to you reading this article about rental car coverage. But, if you were, we specialize in helping people recover compensation when they were injured due to no fault of their own. We handle claims primarily in St. Petersburg, Pinellas County and the greater Tampa Bay area. But, we are licensed and available all throughout the state of Florida. If you have any questions about an injury claim after an auto accident, please contact us for a free consultation.