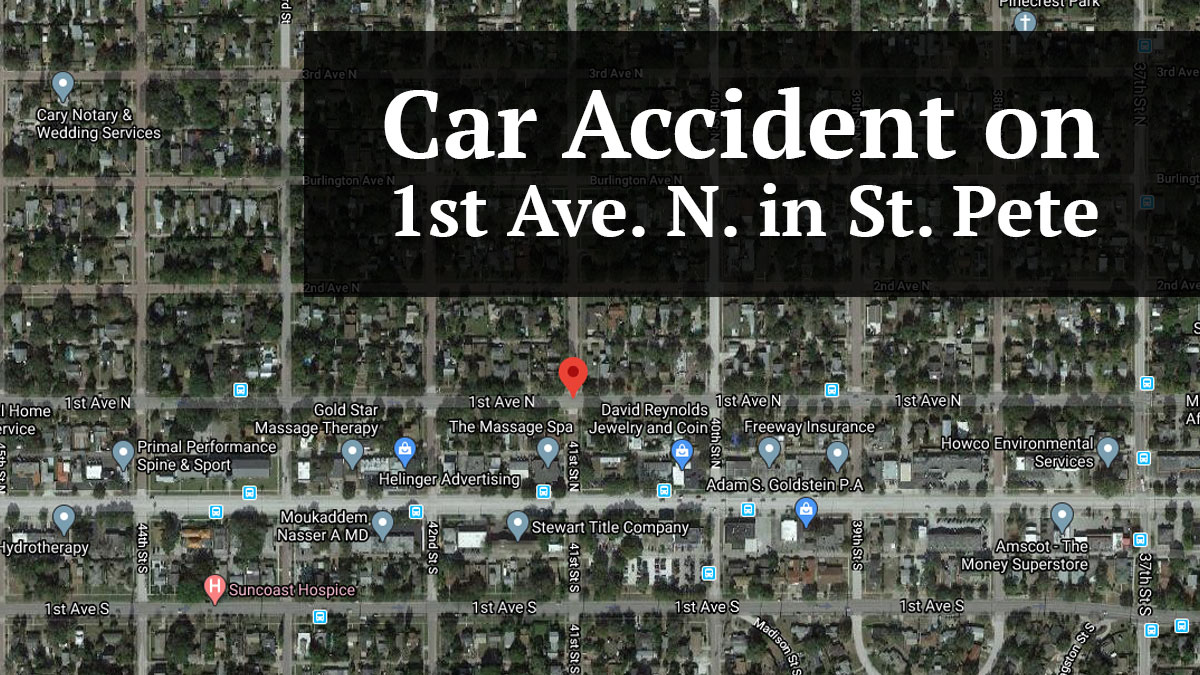 If you have driven on 1st Avenue North in St. Petersburg you must have witnessed unusual and unsafe driving habits. Because I personally take this route almost daily to get to the office, I too have seen bad driving. It never ceases to amaze me about how recklessly or carelessly people drive. Even though the speed limit is only 35 mph, people routinely speed all along the street. The most dangerous aspect of the road is that this driving goes on all day long.
In my law practice, I routinely handle cases where people have been injured on 1st Ave. N. in St. Pete . It is shocking at the volume of accidents on this road because it is not a highway. Most of the accidents involve people running red lights or pulling out in front of oncoming traffic. Fortunately, I have never seen a fatal car accident on 1st Ave. N., but there certainly are a lot of accidents involving serious bodily injury.
What Should You Do If You Are Injured in an Accident on 1st Ave N?
I have handled enough cases in this area to know exactly what needs to be done after an accident. First, always call the police to report the accident. St. Petersburg Police Department will respond to the call, investigate, and issue the appropriate civil citations. They will leave you with a Driver's Exchange of Information that will assist us in setting up the claim. The full accident report will normally be available within 7-10 days after the accident. While you are at the scene, I encourage everyone to take pictures of the vehicles and the people present. These pictures can be an invaluable tool for us later on in the case. Additionally, get the name and contact information for any witnesses. Although SPPD is pretty good about their reports (compared to FHP for instance), you should not trust the officer to be the sole person in possession of the information relating to your accident. Keep in mind that the officer is not concerned about your accident claim, only completing the investigation and finishing the report as quickly as possible. Lastly, if you have any pain at the accident scene, let the officer know. If the officer marks in the report that you reported an injury, that will help verify the existence of that injury when you make the claim to the insurance company.
After you leave the accident scene, it is imperative that you receive medical treatment as soon as possible. If your injuries rise to the level of requiring emergency treatment, then I recommend that you proceed to St. Anthony's or Bayfront. If you do not need to go to a hospital, then you should proceed to an urgent care center. Baycare has several walk-in or urgent care clinics in St. Pete that are very good. However, don't expect more than just x-rays and some medication for muscle relaxers. In order to find out the true extent of your injuries, you need to see a specialist and get sent out for an MRI. Soft tissue injuries like disc herniations or disc bulges are only detectable with these more sensitive diagnostic tests. Therefore, my advice for follow-up care is with a medical provider who specializes in car accident claims. Providers who routinely handle car accident injuries will be able to set forth a plan of treatment that makes sense for you.
Who Pays for My Medical Bills After a Car Accident?
Florida is a no fault state. That means that every driver with a car registered to him or her must carry Personal Injury Protection (PIP) insurance. Most people carry the full $10,000 limits, but some with inferior companies may have a $1000 deductible. After a car accident, PIP will pay for 80% of your medical bills up to the policy limits of $10,000. Unfortunately, $10,000 does not go a long way to cover your medical bills. Hospitals are also notorious for running up huge bills with unnecessary testing. For example, you do not recommend that our clients get CAT or CT scans at a hospital unless there is a legitimate concern of internal bleeding. If you don't speak up and decline the test, the hospitals will gouge you.
After the initial treatment, you hopefully will have PIP money left. This money should be used for your specialist, chiropractor, physical therapist and MRI. Once the PIP is exhausted, you have the choice to bill your health insurance or treat under a letter of protection. Your lawyer will be able to explain the benefits and negatives of each option.
Contact a Car Accident Attorney
At St. Petersburg Personal Injury Attorneys McQuaid & Douglas, we are experienced unlike any other law firm in the area in handling car accidents on 1st Ave N. We have handled virtually every type of accident on this road. We know the insurance companies who normally handle these claims, the medical professionals who provide treatment, the law enforcement officers, and all the tricks of the trade. There is simply no other law firm in St. Pete that can compare to our reputation, experience and resources. While we hope that you or your loved one has not been injured in an accident, the reality is that the poor drivers on 1st Ave. N have increased the risk to all of us. If you would like to discuss a potential claim, our consultations are always free. Please be safe and drive carefully.