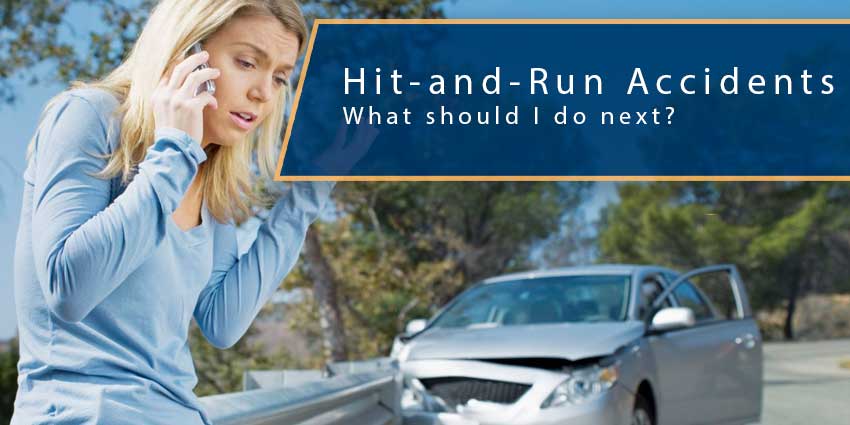 If you or a loved one have been injured in a hit-and-run accident in Florida, then completing these steps can ensure your rights and health are protected.
With the help of a Florida hit-and-run accident lawyer, you can also have a realistic shot at locating the guilty driver and successfully negotiating with the appropriate insurance company.
What Is a Hit-And-Run Accident in Florida?
In Florida, leaving the scene of an accident is known as a 'hit and run'. This happens when a driver fails to remain at the crash site and fulfill their statutory duties if the accident involved bodily injury or property damage.
The duties vary depending on the type of accident but in every car accident the driver must provide law enforcement with their:
Name
Address
Vehicle registration number
Driver's license information
Steps to Take After a Hit-and-Run Accident:
Seek Medical Treatment

Your health is the number one priority. If you need emergency medical attention, get it.
If injuries are minor but still required, then get yourself checked out at a hospital.
Even if you feel fine, it is still advised to receive a check for auto accidents.
Even at low speeds, the forces involved are high and may have caused damage you aren't immediately aware of.
Receiving treatment is not only vital for your health but also to help strengthen your personal injury claim that you can make later, as a doctor's notes can act as evidence.

Retain Information About the Other Driver
Many Florida hit-and-run accident victims panic thinking the other driver has escaped and that means they have no way of making an insurance claim.
Although this is a risk, the police and our Florida hit-and-run accident attorneys frequently locate the drivers.
You can significantly increase your chances by retaining and noting any information fresh in your mind.
Write down details about the vehicle such as:

Vehicle make
Model number
Color
Size
License Plate Number (even if partial)

Write down any details about the driver, such as their appearance, clothing and approximate age.
Ask other drivers and nearby pedestrians who witnessed the crash for any information that could help identify the driver.
Take photos of the damage to your vehicle.
Ask for a police report from the police and if possible, ask for witnesses to provide a statement of what they saw.

Make a Personal Injury Claim
Once the police have filed a police report and it's become clear whether or not the at-fault driver can be found, you can then file a personal injury claim.
Personal injury claims are made against the relevant insurance company to compensate injured victims of accidents that weren't their fault.
These claims can be a massive help for victims suffering from expensive injuries that have resulted in large medical bills, ongoing treatment, missed wages, loss of future earnings and a range of other economic and non-economic damages.
Sadly, insurers don't make life easy for victims. They don't hand over money easily. Even with the most severe injuries, they often undervalue victims, leaving them struggling financially in the future.
Our Florida hit-and-run attorneys will determine the true cost of your injuries, from medical bills to missed wages and suffering. We will handle all communications on your behalf so you can recover without the stressful task of making a personal injury claim.
Do's and Don'ts After a Florida Hit-and-Run Accident
DON'T pursue or follow the run-away driver. By law, you must remain at the scene of an accident. Leaving may also see you lose crucial evidence at the accident scene. Chasing fleeing drivers may also put you in danger.
DO call 911 if you or someone else is injured.
DO speak to a Florida hit-and-run accident attorney as soon as possible.
DO ask for a copy of the police report.
DO keep all doctor's notes, bills and any evidence that can be used to support a personal injury claim.
What if the Hit-And-Run Driver Can't Be Found?
Our Florida hit-and-run attorneys are extremely experienced in putting pieces together to help locate the guilty drivers. But sometimes, they get away.
If this happens, you may be able to gain compensation via your own insurance company.
As long as your insurance coverage includes uninsured or underinsured motorist coverage, you're likely covered in a hit-and-run case.
However, if you were a pedestrian, you might need to deal with multiple parties such as health insurers and homeowners' policies.
What if the Hit-And-Run Driver Is Found?
If the hit and run driver is found, they may be criminally prosecuted as they've committed a crime of fleeing the scene of the accident.
If this happens, you will likely be able to file a claim against their insurance company. Timing is of the essence in these scenarios as deadlines can pass without warning.
What if Someone Was Killed in a Hit-And-Run Accident?
If a loved one has been killed in a hit-and-run accident in Florida, you may file a wrongful death claim.
Sadly, these are not rare for hit-and-run cases as at-fault drivers try to escape the scene knowing they've made a massive mistake.
Wrongful death claims can help surviving families recover expenses related to the death, such as funeral costs, medical bills, lost wages and more.
If you have lost a loved one in a Florida hit-and-run accident, you can contact us today for a free consultation.
What Is the Deadline for Making a Claim for a Florida Hit-and-Run Accident?
Florida personal injury claims follow the 'Statute of Limitations' deadline, which requires all claims to be filed within four years after the accident occurred and just two years after a fatality.
It is advised you take action as soon as possible to avoid these deadlines creeping up due to delays and the lengthy legal process.
Contact a Personal Injury Attorney for Traumatic Brain Injuries
If you or someone close to you has been injured in a hit-and-run accident, contact a Florida hit-and-run attorney as soon as possible.
Our experienced team will try to identify the driver, communicate with the relevant parties on your behalf and bring you the settlement you deserve.
Free Consultations
Personal Injury Attorneys McQuaid & Douglas have been providing exceptional legal assistance to Florida residents for personal injury claims for decades. As partners at a U.S. News and World Reports Tier 1 Law Firm, Battaglia, Ross, Dicus & McQuaid, P.A., they give you the best chance of receiving the compensation you deserve. Serving the state of Florida with offices in St Petersburg and Riverview, they are here for you.