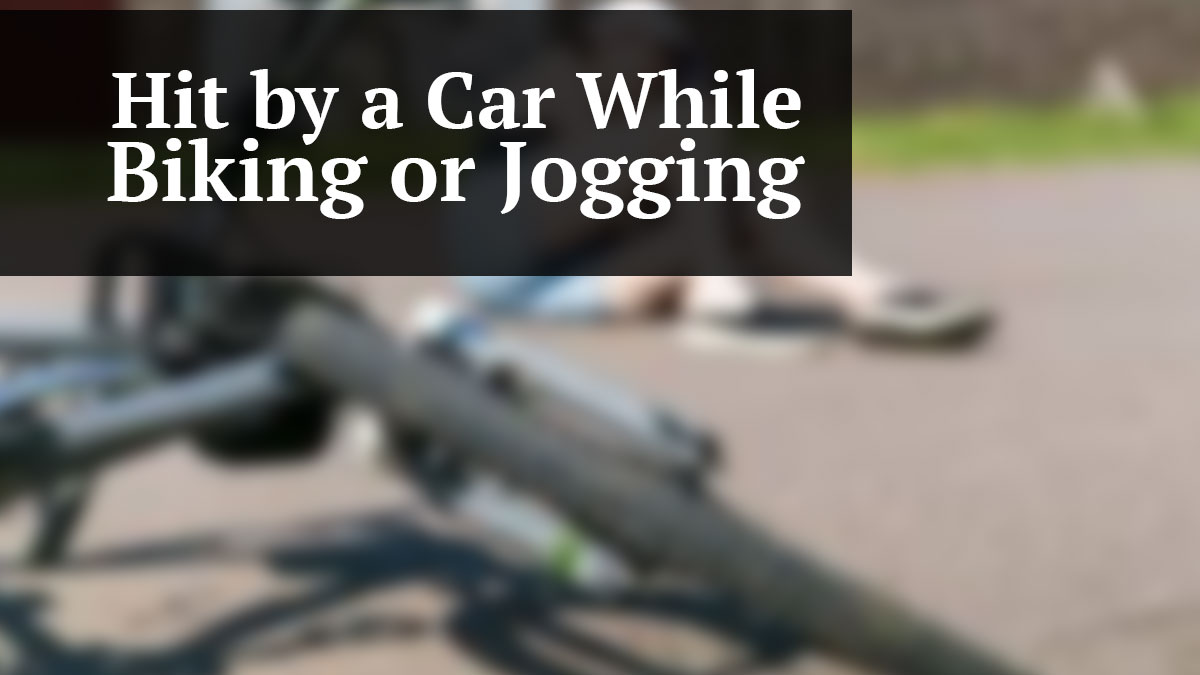 As of the time of this article, our world has been upended as a result of the coronavirus. While I am certain that we will get through this and emerge as a stronger and more united community, there are still hardships to endure. I am not a politician or a medical doctor, so this article has a limited purpose to provide some legal guidance should an accident befall you during this challenging time.
Gyms have now been closed and people have been ordered not to congregate. Since people have been restricted to their homes, they have been looking for options to get out of the house in order to break the monotony and get exercise. This has led to a massive increase in people jogging and riding bicycles. Because of this increase in pedestrian and bicycle traffic sharing the roads, accidents are bound to happen.
At St. Petersburg Personal Injury Attorneys McQuaid & Douglas, we specialize in accidents resulting in injuries to joggers, pedestrians and bicyclists. These accidents happen more frequently than you might imagine because our roads in Pinellas County are simply not designed to handle the volume of vehicular traffic that they currently have. When you add in distracted drivers, elderly drivers, visitors and tourists, the risks to joggers and bicyclists increase. While we hope that you are not injured by a vehicle while jogging, walking or bicycling, if you are, please read the following advice about your potential injury claim.
Who Will Pay My Medical Bills?
Florida is a no fault system, so your medical bills up to $10,000 will be covered through Personal Injury Protection insurance, also known as PIP. This means that every vehicle registered in Florida is required to carry this insurance. But whose PIP pays for your bills? There are three potential sources of PIP benefits available to you.
First, if you own your own vehicle, PIP will be triggered through your own insurance company.
Second, if you do not own a vehicle, but live with a resident who does, you will qualify through that person's PIP.
Lastly, if all else fails, you will qualify for PIP through the insurance company for the car that struck you.
Therefore, it is a virtual certainty that there will be PIP for your bills.
What If I Have Health Insurance?
If PIP exists to cover the bills, then it will be billed first regardless if you have health insurance. But, if there is no PIP, then you are certainly welcome to have your bills run through health insurance. Additionally, if you exhaust your PIP benefits, you have the option to continue your treatment through health insurance or you may be able to treat on a Letter of Protection (LOP). An LOP is basically an IOU that you sign with the medical providers to guarantee payment of their bills out of the proceeds of your injury claim. You will need an injury lawyer to get approval for an LOP, but they are very commonly used and a convenient way for you to keep medically treating with the same doctors after PIP is exhausted.
How Do I Pursue a Claim for My Injuries?]
After some or most of your bills are paid by PIP, you will likely want to pursue a claim for your damages. In order to pursue a claim, there are two sources of potential recovery available to you. You first will look to the Bodily Injury (BI) insurance for the vehicle that struck you. This is not mandatory coverage in Florida, so many drivers do not carry it, or only carry minimal amounts. If the at-fault driver does not carry BI, or does not carry BI, then your only other option is to look toward your own motor vehicle insurance policy for Uninsured or Underinsured Motorist (UM) coverage. Again, UM coverage is not mandatory, so you would have had to specifically purchase this insurance as part of your policy. Most people in Florida unfortunately do not know the importance of UM and do not carry this protection.
What Type of Damages Can I Recover?
Pedestrian, jogging, and bicycle injury cases are similar to all other auto accident cases in terms of what can be recovered. Once you have finished treatment, a demand will be made for the total amount of your losses to the insurance company. You may be able to recover for medical costs, past and future loss of wages, out of pocket expenses, pain and suffering, and any mental or emotional conditions that you experienced. The amount of the damages obviously depends on a case by case basis.
Which Insurance Company Should I Speak To?
After the accident you will definitely get bombarded with calls from insurance adjusters. But, the only company that you are required to speak to is your own. That is because under your own insurance policy, you have an obligation to report the incident within a reasonable time and cooperate with their investigation. You will likely be interviewed, but we do not recommend that you provide a recorded statement without the presence of a lawyer. As far as any other insurance companies that may contact you, you have no obligation to speak to them. While there is usually nothing to hide in an accident claim, all lawyers like to control the flow of information, especially to an insurance company for the other side.
Contact an Accident Attorney
Accidents happen and during these unfortunate times, drivers do not always have their minds focused on the roads. I suspect that there will be unusual accident cases that arise from this period, but that remains to be seen. While this article is being written in the middle of the crisis, the fundamental principles of what happens in a pedestrian, jogger, or bicycle accident claim have not changed. If you or a loved one has been injured, we would be happy to answer any questions that you may have. Our consultations are always free and we are happy to conduct an interview over the phone. Please stay safe and healthy.