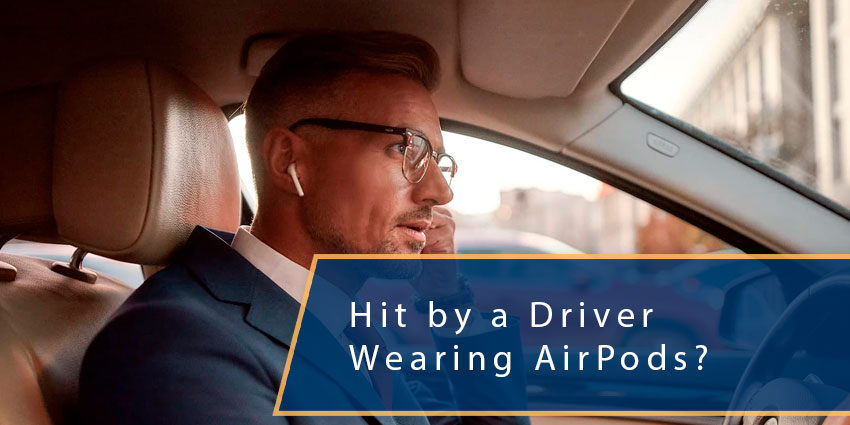 You get into a Florida car accident only to get out of your car and find that the other driver is wearing AirPods. With a few exceptions, it's illegal to wear headphones or AirPods while driving in Florida. Wearing headphones while driving is a criminal offense, and doing so could mean drivers could face penalties. On top of that, they can cause a major traffic collision because headphones and AirPods are a distraction while driving.
Even though Florida is a no-fault insurance state, a driver who is wearing headphones or AirPods can still be personally liable for traffic accidents. Victims who sustain injuries in an accident caused by a negligent driver using headphones can seek damage recovery. The negligent driver or their insurance company might be responsible for covering the cost of your medical bills and lost wages. You may also be entitled to recover for pain and suffering damages and permanent disability.
Florida Law Regarding Headphone Use While Driving
Under Florida Statute §316.304, it's illegal to wear any of the following while driving:
Headphones
Headset
Any listening device
The only exception is a hearing aid
However, it is legal to wear an airport in only one ear or:
A headset that only has sound in one ear
A headset with a central base operation that has sound in only one ear
A motorcycle helmet with speakers, so long as the speakers don't come in direct contact with the rider's ears
Any person applying for a motorcycle license wearing a listening device as part of the test
Protective ear devices for emergency vehicle drivers
Police officers are permitted to wear communication devices needed to do their jobs
Each of these exceptions to the law serves specific purposes. For example, first responders need to wear protective hearing aids due to the loud sirens on their trucks. Similarly, police officers must wear listening or communication devices to respond quickly to high-risk situations.
That said, all drivers need to be able to hear the sounds outside of their vehicles. The inability to hear what's around you makes it hard to adjust your driving and listen for oncoming danger. A driver listening to music or an audiobook on their headphones is more likely to cause a collision or other dangerous situations.
So, while drivers in Florida can use a hands-free cell phone with a headset, it's only legal if the headset plays in one ear. The same goes for AirPods. A driver can legally wear one side of the Airpods but not both while driving. That's because it's crucial to have one ear free to hear emergency sirens and other important sounds, like a car honking for an emergency situation.
Covering both ears increases the risk of causing a crash due to distracted driving.
Is It Legal for Bicyclists and Pedestrians to Wear Headphones in Florida?
In Florida, bicycles are considered vehicles. Therefore, bicyclists are subject to the same traffic laws as motorists and drivers. As a result, the same rules apply to bicyclists for headphones as drivers. That is, bike riders can wear a headset that only has sound on one side or one airpod. There are a few additional exceptions for cyclists:
Bicycle riders can wear hearing aids
Riders can wear an earbud or airpod on one side
Bicycle riders who are not on a path or a roadway are permitted to wear both headphones and AirPods
Bicyclists who are on the sidewalk can also wear headphones because they are considered "pedestrians" on the sidewalk. While it's not illegal for pedestrians to wear headphones, it is dangerous.
For bicyclists and pedestrians, wearing headphones is a major distraction. Therefore, bicyclists need to consider the risk that comes with wearing headphones while on the sidewalk.
Does Wearing Headphones While Driving Contribute to Comparative Fault?
Let's say you were wearing headphones, but another driver caused the accident. Due to Florida's comparative fault law, you could be found partially responsible for the accident. If so, your compensation amount will be lowered by the percentage of fault you are found to have. In other words, you could lose money if you were partially at fault for cursing the accident due to wearing headphones.
So, the at-fault party might claim that you are partially responsible for causing your injuries because you were wearing headphones at the time of the accident. If your case goes to court and a jury agrees, they can reduce your compensation amount. However, if your claim settles out of court, the contributory fault is not as important. But they can still affect your settlement amount.
Proving that a Driver Wearing Headphones Was Negligent
Merely saying that the at-fault driver was wearing headphones is not sufficient evidence to prove negligence. Your attorney might want to gather information to strongly suggest beyond a reasonable doubt that the driver was negligent due to headphone use. For example, you could obtain their phone records to show that they were having a conversation when the crash happened. Or perhaps they gave an admission of listening to music on their headphones while driving to the police officer. Whatever evidence can help support your claim that the other driver's negligence caused the crash is best obtained as soon as possible.
Speak with an Experienced Florida Car Accident Lawyer
Legal advice can be helpful for anyone who is involved in an accident. Since Florida's insurance laws and statutes can be confusing, seeking expert legal counsel can help you do away with stress and uncertainty about your personal injury claim.
Whether you were hit by someone wearing headphones or AirPods or you were wearing them when the accident happened, our Florida car accident lawyers can help you. We can help conduct a thorough investigation of your case and get to the bottom of what happened. Then we can devise a winning strategy to get you the compensation you deserve for accident-related losses.
We offer a free initial consultation, so call us today or schedule one online.