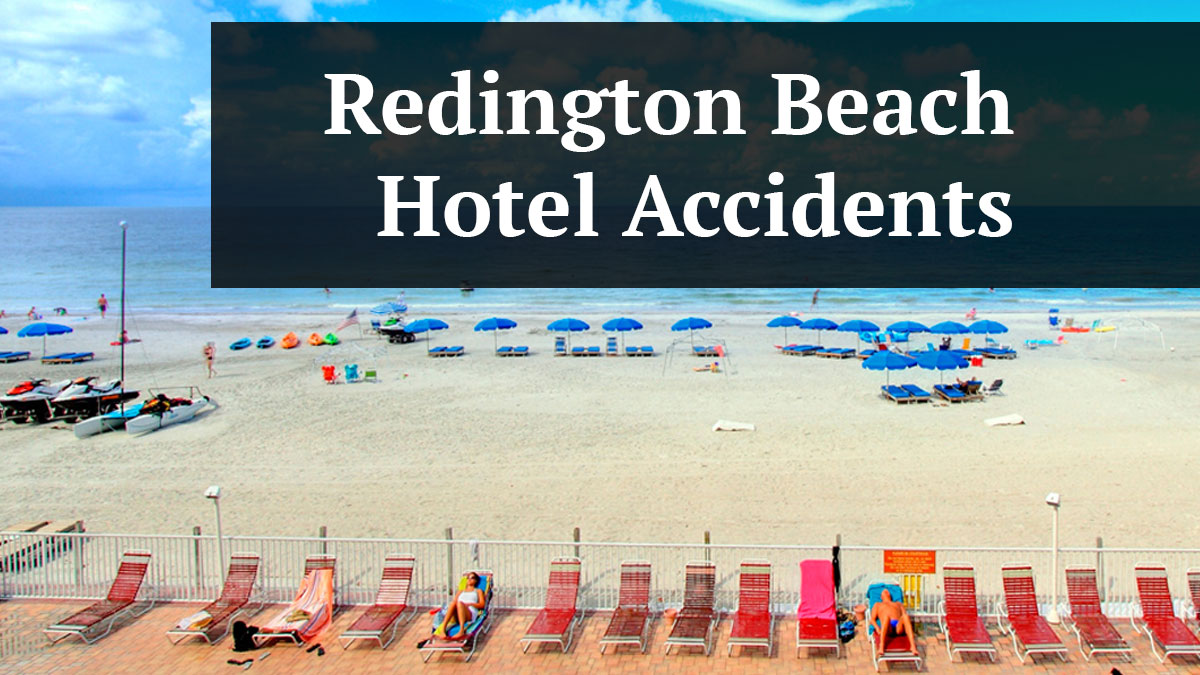 North Redington Beach is a tiny beach community of the Gulf of Mexico. Even though it is small, tourists and visitors flock to this area as it is centrally located. From North Redington Beach, it is only a few miles from St. Pete Beach or Clearwater Beach. It also is very easy to get throughout the rest of the county from North Redington Beach. Gulf Blvd is the main road through the town and is crossed daily by throngs of pedestrians and car traffic.
While there aren't a lot of hotels on North Redington Beach, some of the popular ones are Siesta Motel, Malibu Resort Hotel, Hotel Sol, Doubletree Beach Resort, Redington Surf Resort, Island House Resort Hotel, Sails Resort Apartment Motel, and Royal Orleans Resort. These hotels are smaller than most large chain hotels. Because of their size, they lack the resources to stay on top of all of the issues they encounter. As a result, there are constantly dangerous conditions that exist. Visitors and tourists are at a higher risk of injury due to these dangerous conditions.
What Needs to Be Proven to Bring a Hotel Accident Claim?
Just because you were injured at a hotel on North Redington Beach does not automatically mean that you have a case. In order to recover compensation, you must show that the hotel was somehow at fault. This is a legal term called negligence and it is required to be proven in some fashion in every case.
In order to bring a claim, you first must show that you were properly on the property. If you were a tourist or visitor, that is usually easy to show. However, if you were simply crossing the property for a non-business related reason, the hotel does not owe you the same duty.
Next, you must show that a dangerous condition existed on the property and that the hotel knew or should have known about it. A hotel also has a duty to maintain its property in a manner to avoid dangerous conditions or to warn you about them. We often see accidents in hotels from a failure to maintain the property. For example, if the walkways are cracked or wet, that is certainly a dangerous condition. If there are no signs warning you of the wetness or the crack, that is a breach of the hotel's duty to keep you safe from the dangerous condition.
How Do You Get Medical Care After an Accident at a Hotel?
If you were injured at a hotel on North Redington Beach, you should immediately seek emergency medical attention at a hospital or urgent care facility. If you are looking for the nearest hospital, you should go to Palms of Pasadena.
Who Pays for My Medical Bills After an Accident at a Hotel?
If you have health insurance, you should bill all of your treatment for your injuries through it. If you do not have health insurance, the good news is that most hotels carry medical payment insurance. Medical payment or Medpay will usually cover up to $10,000 of your bills. Almost all hotel insurance plans carry Medpay, the only difference is the amount of the coverage. So, knowing that at least some of your bills will be covered, it is advised to make sure your injuries get proper medical attention.
Should I Report the Accident with the Hotel?
Yes. it is extremely important to document any type of incident involving injuries to the hotel manager or the security team. This step is crucial because it verifies the incident and allows the hotel to investigate the claim. Taking these steps at the forefront always assists you in getting the claim settled quickly. If you do not put the hotel on notice, crucial evidence can be lost forever that may prejudice your ability to prove your case. For example, witnesses' information needs to be taken, pictures need to be taken, and any video footage of the incident must be preserved.
Hire a Hotel Accident Lawyer in North Redington Beach
If you are a tourist, visitor, or guest at a hotel on North Redington Beach and have an accident involving serious injuries, then I encourage you to contact our office to discuss the situation. Since our office is only minutes away from North Redington Beach, we have a history of handling these types of claims. In fact, our office has been handling hotel accident claims for over 60 years and it is likely there is not a type of claim that can be brought that we haven't handled successfully in the past. If you have any questions, we advise you to contact our hotel accident lawyers immediately to maximize the value of your case. While we hope that you have an enjoyable time on your visit to Pinellas County, the reality is that accidents do happen. If you find yourself in that situation, we are prepared and happy to help. Call us for a free consultation today.