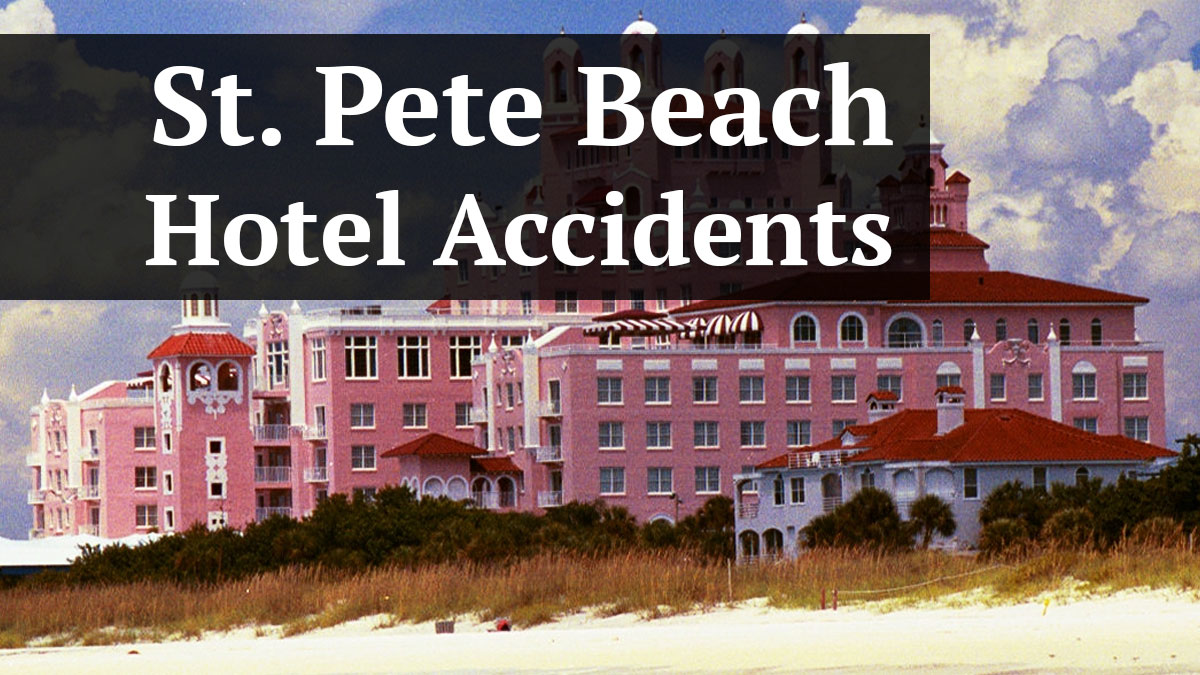 St. Pete Beach has some of the most beautiful beaches on the Gulf of Mexico. Located in Pinellas County, Florida, St. Pete Beach is a prime tourist destination for people all around the world. St. Pete Beach begins on the south end at Pass-a-Grille and ends at Upham Beach near Treasure Island. There are numerous large hotels all along St. Pete Beach including The Don CeSar, Sirata Beach Resort, The Beachcomber, Grand Plaza Hotel, Tradewinds Island Resort, Postcard Inn on the Beach, and The Hotel Zamora. All these hotels are located on Gulf Blvd and all are either on the Gulf of Mexico or the Intracoastal.
Unfortunately, the hotels are not always able to keep up with the volume of customers. Many hotels even overbook in order to guarantee full occupancy. It is this desire for profit at the expense of the visitor that leads to shortcuts and accidents. If you have been injured at a hotel on St. Pete Beach, we specialize in these types of claims. At St. Petersburg Personal Injury Attorneys McQuaid & Douglas, our office is just minutes away from St. Pete Beach. We are intimately familiar with hotel accident claims and how to recover compensation when the hotel is at fault for causing the problem.
Types of Hotel Accidents
Falls
A slip and fall or trip and fall is the most common type of hotel accident occurrence. A hotel has a duty to each visitor to prevent hazardous conditions, properly maintain its premises, and warn of any dangers. When there is a hidden defect, improperly maintained the property, or some substance left on the ground that causes a fall, there may be a claim against the hotel.
Pool or Hot Tub Accidents
All hotels on St. Pete Beach have a pool and a hot tub. The hotels have an obligation to have proper signage and maintain these areas. In particular, pools are extremely dangerous because of the number of children that congregate to these areas.
Pools are not required to have lifeguards, but there should be adequate signage to protect the users. Signs must be prominent. This presents an issue since small children can't be expected to read or obey signs.
Pool slides are one of the most common sources of accidents. Pool slides must be maintained to prevent injury. If there is a lifeguard or other attendant present to supervise the children, they must do their job.
Defective Furniture
If you have been injured in your hotel room as a result of the defective furniture, you also may have a claim. Scalding water, broken chairs, coffee machines, or any defects are potential dangers.
Fitness Centers
Fitness centers at hotels are commonly neglected. While you do not have a claim for injuries caused by your own neglect, defective exercise equipment is the hotel's responsibility. Because hotels are not in the exercise business, they are more apt to have problems with the equipment. Not only do they not know how to maintain equipment, but sometimes it is old and needs to be replaced. Fitness centers are sometimes accidents waiting to happen for unsuspecting guests.
Inadequate Security
Hotels have an obligation to keep their guests safe. When a guest is injured by a fellow guest or even a criminal intruder, the hotel may be liable if the security was deficient. Most hotels have lighting and security cameras, but when these are not maintained, there is a greater risk for an incident to occur.
How Do I Receive Treatment for Injuries After a Hotel Accident?
If you have been injured on St. Pete Beach, you likely will be taken to Palms of Pasadena Hospital. Your medical expenses should be billed through health insurance as much as possible. Keep track of deductible or copayments that you incur because they will all be included in your claim.
If you do not have health insurance, keep track of your bills in order to make that part of the claim against the hotel. If you have hired a hotel accident lawyer and do not have health insurance, your lawyer may be able to find doctors to treat you on a letter of protection to be repaid out of the claim against the hotel. In every case, make sure that you follow your doctor's advice.
Most hotel incidents will be turned over to risk management. You will likely be contacted by a representative within a day of the accident. You have no obligation to speak to risk management before speaking to a hotel accident lawyer, but often there is no harm in doing so. Remember, however, that part of risk management's job is to repay as little as possible and to keep you from speaking to a lawyer.
The good news is that risk management will often repay medical bills at a bare minimum regardless of fault. But, if you can show that the hotel was negligent, you may be able to recover additional compensation for lost wages, pain and suffering, permanent injuries and future medical costs.
Hotel Accident Lawyer for St. Pete Beach
If you or your child had been injured in a hotel accident, you should speak to a lawyer about your options. Hotel accident lawyers are paid based on a contingency, which means that there is no payment unless a recovery is made. This fee arrangement results in very little to no risk for a client to retain a lawyer to pursue a claim. If you know that the hotel was negligent and that it is what caused your accident, contact a lawyer immediately. While we hope that your vacation to St. Pete Beach is an enjoyable experience, if something happens, St. Petersburg Personal Injury Attorneys McQuaid & Douglas are prepared to help. Our consultations are always free of charge, so do not hesitate to reach out to us for help.