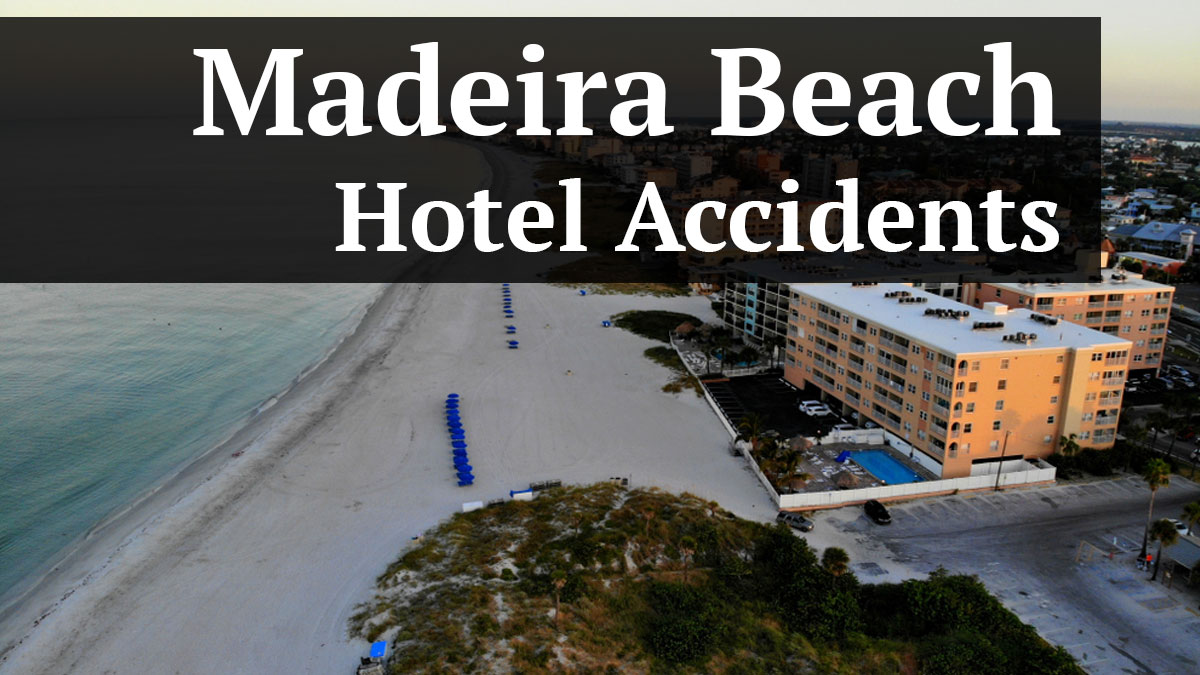 Madeira Beach is a small, but beautiful beach town in Pinellas County, Fl. There are countless visitors to this small community every year. In fact, taking visitors to John's Pass for all of its restaurants and attractions is a must-do. The main road through Madeira Beach is called Gulf Blvd. There aren't a lot of hotels in Madeira Beach. Most of the guests to the area will stay at a rented condo. Some of the most popular destinations are Courtyard by Marriott Madeira Beach, Holiday Isles Resort, Shoreline Island Resort, Madeira Bay Resort, Barefoot Beach Club, Commodore Beach Club Condos, and Surf Song Resort Condominiums.
Like any other community, accidents at hotels on Madeira Beach happen. When someone visits a room or beach hotel that he or she may be unfamiliar with, there is a heightened chance that an accident will occur. This article will address legal claims for damages after an injury on Madeira Beach.
What Needs to Be Proven to Make an Injury Claim Against a Hotel on Madeira Beach?
Most of our cases on Madeira Beach deal with some form of negligence or carelessness on behalf of the hotel. While there are other possible claims, I will focus on the most common types of incidents for this article. All of the hotels owe a duty to you as a guest of their facility. This duty is to maintain the property in a manner so that there are not dangerous conditions. The hotel also has a duty to warn you of a dangerous condition. If either of these elements were not met, you may have a claim against the insurance company for the hotel.
Some examples of dangerous conditions at a hotel on Madeira Beach normally involve trip and fall or slip and fall accidents. For example, we were just contacted regarding a serious trip and fall accident at a beach hotel. Our client was a tourist and walked from her room to her balcony. She did not see the track of the sliding door that rose about 2 inches off the floor. As her foot caught on the door track, she fell and broke her hip. There were no warning signs of the door track. The track wasn't highlighted for increased visibility. In this situation, a dangerous condition existed and the hotel failed to warn her. In this situation, she has a claim.
Other examples of claims against beach hotels include failures to repair sidewalks and walkways. This normally involves cracks or raised portions of sidewalks that create a tripping hazard. If a visitor trips, falls and sustains a serious injury, that person may have a viable claim.
Another common problem that is unique to beach hotels involves sand obscuring walkways. Usually, all of the beach hotels have some type of path leading out to the Gulf of Mexico. If the paths get covered with sand, it can obscure uneven portions of the walkway and thus, create a dangerous condition. If you are visiting a beach hotel on Madeira Beach and trip causing a serious injury due to sand obscuring your walkway, you may have a claim.
We also commonly see accidents in the hot tub or pool area. Most beach hotels do not have lifeguards or staff on duty at the pool or hot tub. When you have wet surfaces and many people using these areas, there is a greater risk for an accident. Again, the hotel has a duty to you if they knew or should have known of a dangerous condition, so proper maintenance and supervision of these areas is important.
What to Do After a Serious Injury at a Beach Hotel on Madeira Beach
Receive Medical Treatment
If you have been involved in some type of accident at a Madeira Beach hotel, make sure that you immediately receive medical treatment. All of the hotels have insurance that will pay for your medical bills, so err on the side of caution and get checked out.
Report the Incident
The next important step is to report the incident to the hotel manager or the hotel security team. It is important to document the incident because the insurance companies will ask if it was ever reported. By this quick report, you enable the hotel to pull the video footage, speak to any witnesses, and otherwise preserve any evidence. These are all necessary once your lawyer has compiled your damages claim.
Take Pictures
Another important step is to take pictures of the incident scene and your injuries. For example, if you have slipped on water, take a picture of it. If you have any bruising, cuts or other injuries, take pictures immediately and then periodically thereafter.
Contact Information of Witnesses
Finally, if anyone saw the incident, get their contact information. You cannot rely on the hotel staff to do all of the work for you. Your lawyer will likely need to know how to contact witnesses long before the hotel is required to turn over that information.
Contact a Personal Injury Lawyer for your Madeira Beach Hotel Accident
If you have been seriously injured on Madeira Beach, our office is literally minutes away. We routinely handle accident claims from Madeira Beach and are the nearest injury firm in the area. Our firm has been handling claims on Madeira Beach for over 60 years. We regularly are contacted by people who are tourists or visitors from out of the area, out of state, or from Canada. We usually only handle serious injuries such as lacerations, broken bones or tears to the knee, hip or shoulder. However, if you believe that you have a potential claim against a hotel on Madeira Beach, please contact our office for a free consultation.