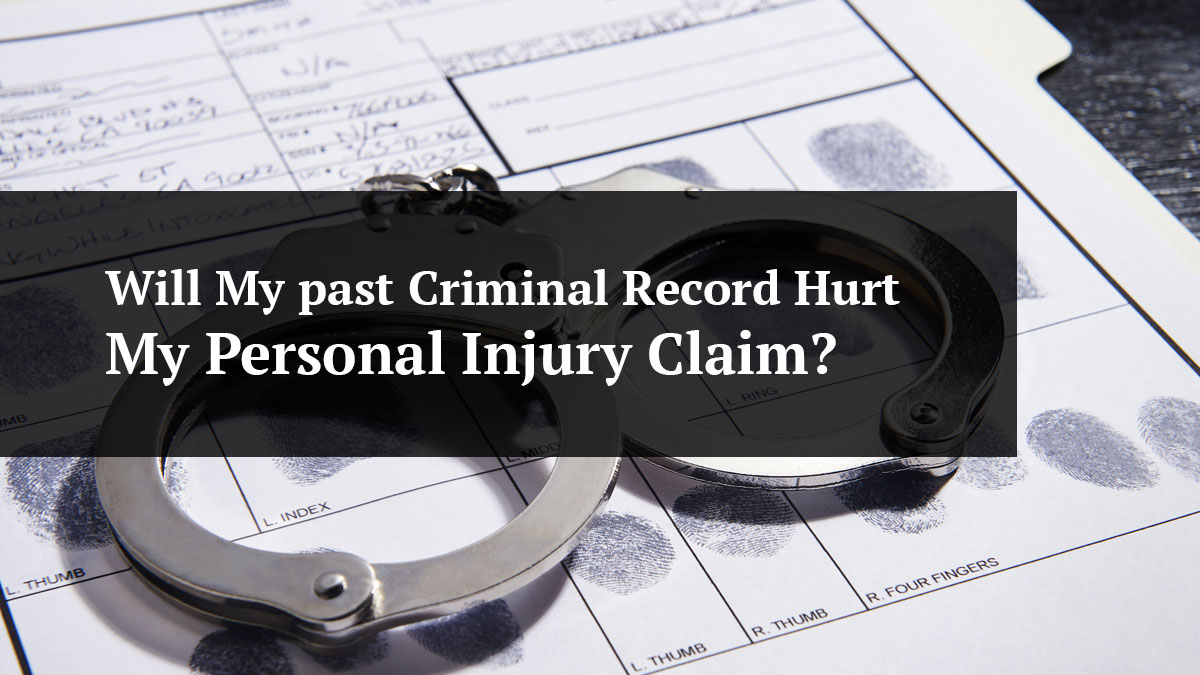 If you have a prior criminal record and are involved in a personal injury claim, you can be assured that the insurance company will be looking to use that against you in some way. However, there are limitations on what types of criminal history can be introduced and how. The following is an attempt to outline what can and cannot be used against you during a personal injury case.
Every plaintiff who files a personal injury claim will have his or her background checked by the insurance company. This background check includes a complete criminal history search. The criminal history will show all arrests and dispositions of criminal charges. Now, whether the insurance adjuster is familiar enough with reading and interpreting the results of this background check is another story. I encounter this problem in many cases when I have clients who have had charges reduced, dropped, or adjudication withheld. It seems that many insurance adjusters only see the charge/arrest and are unable to understand the result of the case. They then use the fact that the charge/arrest occurred against a client despite the fact that the information is often incomplete and irrelevant. Many background searches simply do not supply data to insurance companies in a concise format. Thus, the exact result of the charge can only be fully understood through a review of the clerk's office public records. Unfortunately, insurance adjusters do not take the time to take these additional steps and the claim can be devalued accordingly.
The Relevance of past Criminal Charges in My Personal Injury Claim
You may wonder why past criminal charges are relevant in a personal injury claim because someone can be injured regardless of their past. While this sentiment is true, there are subjective issues in every personal injury case where credibility factors in. A main example of credibility is the level of reported pain. Insurance adjusters believe that if a person has been arrested or involved in multiple criminal episodes, he or she will be more likely to exaggerate the claim. So, they will already be on alert. Further, Florida law actually allows impeachment of any witness based on certain acts of criminal history. Under Fla. Stat. 90.610, felony convictions and misdemeanors involving dishonesty or false statement are admissible to attack a person's credibility. If you are a plaintiff in a personal injury case and take the stand, you can be sure that the insurance defense lawyer will want to introduce these issues in an effort to smear you in front of a jury and undermine your credibility.
Felony convictions are normally easy to count and most clients are aware of how many they have and what they were for. Withholds of adjudication, regardless whether the plea was guilty or no contest, are not considered convictions and cannot be used to impeach. However, misdemeanor convictions of dishonesty or false statement are often overlooked and misunderstood. Petit theft (petty theft) or retail theft is considered a crime of dishonesty. It is one of the most common crimes in Florida and many young people pick up these charges and go to court without a lawyer thinking that it is just a misdemeanor and no big deal. A typical penalty for petit theft is a fine. However, what most people do not understand is that if they are convicted of such a crime, it not only can be used against them in a subsequent civil case but for jobs and even renting an apartment. Fortunately, a withhold of adjudication for one of these misdemeanors is not a conviction.
During a personal injury lawsuit, a witness cannot be impeached with a prior conviction if the crime is so remote in time as to have no bearing on the present character of the witness. The remoteness issue is determined by the trial judge usually in pre-trial motions. For example, if you have a conviction over ten years old, it is normally presumed that it would be too remote. Again, this depends on the type of felony and the person's overall record. But, ten years plus is a good rule of thumb to exclude the conviction.
If you have a conviction that is recent or falls within the past ten years, there are also certain rules about how this can be used. A defense lawyer can only ask you how many convictions you have. They may not ask you what the convictions were for, what the penalty was, or any other facts about the crime. However, your lawyer may "open the door" to discussing the crime if they feel like the crime was insignificant. For example, if you had a worthless check conviction, your lawyer may want to bring up the circumstances that led to that charge as mitigation.
Impeachment for criminal convictions in a personal injury case is something that you and your lawyer need to discuss prior to filing a lawsuit. Many lawyers are simply unaware of the client's criminal past until mid-way through a lawsuit when they finally realize there is a problem. The sad reality is that these convictions should not affect the value of a personal injury claim, but they do. The more knowledge that you and your lawyer have prior to filing the lawsuit can only help to avoid problems and to manage expectations.
Contact a Personal Injury Attorney
If you or a loved one have been involved in an accident, then you should take the proper measures to ensure you receive the compensation you deserve. Contact St. Petersburg Personal Injury Attorneys McQuaid & Douglas today and speak with an attorney. For over 60 years our firm has been successfully helping people who have been injured due to someone else's carelessness. We have been nationally ranked for decades by US News and World Reports as a Tier 1 law firm, which is the highest ranking that can be received. Sean McQuaid and Jonathon Douglas have dedicated their careers to continuing the firms legacy of superior legal representation.
Remember that we never charge a fee, unless we win. Call us today at 727-381-2300 so that we may answer your questions, help you navigate the complexities of insurance claims, and recover the compensation that you deserve.
We work hard to make sure each and every client gets the attention that they deserve. We appreciate feedback from our clients and reviews are validation of our work. Every 5-star review that we receive lets us know that our services were appreciated by our clients.
St. Petersburg Personal Injury Attorneys McQuaid & Douglas
5858 Central Ave suite a
St. Petersburg, FL 33707
(727) 381-2300