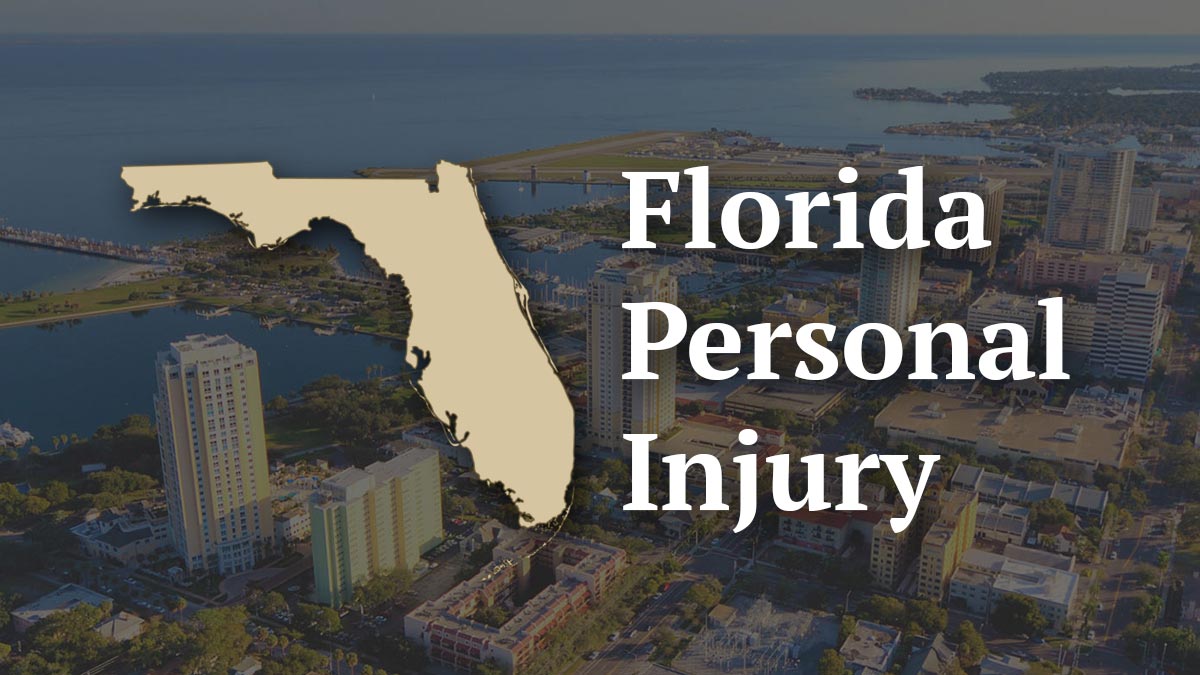 There are thousands of personal injury lawyers in Florida with different styles and techniques, but they all generally perform the same tasks, albeit at different levels of service and competence. If you are out of state and looking for a personal injury in Florida after an accident on a visit here, the first step is to verify that your lawyer is licensed. To verify the lawyer's law license, go to www.floridabar.org and type in the name. That will disclose the Florida lawyer's address, contact information, the status of his or her law license and the last 10-year disciplinary history. Once you have verified that the lawyer is who he or she says they are, the services that they provide can be essential to maximize the value of your claim. It is virtually impossible to process a personal injury claim in Florida without a lawyer due to the number of roadblocks thrown up by the insurance companies.
Although Florida is a massive state with the third highest population in the country, claims are not viewed as generously by insurance companies because of the older population that normally comprise the jury pool. Insurance companies are aware that the older the population, the older the potential jury pool, and thus, the more conservative the juror. Thus, insurance companies in Florida scrutinize each claim and try to pay the bare minimum possible. Remember that every dollar that insurance companies save in paying a claim is a dollar of profit for them.
A personal injury lawyer in Florida will help handle the communications with the insurance company. These communications can be as simple as coordinating where to get your car repaired to as complex as recorded statements or guidance on filling out PIP applications. Insurance companies will always try to lock in your injuries at the outset, so the less communication you have directly with them, the less chance there is at them using your statements against you in the future.
A personal injury lawyer in Florida can also help guide and monitor your treatment. Even if you are treating out of state or out of the area, your lawyer should be monitoring your bills and making sure they are being paid appropriately. It is a cardinal sin for clients to run up huge bills when the case simply isn't worth it or there isn't enough insurance available to pay them. It is the lawyer's job to make sure that you are not placed in the position where you are stuck with huge medical bills simply because no one was paying attention.
A personal injury lawyer in Florida may also be able to recommend treatment providers that can help your particular type of injury from the accident. For example, primary care physicians rarely handle personal injury work, often leaving clients without a doctor to turn to. Florida personal injury lawyers know the doctors that specialize in this field. If a client does not have health insurance, a personal injury lawyer in Florida may be able to recommend a quality doctor that will be able to treat you on a letter of protection, or LOP. A LOP is basically an I.O.U. out of the settlement of the case. A local Florida lawyer will know the providers who will agree to this type of arrangement so that you can receive the treatment you need and pay off the bills once the case is over.
Once your treatment has concluded, a personal injury lawyer in Florida will be able to compile the medical records and bills and make a demand upon the insurance company for your losses. A lawyer will know what records an insurance adjuster needs to review and how to present it in the best manner. A lawyer will also be able to document any lost wage claims you have and include it in the demand.
After the demand is received by the insurance company, the adjuster will either deny the claim or make an offer. If the offer is reasonable, your lawyer will negotiate it and hopefully get it settled. If the claim is denied or too low to be reasonable, the lawyer will be able to file a lawsuit. While lawsuits are rare, it is often beyond the control of the lawyer how much is being offered. In these cases, the lawyer must push the other side in order to convince them that the prior position was inaccurate.
Most Florida personal injury cases settle before trial. However, your lawyer must be prepared for trial and have the resources to fund the case through trial. Often, small firms or solo practitioners do not have the resources to fight insurance companies and will withdraw from a case if they can't get it settled. Lawyers who withdraw from cases before trial do a terrible disservice to their clients and often leave them in a position where they cannot find a new lawyer. Be careful that you hire a Florida lawyer that has the energy and demeanor to fight for you.
There are many great personal injury lawyers in Florida and they provide a tremendous service helping people recover compensation for their injuries. Insurance companies have virtually unlimited resources and the help of a Florida lawyer to guide and protect you against them is vital. If you are looking for a personal injury attorney in Florida, I would be honored to discuss your claim. We offer free consultations both in person and over the phone and are available to meet with you at your home if you find that is more convenient.
Contact a Personal Injury Attorney
If you or a loved one have been injured by someone else's negligence, then you should take the proper measures to ensure you receive the compensation you deserve. Contact St. Petersburg Personal Injury Attorneys McQuaid & Douglas today and speak with an attorney. For over 60 years our firm has been successfully helping people who have been injured due to someone else's carelessness. We have been nationally ranked for decades by US News and World Reports as a Tier 1 law firm, which is the highest ranking that can be received. Sean McQuaid and Jonathon Douglas have dedicated their careers to continuing the firms legacy of superior legal representation.
Remember that we never charge a fee, unless we win. Call us today at 727-381-2300 so that we may answer your questions, help you navigate the complexities of insurance claims, and recover the compensation that you deserve.
We work hard to make sure each and every client gets the attention that they deserve. We appreciate feedback from our clients and reviews are validation of our work. Every 5 star review that we receive lets us know that our services were appreciated by our clients.
St. Petersburg Personal Injury Attorneys McQuaid & Douglas
5858 Central Ave suite a
St. Petersburg, FL 33707
(727) 381-2300