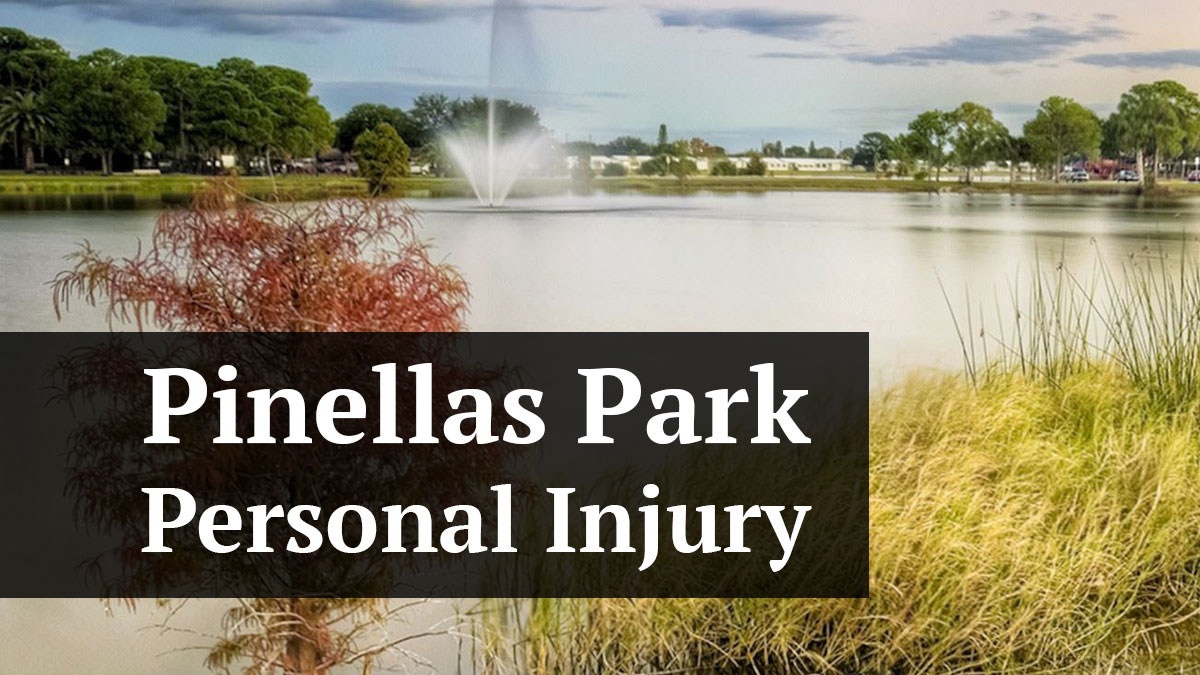 Pinellas Park is at the epicenter of many of the personal injury accidents in Pinellas County. It is a small city, but located in the center of the most densely populated county in Florida, it is a hub for through traffic. In fact, car, truck and motorcycle accidents are perhaps more common in this area than anywhere else in the county. It has been my experience that the number of highways and commuters have contributed to an explosion of accidents. You can tell that there is a high incidence of accidents by all of the personal injury law firms lined up along Park Blvd N!
At St. Petersburg Personal Injury Attorneys McQuaid & Douglas, we specialize in Pinellas Park personal injury claims. We have observed that many injured people do not know exactly how a personal injury attorney can help, therefore I wrote this article. I hope it helps explain what we do and how your claim will work.
What Types of Cases Does a Pinellas Park Personal Injury Attorney Handle?
The types of cases that we handle are relatively straightforward. If your claim is not on the following list, please contact us to discuss whether we would take the case.
Because US 19, Park Blvd, 66th St, 49th St. and Bryan Dairy all run through Pinellas Park, there is a much higher chance for an accident. As a result of this increased traffic especially during congested periods, a lot of people get injured in Pinellas Park. The following list of accident cases are all a direct result of the traffic on these roads:
Car Accidents:
Car accidents are by far the most common type of accident in Pinellas Park. In fact, it has been my experience that there are more car accidents here than anywhere else in the county. If someone else drives carelessly, while DUI, or recklessly and you are injured, you might have a claim
Auto Accidents:
Auto accidents are a catch-all category of accident claims. It includes car accidents, truck accidents, and motorcycle accidents.
Motorcycle Accidents:
Motorcycle accidents are also very common in Pinellas Park. Many of these accidents occur at dusk, when it becomes more difficult for drivers to see the motorcyclist. US 19 is a common road for motorcycle accidents and often many end tragically.
Truck Accidents:
As mentioned above, because of the number of roads through Pinellas Park, many trucks travel through the area to deliver their loads. Park Blvd is one of the most common truck routes through Pinellas Park and as a result, many truck accidents occur..
Uber/Lyft Accidents:
Uber and Lyft accidents are increasingly common. Many personal injury lawyers do not understand how the app works or the complexities of the coverage. If you have been in an accident with an Uber or Lyft, were the driver of an Uber or Lyft, or were a passenger, the insurance coverage changes. We have handled countless accidents and can walk you through the process.
Pedestrian/Bicycle Accidents:
Another group of many unfortunate accidents are pedestrians in Pinellas Park. I have handled accidents at virtually every major intersection throughout the city. Even when my clients are crossing in crosswalks with the walk sign, vehicles making turns often do not see them. The same goes for bicyclists. While bicyclists are less common on the busier roads, there are still a lot of serious bicycle accidents on the back roads of Pinellas Park.
Dog Bites:
Dog bites are less common in Pinellas Park. I find that the owners are more responsible and there are less attacks. Florida has very strong laws against the owners of dogs that attack people. Our injury claim is against the homeowner's insurance for the owner of the animal. If you have been injured, it is essential that you report the incident to Animal Control.
Slip and Fall/Trip and Fall:
Businesses, landlords, and homeowners have an obligation to maintain their premises in a reasonably safe condition or to warn of any dangers. When you slip and fall or trip and fall on something that should not be there or was not properly maintained, you may have a claim. Common slip and fall claims are at grocery stores where wet floors cause a hazard. Also, if a sidewalk, parking lot or other condition is in disrepair and causes you to fall, you may have a claim.
Premises Liability:
Premises liability is another catch-all term meaning that the place where you were injured is responsible. These claims are based on negligence. Slip and fall and trip and fall claims are considered premises liability. Also, if an employee at a business injures you, the company can be held liable for negligent hiring, negligent supervision, or negligent training. Lastly, if you are injured on premises by someone who does not work there, the business could still be liable for negligent security, lighting, or other safety measures. This area can be complex, therefore, I suggest you speak to a personal injury attorney before making any decisions.
What Is the Process of Handling a Pinellas Park Personal Injury Claim?
A lawyer's job begins immediately after he or she is retained. The first few days of a claim are fast moving and important.
The first step that I take is to inform the insurance companies that I am representing the client. This forces the insurance company to contact me with all of their inquiries. Now, there are certain circumstances where I permit my clients to speak to the insurance company, like when it comes to getting their car fixed or a total loss payment. But, I handle all questions about the injury and assist with setting up the payment of medical bills under the no fault or PIP coverage.
Another immediate step that I take is to investigate the accident. If there are witnesses, evidence, or photos that need to be obtained, I do that. If there is evidence that exists, but that I cannot physically acquire, then I send off letters demanding that the evidence be preserved.
Yet another very important step at the onset is to coordinate the client's medical treatment. If a client has gone several days since the accident with no treatment, I insist on them getting in to be seen immediately. Likewise, if several days have passed since the client was seen at a hospital or urgent care, we coordinate getting them in to see a specialist. We try to refer our clients to trustworthy doctors who are convenient to them. Often, transportation is an issue and we understand there may be hurdles with work and family obligations. But, eliminating problems with medical treatment is a priority in our personal injury cases.
As the medical treatment progresses, the personal injury attorney will monitor the case and the bills. It is important to protect the client from high medical bills and unnecessary treatment. A responsible lawyer will make sure that the bills do not reach the point that they cannot be repaid out of the proceeds of the settlement.
Once the treatment ends, I then compile all of the records, the bills, and the liens. We use this information to put together a demand to the insurance company. Included in the demand is the theory of the case and why the insured committed some act of negligence. I further include a detailed explanation of the injuries and the medical treatment. I include a section on the background of the client and how this injury has affected their life. I then compile all of the bills and liens. The demand is made for a recovery of money for the injuries, the bills, any future bills, any lost wages, out of pocket expenses, and pain and suffering.
Once the demand is sent, I normally give the insurance company 30 days to respond. I then negotiate the claim, and if I am able to reach a settlement, the claim ends at that point.
However, while most cases settle, that is not a guarantee. Insurance companies can be very difficult and unreasonable. A case with one company may be worth a different amount to another. So, if I find my client in a situation where they are not getting a fair offer, I recommend filing a lawsuit. While this does extend the length of the case, it usually results in a much higher settlement offer. Of course, if the case cannot be settled along the way, the case ends up in a jury trial.
How Much Does a Pinellas Park Personal Injury Attorney Charge?
Personal injury cases are handled on a contingency basis. That means that the lawyer is paid based on a percentage of the settlement. You will never need to put any money down or make payments. And, if you do not recover money, you do not owe the lawyer anything for his time.
The amounts that a personal injury lawyer can charge are set forth in the Rules Regulating the Florida Bar 4-1.5. For most cases that settle before a lawsuit, the fee is 33.33%. If the case cannot be settled and results in a lawsuit, the fee increases to 40%. For claims against a government or state agency, the fee is limited to 25%.
Costs are also part of the case. The costs are paid by the lawyer and then reimbursed out of the settlement. Examples of costs are photocopies, certified mail, filing fees, deposition costs, and mediator fees. If the case settles without a lawsuit, the costs at our Firm are usually nominal.
Contact a Pinellas Park Personal Injury Attorney
Our office is located only minutes from Pinellas Park. We are happy to visit you at your home, have you come to the office or simply speak over the phone or via video chat. We have handled countless accidents in Pinellas Park, FL and know it well. If you or a loved one has been injured in a personal injury accident and want to discuss a claim, please contact us for a free consultation.