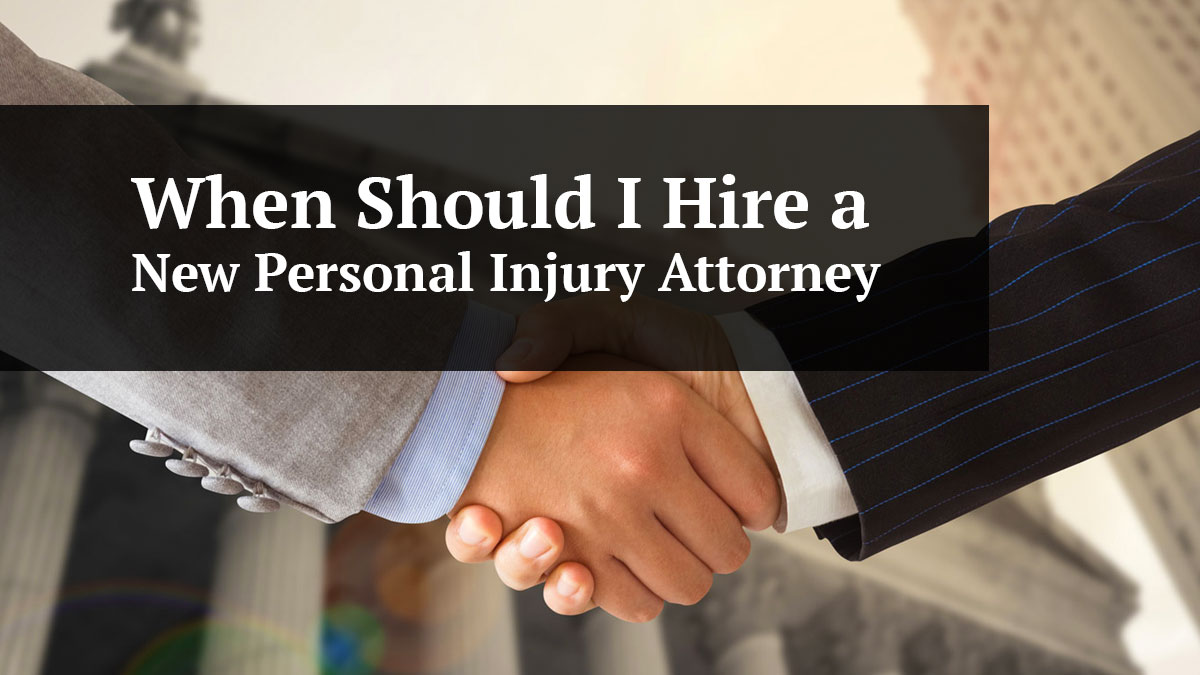 How to get a new personal injury lawyer is a common question that we get from prospective clients on a regular basis. We have observed that due to the nature of contingency agreements, it is very easy for clients to sign contracts with lawyers that they do not know, have not done any research on, and know nothing about. We find that since no money is being exchanged at the initial meeting, clients mistakenly believe they have little to lose to trust the lawyer. What is even more unusual are clients who tell us that they never met or spoke with a lawyer prior to signing a contract. It seems that it has become common in the personal injury field to use "investigators" or paralegals to handle all aspects of a case including all communications with clients. Understandably, many of these clients figure out that the type of representation they are getting is not what they expected and start looking for a new personal injury attorney.
While it is not ideal to switch lawyers, the rule of thumb is to do it sooner than later. There are many strategic decisions that are made at the onset of the case including the type of medical treatment that can alter a case if not done properly. It always amazes me how a lawyer can handle a case when they have never seen the client. How can a lawyer in that position possible relay to the insurance company the type of person you are and the pain that you have experienced?
Does it cost money to get a new personal injury lawyer?
No, it does not cost you, the client, anything to get a new personal injury lawyer. It is possible that the old lawyer will assert a lien on the file for his time and costs on the case, but that is something that the lawyers handle among themselves. The lien to be paid to the old lawyer will come out of the fee that the new lawyer receives. You are not harmed in any way.
If I fire my personal injury lawyer for cause, can he assert a lien?
If your lawyer has failed to do something and you terminate him for that reason, he cannot assert a lien against your case. That is called termination for cause.
I have tried to hire a new personal injury lawyer and no one will take my case. Why is that?
If you have tried to hire a new personal injury lawyer and have difficulty in finding one who will take on your case, it is likely one of two reasons. Either you don't have a good case or you have waited too long to change lawyers. As far as the time frame to switch out lawyers, the longer you wait, the higher the lien that your current lawyer can assess for fees and costs against the fee of the new lawyer. So, if you have waited months or even years with one lawyer and are have become unhappy, your case simply may not be worth enough to justify the lien. In other words, your new personal injury lawyer isn't going to want to work hard simply to give his fee to another lawyer. We regularly turn down cases where clients simply should have made the switch within a few weeks of the accident but delayed and are then stuck with a lawyer who can't get the job done.
Example of a lawyer who needed to be replaced.
I had a client contact me recently who lived in Pinellas Park. His car was totaled, so he had no transportation. He was referred to a lawyer in Tampa who his friend had used in the past. He went to the lawyer's office, met with a secretary, signed the contracts and was referred to a doctor in Tampa. The Tampa doctor wanted to treat him at the office three times a week despite the fact that he did not have a car. The client called the Tampa lawyer's office multiple times looking for the lawyer, but never met or spoke to him. Also, the secretary who he met with no longer returned his calls. After three weeks of his phone calls not being returned, he found out the secretary had quit. He made the decision to hire my office since he was upset with the other lawyer's conduct. My office then put him in touch with a medical office near his home that provided transportation for appointments. The client is happy and there was no lien asserted by the other lawyer. (note, when I called for the other lawyer to give him the professional courtesy that I was taking over the case, no one answered the phone, I had to leave a message and no one ever returned the call!)
If you are unhappy with your current personal injury lawyer and are looking to make a change, I would be happy to meet with you to discuss the situation. I find that often it is simply a lack of communication that is the biggest problem between lawyers and clients. However, if you realize that you have made a mistake by hiring a certain lawyer, time is of the essence to fix the problem.
Contact a Personal Injury Lawyer
If you or a loved one are looking for a new personal injury attorney, then you should take the proper measures to ensure you receive the compensation you deserve. Contact .St Petersburg Personal Injury Attorneys McQuaid & Douglas today and speak with an attorney. For over 60 years our firm has been successfully helping people who have been injured due to someone else's carelessness. We have been nationally ranked for decades by US News and World Reports as a Tier 1 law firm, which is the highest ranking that can be received. Sean McQuaid and Jonathon Douglas have dedicated their careers to continuing the firms legacy of superior legal representation.
Remember that we never charge a fee, unless we win. Call us today at 727-381-2300 so that we may answer your questions, help you navigate the complexities of insurance claims, and recover the compensation that you deserve.
We work hard to make sure each and every client gets the attention that they deserve. We appreciate feedback from our clients and reviews are validation of our work. Every 5 star review that we receive lets us know that our services were appreciated by our clients.
St. Petersburg Personal Injury Attorneys McQuaid & Douglas
5858 Central Ave suite a
St. Petersburg, FL 33707
(727) 381-2300