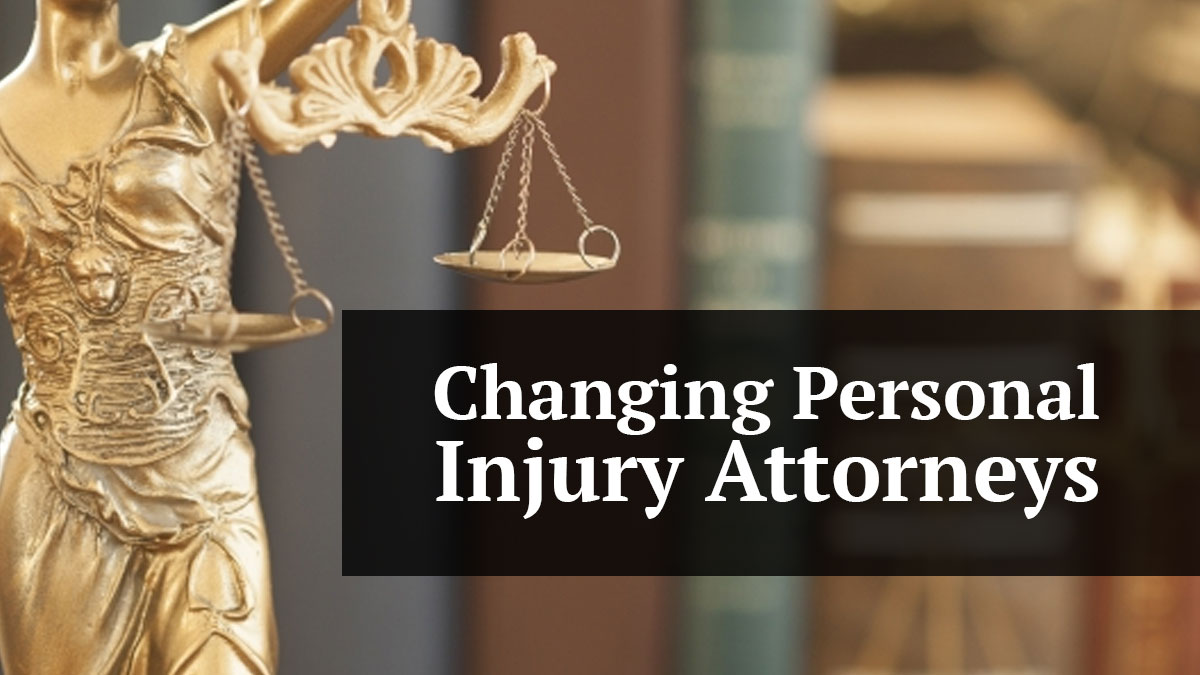 If you have reached the point where you no longer wish to be represented by your personal injury lawyer, you are not alone. While it is likely that you have tried to be patient and perhaps have given the lawyer multiple chances to correct the problems, some people simply don't change. But, what lawyers don't want you to know is that you can change personal injury attorneys at any time at no cost to you and no penalty to your case. While this decision should not be taken lightly, it is sometimes necessary once you have realized that the lawyer you have hired is hurting or going to hurt your case.
At St. Petersburg Personal Injury Attorneys McQuaid & Douglas, approximately 25% of our cases are from people who have switched lawyers to hire us. These transitions are usually seamless and we do our best to handle the change in a professional manner with no hard feelings to anyone involved. We have come to realize that not every personal injury attorney goes the extra mile for their clients. When we are hired, our clients know that we have the resources and communication channels to ensure that the problems they experienced with their prior lawyer do not repeat. I believe that our dozens of five star reviews confirm that we are different. At the end of the day, you need to protect your case, yourself and your family, so if changing personal injury lawyers is what you need to do, then you shouldn't hesitate to see if things get better.
Should You Change Your Personal Injury Attorney?
This is a decision that only you can make and should be taken seriously. But, if you do not trust your lawyer and are not communicating properly, then why wait? Some of the behaviors that can lead to a lack of trust are inconsistent advice, poor communication, and lack of a case strategy. If you have given the lawyer multiple chances to improve and your situation is not getting better, then you need to protect yourself and speak to another lawyer. A simple phone call could potentially save your case.
Can You Switch Personal Injury Attorneys?
Yes, you are entitled to the lawyer of your choice at any time during the claim. When people switch personal injury attorneys, it is best that they do so in writing. In the email or letter, it is best to detail the reasons why you are unhappy and making the choice.
There are then two ways to get the file. You can pick it up or your new law firm can request it directly. Usually, whichever way is faster is the best way.
Now, you might have heard about a fee lien. It is possible that the old lawyer will assert a lien on the file for the work that was done. If that is done, it is nothing that you should worry about and nothing that will affect you. The lien is paid out of the new lawyer's fee, so it will not cost you a penny. Your new lawyer will be aware of the potential for a lien and will have factored that into his decision to take over the claim.
How to Choose a New Personal Injury Attorney
I advise every new client not to discharge their current lawyer until they have found someone new. But, that decision is ultimately up to the client. When looking for a new lawyer, I recommend that you do your homework. For example, go online and look at the lawyer's website. Look at the online reviews. And, go to other lawyer rating sites that provide an independent ranking of the lawyer. If you get a referral, do the online research for that person as well.
Once you've found someone that you like, set an appointment and please bring in whatever file materials that you have for the lawyer to review. The more information that you can give the lawyer, the better the chance that he or she has to help you decide whether making a change is in your best interest. I also advise to be careful about lawyers who make big promises. It is very difficult to judge the value of a case during a 30 minute consultation. If someone is promising you more than what sounds reasonable, you should be skeptical.
Examples of Reasons Clients Have Switched Attorneys and Hired Us
This list is not meant to embarrass other lawyers, but I felt it was important if someone wanted to see other circumstances when the lawyer was changed. As I mentioned in the above, we are hired virtually weekly by clients who switch lawyers. Not all give reasons, but these are some examples that stuck out to me.
Last week we were hired by a woman who had hired a lawyer whom she knew through church. His specialty was disability law, not personal injury, but she hired him anyway. She reported to us that his office was poorly run, that he never returned calls and that she continued to have problems related to her concussion. When she asked him for a referral to a neurologist who could treat her on a letter of protection, he said he didn't know anyone and she should research it on her own. She called us and hired us immediately. Within a week, we sent her to a neurologist who is currently treating her on an LOP.
The week before, we were hired by a woman who complained that her old law firm was not returning phone calls or answering her questions. She reached out constantly over the months, but was ignored. After her car accident, she was experiencing loss of bladder control and was very worried and wanted a doctor to look at the problem. When she finally expressed her concerns to her lawyer, he said that her condition was common in women who had children and not to worry about it. She did not have children and was very upset. She terminated that firm and hired us.
We were hired by a man a month ago who had called a lawyer referral service that he saw on a billboard. The service, whose name shall not be mentioned but you would recognize it, assigned him to a lawyer in South Florida and to a chiropractic clinic on 34th St. N in St. Pete. He lived in Pinellas Park, so he never met the lawyer. The clinic on 34th St. N. demanded that he come in for treatment five day a week! He thought that was suspicious, but his lawyer told him to go. He decided that he could not trust the web that he was in and terminated the lawyer. We immediately changed his treatment to a different doctor down to two days a week and within another couple of weeks settled his case.
These examples could go on and on but the main complaint that we get is simply lack of communication by the law firm. A client should never go more than a day or so without a return phone call, text or email. The cases are simply too important not to have good communication.
Contact St. Petersburg Personal Injury Attorneys McQuaid & Douglas
If you are looking to switch personal injury lawyers, please do not delay. The longer that you wait, the harder it becomes to change and the more difficult it is for us to get up to speed on the file. The reason why we get so many cases from people looking to make a change is because we do a good job. We pride ourselves on putting our clients' best interest first. The worst that can happen is that you don't choose to hire us and stay with your current lawyer, so there is no risk. If you want honest lawyers with the resources and experience to help you, then please contact us for a free consultation.