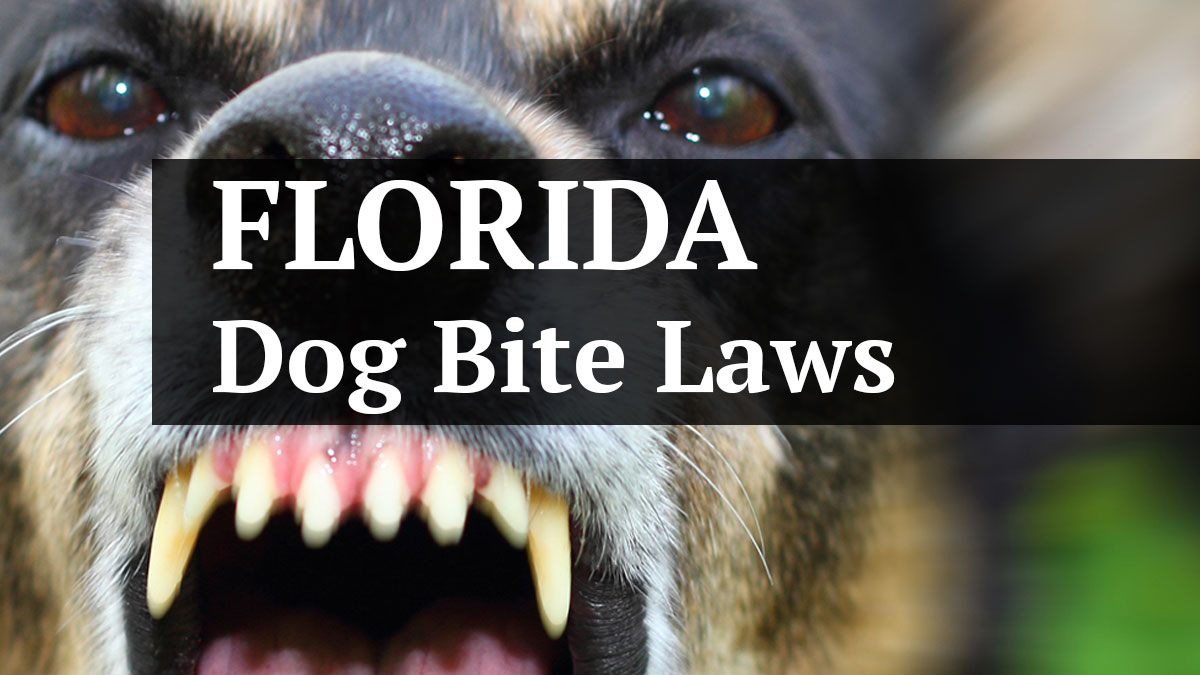 At St. Petersburg Personal Injury Attorneys McQuaid & Douglas, we hope that you are never bitten by a dog or involved in a dog attack, but if you are, Florida law is firmly on your side. In fact, Florida has some of the toughest laws in the country to penalize dog owners if their dog bites someone. Dog bite case are not normally easy, however. Besides the emotional and physical toll a dog bite takes on a victim, there are usually many other factors at play. Most dog bite attacks are from dogs owned by family members, friends or neighbors. These incidents can lead to hostility and hard feelings. In addition, there is a certain percentage of dog owners who are irresponsible, do not care about the well being of others, and are very difficult to track down and punish. Therefore, there is usually no such thing as a simple dog bite case. If you or your child has been involved in a dog bite or dog attack incident, please contact us immediately for advice. Because of the complexities of these cases, good legal advice from an experienced dog bite lawyer can go a long way.
Two Types of Dog Bite Law
Strict Liability
The first legal theory that holds dog owners liable for the attacks of their dogs is called strict liability. Florida is one of only a few states that uses this legal theory. It means that if you own a dog and it bites someone, you are liable for the injuries that are caused. This is a tough law especially for people whose dogs have never shown any signs of aggression prior to the first bite incident. In other states, they use what is called the one bite rule. The one bite rule states that an owner cannot be held liable for a dog bite unless the dog has previously bitten someone or been aggressive in the past. There is no higher form of liability than strict liability and this is what makes Florida law so helpful for victims of dog bites to pursue compensation.
Liability Based on Negligence
The second form of liability for a dog bite or dog attack is under a general theory of negligence. This legal theory simply means that the owner of the dog violated some duty of care to you. There would be no reason to only bring a negligence claim against the dog owner if strict liability was already available. But, having two forms of liability for a dog bite claim certainly improves your chances at recovery and illustrates how favorable Florida law is for the victim. An example of how a negligence claim might apply is when a dog owner has a dog in a fenced in backyard. If the gate to the fence is left open by accident, the dog escapes and then the dog attacks or bites you, there may be a negligence claim. The fact that the dog owner left the gate open allowing the dog to escape is a violation of the duty of care to you.
Dog Bite Claims Are Covered by Homeowner's Insurance
Normally, the victim of a dog bite claim can bring a claim against the dog owner's homeowner's insurance policy. Homeowners insurance should normally cover any dog bite incident of a dog who was permitted to be on the property. For example, if you had a guest over to your house who brought his or her dog and the dog bit someone while on your property, you can be liable. However, if an uninvited dog roamed onto your property and bite your guest, there would likely not be a claim against you.
Homeowner's insurance is normally the only resource for dog bite victims to pursue. Under Florida law, most homes are homesteaded, meaning that they cannot be seized or forced to be sold in order to pay a debt. Thus, a dog bite lawyer will look to find a homeowner's policy to pursue.
Watch for Dog Bite Exclusions from Homeowner's Policies
While Florida law is strong for victims of dog bites, if there are no resources to pursue for compensation, they don't mean a lot. Over the years, homeowner's insurance companies have tried to limit their exposure in order to avoid paying dog bite claims. One of the biggest culprits of these sneaky maneuvers is Citizen's Insurance. If you are not careful, Citizens will try to exclude dog bite claims from policies. If you attempt to buy a homeowner's policy, make sure you ask to see if they have excluded dog or animal claims. Also, if you get a notice in the mail that your insurance company is excluding dog or animal claims, make sure you call and add it back in. Most people do not understand how they are not covered for these incidents despite the fact they have insurance and pay a lot of money. But, the devil is always in the details of the policy. Do not wait until it is too late to check to see if you are covered for a dog bite or animal attack claim.
Contact a Dog Bite Attorney
Florida Statute 767.04 offers victims of dog bites legal options, but only an experienced dog bite lawyer will know how to use those options to your advantage. I have found over the years that many victims of a dog bite do not contact a lawyer and simply deal directly with the homeowner's insurance to get their medical bills repaid. When a victim does this, they leave thousands of dollars of compensation behind. Only a dog bite lawyer will know what types of compensation you are eligible to recover and how to present those claims. Homeowner's insurance policies normally provide over $100,000.00 in coverage, so there is often plenty of money available to compensate you. If you have any questions about a dog bite claim and how Florida law applies to your situation, please contact St. Petersburg Personal Injury Attorneys McQuaid & Douglas. Our consultations are always free.
Contact a Personal Injury Attorney
If you or a loved one have been injured in an accident, then you should take the proper measures to ensure you receive the compensation you deserve. Contact St. Petersburg Personal Injury Attorneys McQuaid & Douglas today and speak with an attorney. For over 60 years our firm has been successfully helping people who have been injured due to someone else's carelessness. We have been nationally ranked for decades by US News and World Reports as a Tier 1 law firm, which is the highest ranking that can be received. Sean McQuaid and Jonathon Douglas have dedicated their careers to continuing the firms legacy of superior legal representation.
Remember that we never charge a fee, unless we win. Call us today at 727-381-2300 so that we may answer your questions, help you navigate the complexities of insurance claims, and recover the compensation that you deserve.
We work hard to make sure each and every client gets the attention that they deserve. We appreciate feedback from our clients and reviews are validation of our work. Every 5-star review that we receive lets us know that our services were appreciated by our clients.
St. Petersburg Personal Injury Attorneys McQuaid & Douglas
5858 Central Ave suite a, St. Petersburg, FL (727) 381-2300
5 out of 5 based on 20 reviews
Sean McQuaid and Jonathon Douglas were voted best personal injury attorneys in Saint Petersburg, Florida for 2019.