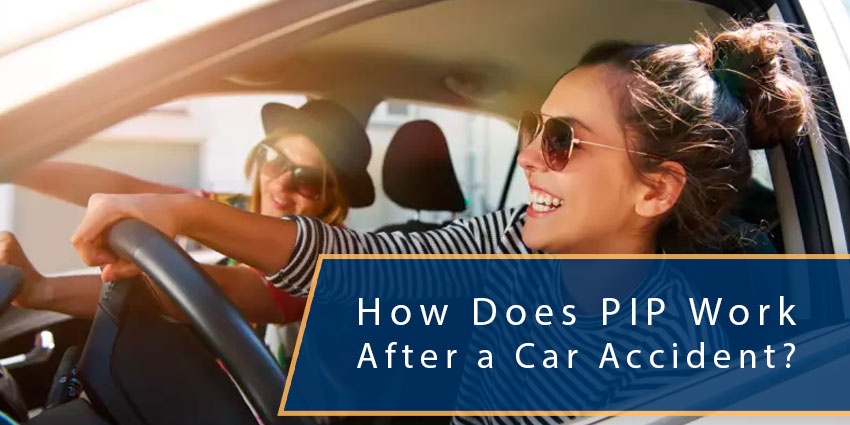 Personal Injury Protection Insurance
"Personal Injury Protection Insurance" and "No-Fault Insurance" are synonymous terms for Florida's mandatory automobile insurance coverage requirements set forth in Florida Motor Vehicle No-Fault Law. This insurance provides coverage for certain expenses after an auto accident. Your insurance company pays for your expenses, regardless of who caused the accident. Because of this rule, PIP is also known as No-Fault.
One of the benefits of the Personal Injury Protection system is that it provides a standardized minimum coverage for medical and death benefits to anyone involved in a car accident in Florida. Bills are paid much quicker, usually within a few weeks of receiving the bill, rather than waiting months or years, negotiating, and even possibly litigating the matter with the at-fault party. The statute also has some teeth to help motivate insurance companies to pay benefits timely. If an insurance company fails to pay PIP benefits to a medical provider on time, they may be subject to pay the costs of a lawsuit to collect the bill.
Who Is Covered Under Florida's No-Fault Insurance?
In order for an insurance policy to be compliant with the security requirements of Florida's Motor Vehicle No-Fault Law, it must provide personal injury protection to the following 'eligible persons':
the named insured
relatives residing in the same home, unless specifically excluded
person operating the insured's vehicle
passengers in the insured's vehicle
persons struck by the insured's vehicle (under certain circumstances like a pedestrian or bicycle accident)
Authorized Exclusions
Any insurer may exclude benefits:
For an injury sustained by the named insured and relatives residing in the same household while occupying another motor vehicle owned by the named insured that is not insured under the policy, or
For injury sustained by any person operating the insured motor vehicle without the express or implied consent of the insured. (this is often a stolen car)
To any injured person, if such person's conduct contributed to his or her injury under any of the following circumstances:

Causing injury to himself or herself intentionally; or
Being injured while committing a felony.
What is Covered Under Florida's No-Fault Insurance?
Your Personal Injury Protection insurance pays medical benefits, disability benefits and death benefits for 'eligible persons.'
Medical Benefits
80% of all reasonable expenses if the following conditions are met:
the injured person receives initial services and care within 14 days after the motor vehicle accident
the initial services and care is provided by a properly licensed and legal medical care professional
If both conditions are met, the medical insurance benefits would pay medical expenses up to:
$10,000, if a physician determines that the injured person had an emergency medical condition, or
$2,500, If a physician determines that the injured person did NOT have an emergency medical condition
Disability benefits
Disability benefits provide coverage to' eligible persons' who are unable to work due to injuries sustained in a motor vehicle accident. Benefits pay:
60% of any loss wages and loss of earning capacity
Reasonable expenses for hiring services to perform functions the injured person would have performed
Disability benefits must be paid at least every 2 weeks.
Death benefits
PIP insurance must also include death benefits in the amount of $5,000 per individual. The death benefit is in addition to the medical and disability benefits. The insurance company may pay death benefits to the executor or administrator of the deceased's estate, to any of the deceased's relatives by blood, legal adoption, or marriage, or to any person appearing to the insurer to be equitably entitled to such benefits
What is the 14-Day Rule for Seeking Medical Treatment?
If you have been involved in an auto accident, it is important that you seek medical attention as soon as possible, for several reasons. The most important thing is your health. Without the presence of pain or blood, often people believe they were not seriously injured in the accident. However, it is quite common for injuries to manifest themselves several days or weeks after an accident. It is never a bad idea to have a doctor check you out and make sure there are no signs of internal damage or soft tissue injuries.
It is also important to seek medical care promptly after an accident to protect your rights to receive compensation from your PIP insurance. You only have 14 days to seek medical treatment. If you do not, you forfeit your Personal Injury Protection coverage, and the insurance company will not cover any claim.
What Is an Emergency Medical Condition?
Florida's no-fault law specifies that in order to qualify for the full $10,000 PIP policy limit benefits, the claimant's injuries must have been determined to be an emergency medical condition. If the injury is not determined to be an emergency medical condition (which is rare), then the PIP benefits are capped at $2,500.
What is an emergency medical condition? An EMC is defined as:
A medical condition that manifests itself by acute symptoms of sufficient severity, which may include severe pain. The absence of immediate medical attention could reasonably be expected to result in any of the following:
Serious jeopardy to patient health
Serious impairment to bodily functions
Serious dysfunction of any bodily organ or part
If a physician determines that the injuries do not meet the definition of an emergency medical condition, the PIP benefits drop significantly – providing only $2,500 coverage.
What Other Coverage is Available to Pay Medical Expenses?
Insurance companies offer additional options which can help cover costs for expenses that exceed the PIP insurance policy limit or are not paid under your PIP coverage. You can choose to purchase 'extended PIP' coverage, 'added PIP' coverage, or medical payment coverage.
Extended PIP insurance coverage is car insurance that extends your personal injury protection insurance to cover a higher percentage of your medical costs and lost wages.
Key Things to Know About Extended PIP Coverage
Extended PIP covers 100% of medical costs and 80% of lost income.
Extended PIP does not include a deductible.
Extended PIP does not have to be paid by if you receive a settlement award
Extended PIP does not increase your overall coverage limit.
Extended PIP may require listing all members of your household on the policy
Purchasing 'added PIP' insurance allows you to increase your policy limits for PIP benefits. However, you must have 'extended PIP' coverage on your policy before you can upgrade to include 'added PIP' coverage.
Medical Payment Coverage
Medical Payment coverage, also known as MedPay, can be used to cover the 20% of medical expenses not paid by your PIP insurance and 100% of any other medical costs.
Ideally, your insurance provider should apply only 20% of your MedPay coverage toward your medical bills until your PIP benefits become exhausted. You do not want to use your MedPay coverage until your PIP insurance coverage is exhausted.
In addition, there is contractual right of subrogation or reimbursement with MedPay under most policies. If you receive a settlement award, you may be responsible for reimbursing MedPay for any monies paid on your behalf for medical expenses.
MedPay Death Benefits
MedPay may cover additional funeral and burial expenses in addition to the $5,000 death benefit coverage under your PIP insurance. $5,000 may not cover the total amount of funeral or burial expenses. The additional coverage can provide considerable financial relief to grieving loved ones who may struggle to pay the additional costs.
Health Insurance Policy
If you have an adequate health insurance policy, then you may also be able to leverage those benefits to cover medical care. If this is the case, then MedPay, "extended PIP," or "added PIP" may not be important or necessary. These types of automobile insurance coverage can only be used if you get hurt in an auto accident, whereas health insurance may be applied to nearly any medical care that you may need and may be a better choice, depending on your circumstances.
No-Fault Insurance Deductible
PIP deductibles offered by most insurance companies are $500, $1,000, or $2,000. Florida law prohibits deductibles higher than $2,000. Before choosing your policy deductible, consider carefully whether it is advantageous to carry a PIP deductible. In most situations, the amount you save on the policy premium does not typically justify the extra amount that you have to pay if you have a claim, as you can see in the below scenarios:
Scenario 1.
Your medical bills after an auto accident are $12,500. The PIP coverage will pay 80% of those bills – $10,000, your policy limit. This leaves you responsible for paying the remaining $2,500. But, if you have a $2,000 deductible, the insurance company will take that out of the claims amount and only pay $8,000, leaving you to pay the remaining $4,500.
Scenario 2.
Your medical bills after an auto accident are $8,000. The PIP coverage will pay 80% of those bills — $6,400. You are responsible for the 20%, leaving you to pay $1,600. But, if you have that $2,000 deductible, the insurance company will only pay $4,400 and you are responsible for $3,600.
Scenario 3.
Your medical bills after an auto accident are $4,700 and the treating physician determined that you did NOT have an emergency medical condition. Your PIP coverage will pay 80% of those bills up to your policy limit (which is now only $2,500) – $2,000. If you have a $1,000 deductible, the insurance company will pay a mere $1,000, but you would be responsible to pay $3,700 out-of-pocket!
Important Deadlines You Should Know
As discussed, you must seek medical treatment within 14 days after a car accident in order to qualify to receive benefits from your PIP insurance policy. If you do not obtain medical treatment within the first 14 days, then your PIP coverage is forfeited, even if you decide later that you need medical care as a result of the accident.
Assuming that you did first seek medical treatment within 14 days, you then have three years to get treatment. For medical treatment extending beyond three years, private health insurance, Medicare, or Medicaid can be used to pay medical expenses if you have that coverage.
The statute of limitations for filing a personal injury complaint in Florida is 4 years from the date of the accident. If a complaint is not filed by that date, you forfeit your right to bring a suit against an at-fault driver.
Pursuing the At-Fault Driver for Compensation for Damages
Florida Motor Vehicle No-Fault Law prevents you from suing the at-fault party unless the injured party can prove at least one of the following:
Significant and permanent loss of an important bodily function
Permanent injury within a reasonable degree of medical probability, other than scarring or disfigurement
Significant and permanent scarring or disfigurement
Death
If you can prove any of the above conditions, then you can bring a claim for damages. Proving that one or more of these conditions is applicable to you is often done through testimony given by a doctor who states that you have some degree of permanency with regard to your injuries. If you cannot prove any of these items, then your claims are limited to the 20% that is not paid by your PIP insurance coverage, medical expenses which exceed your PIP insurance policy limit, and future medical expenses that are reasonably certain to occur.
Can the Insurance Company Refuse to Pay PIP Insurance Benefits?
Getting the medical care you need after an auto accident should not be complicated or difficult. The law requiring that all drivers in Florida have PIP insurance coverage was intended to ensure that anyone injured in an accident would be able to receive – and pay for – medical treatment,
However, payments for claims submitted against an insured's PIP coverage are denied much too often by insurance companies. One of the most common reasons for denial is because the term "emergency medical condition" was not explicitly called out in one of the treating physician's notes or the patient's records. Common sense would dictate that even if those words were not used, if the injuries and treatment shown in a patient's medical records are easily identifiable as an emergency medical condition, the insurance company should pay the claim. Yet the insurance companies do not exercise due diligence when investigating a claim, and may refuse to interpret a doctor's findings, even when they are obvious. Fortunately, the insured has recourse, because they can sue the insurance company for wrongful rejection of PIP benefits to a deserving party.
Get Help from a Florida Car Accident Attorney
If you are injured in a car accident in Florida, the no-fault insurance policy law should make it easier and quicker to recover compensation to pay medical bills and lost wages. But if you only have the minimum coverage, and it is not nearly enough to eliminate the financial burden, or if you are struggling with the insurance company paying your claims, then you should get help from a legal professional today. We are experienced Florida personal injury lawyers who can help you get the fair compensation you deserve for your medical bills, lost wages, and other damages.
We pride ourselves on providing our clients compassionate, honest, and dedicated legal counsel. As one of Florida's leading personal injury firms, we have helped countless car accident victims recover compensation.
Contact us today to schedule your free initial consultation or call (727) 381-2300.