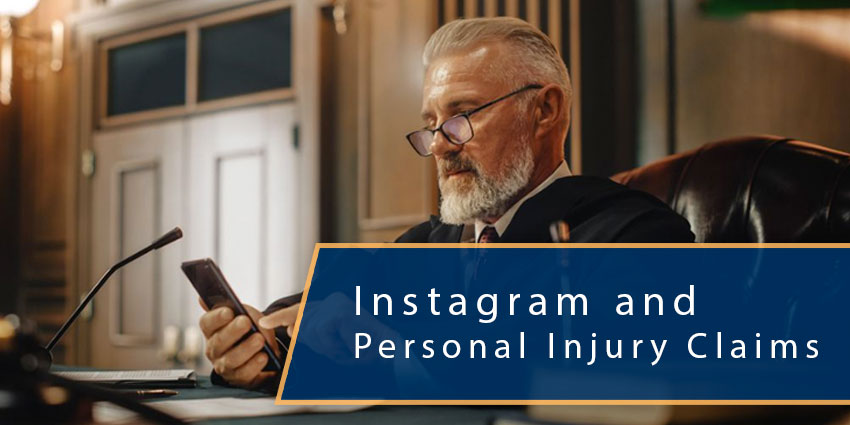 The use of social media apps such as Instagram, Facebook, Twitter, SnapChat and LinkedIn, has become ingrained in our society. They are standard communication tools used for sharing news, events, and every aspect of users' daily activities. However, if you have filed a claim to recover compensation for injuries you sustained as a result of an auto accident caused by someone else's negligence, using Instagram and other social media channels can negatively impact your ability to collect a full and fair settlement. Anything you post, such as photos or comments, has the potential to be used against you by the negligent party's insurance company. This is also true of anything friends or family members may post concerning you.
"Anything you say can and will be used against you…" Because the use of social media has become second nature to many people, it is easy to become unaware of how much personal information, once posted, becomes public information. Insurance companies, defense attorneys, and their investigators can find what is online, and use that information to discredit you.
We advise our clients to stay off Instagram and other social media sites until your claim is resolved, or at the very least, to use social media with extreme caution.
How Can Social Media Be Used Against Me?
Most commonly, information found on Instagram is used to refute the seriousness of your injuries or dismiss them altogether. A picture may be worth a thousand words, and once you post that picture, the words are open to anyone's interpretation. Insurance company investigators will search all the social media platforms in search of information that can be used against you.
Insurance companies will look at your activities and evaluate things such as:
How Active Is Your Social Life Compared to Before the Accident?
If you are recovering from injuries, having an active social life can be misconstrued to show that your injuries have been exaggerated. Afterall, how badly could you have been hurt if you are still out-and-about? Or it could be presumed that you are not properly taking care of yourself or have the desire to recover quickly, if your social activities are interfering with your medical treatment plan as prescribed by your doctor.
Where Have You Been?
Investigators can use the location data from your photos to see where you have been. This can hurt you if your claim states that you have injuries that limit your mobility or seeks compensation for loss of quality of life, for example. They will argue that your claim is fraudulent because you are, in fact, able to travel and get around.
What Activities Are You Participating In?
Photos found on Instagram or other social media sites can be used to show that you are engaging in activities that may worsen your physical condition or just slow down the healing process. It could be interpreted to mean that you are not seriously trying to improve your overall health and well-being.
If your accident claim is for bodily injury, pain, mental stress and the loss of ability to enjoy everyday life, avoid posting anything on social media. You cannot predict how your posts or pictures can be used against you. The potential damage it can cause to your claim far outweighs any benefit that posting could provide.
Social Media Best Practices
If you do decide to continue using Instagram and other social media platforms while your claim is still pending, here are some best practices to minimize your exposure and protect your compensation award.
Check and Update Your Instagram Privacy Settings
No matter how secure you make your privacy settings, there is always the possibility that anything you post online can be hacked and made public. But you should use the tools available to you to lessen the possibility of this happening. Review and update your Instagram privacy settings to limit access to your information to the fewest people you can. Increase the controls so that people cannot post pictures of you or tag you without your permission. These controls can help by making it harder for people you do not wish to access your information.
Do Not Accept Friend Requests from People You Do Not Know
If you receive friend requests from anyone you do not know, even if you have mutual friends in common, you should scrutinize these requests and only accept them if you are 100% certain they are someone who does wish to be your friend. Insurance claims adjusters, investigators and even attorneys have been known to send friend requests to victims in an attempt to access their personal information.
Do Not Post About Your Accident
All those photos you were encouraged to take or have someone take for you should only be shared with your attorney – never online! You will have a chance to share them with friends and family, if you must, after your injury claim is closed. These photos are valuable to have to support your case but once they are posted online, they can become a liability, rather than an asset.
Ask Friends and Family Not to Post Anything About You
Talk with friends and family and request that they refrain from posting pictures of you, tagging you or even commenting about your activities, your health or anything related to the auto accident.
Check Posts You Are Tagged in But Do Not Respond
If you find that someone has posted pictures or made comments about you, the accident or your health on Instagram or other social media sites, do not respond online. Your response can be taken out of context, or even used to misrepresent your state of mind. The insurance company will use it to their advantage and reduce what they pay in compensation.
What Not to Say or Do on Social Media
Do not post any information about the accident including:
a summary or highlights of the accident
remorse or regret
admitting fault
discuss pain or recovery from injuries
discuss damages to you or your property
mention the insurance company
discuss your attorney
the defendant
status updates on your claim or your legal proceedings
discuss the settlement amount
rant and rave about your situation
Do Talk to a Personal Injury Attorney
If you have been injured in an accident, you need an experienced personal injury attorney who will fight to protect your rights. Our firm has decades of experience handling everything from the simplest cases to the most complex. Contact us today so that we may answer your questions, help you recover the compensation that you deserve. We never charge a fee unless we win and we work hard to make sure each and every client gets the attention they deserve.