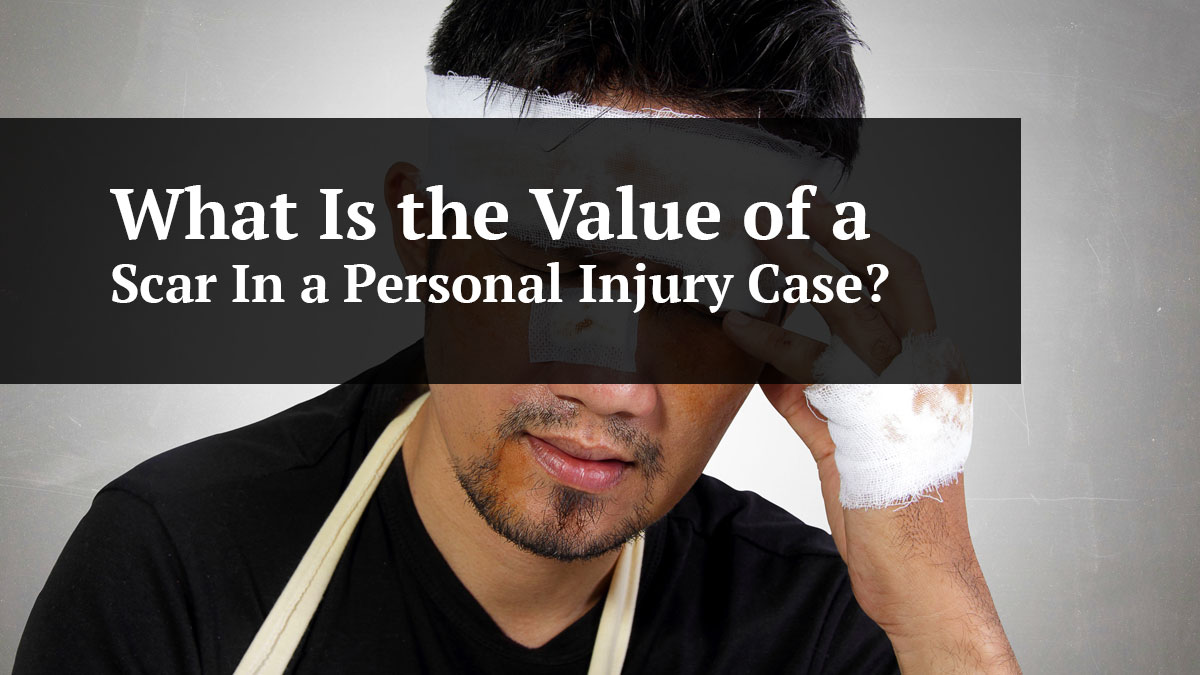 I encounter cuts and scars in many personal injury cases in St. Petersburg. Scars occur in almost every type of case from car accidents to motorcycle accidents to slip and falls. There is no set formula for insurance companies to determine the value of a scar in an injury case other than it has to be permanent. Keep in mind, regardless if you have sustained cuts, scrapes or burns, there must be some type of permanent mark to recover compensation.
The best analysis of the value of a scar in a St. Petersburg injury case is to explain some of the factors that go into the valuation and then give examples. The value of the money paid for a scar first depends on its location. Scars to the face or other visible areas are much more valuable than to other parts of the body. Also, scars to women and children seem to be worth more than those to men. Obviously, this is a societal bias, but I believe insurance companies, like juries, find more sympathy for women and children and pay accordingly. Finally, if the cut needed stitches, the resulting scar payment will be higher despite the final appearance. With those parameters in mind, the following will describe some examples of cases that I have seen where scars were valued.
The worst case that I have seen with a scar was to a younger girl who was cut on her chin in St. Petersburg during a car accident. She needed stitches and the laceration was quite long. She was paid $250,000.00 from the insurance company for the scar. She was about 10 or 11 when she suffered the cut and when I saw her at age 18, the cut and even the holes that the stitches made were still visible on her chin. This is obviously an extreme and sad example.
The next example was a young professional man who was involved in a serious head-on collision. He sustained no injuries other than burns to his hand from the chemicals from his airbag. Although he was given some balm for the burns, there were no stitches. The scarring was minor but could be seen upon close inspection. In his car accident case, he was paid $25,000.00 from the driver who caused the accident and his own UM insurance paid another $10,000.00 for a total of $35,000.00.
The next example is of an 18-year-old young man who was injured and scarred in a car accident in St. Petersburg. He was a rear seat passenger and was not wearing a seatbelt. He was thrown around in the back seat during the car accident and somehow scraped his back on either the metal edge of the seat belt or on the seat belt buckle. He wasn't sure since he was thrown around so violently. The scrape on his back was about 12 inches long but did not require stitches or any medical care. The scrape healed as a scar across his back but was faint. In his case, he was paid about $15,000.00 for the scar injury.
I have handled many cases involving children getting cuts or scrapes in car accidents. Most of the injuries that I've seen have been from seat belt abrasions. Most of the children do seek emergency treatment, but stitches are rare from seat belt rubs or burns. Most of the children recover quite well and only have faint scar marks. For a child who sustains this type of injury, insurance companies will normally pay less than $10,000.00.
Hopefully, you or a loved one does not suffer a scar after an accident in St. Petersburg. If you, unfortunately, do sustain a scar, I hope that the above provides some guidance about what your case is worth.
Contact a Personal Injury Attorney
If you or a loved one have been suffered a scar after an accident in St. Petersburg, then you should take the proper measures to ensure you receive the compensation you deserve. Contact St Petersburg Personal Injury Attorneys McQuaid & Douglas today and speak with an attorney. For over 60 years our firm has been successfully helping people who have been injured due to someone else's carelessness. We have been nationally ranked for decades by US News and World Reports as a Tier 1 law firm, which is the highest ranking that can be received. Sean McQuaid and Jonathon Douglas have dedicated their careers to continuing the firms legacy of superior legal representation.
Remember that we never charge a fee, unless we win. Call us today at 727-381-2300 so that we may answer your questions, help you navigate the complexities of insurance claims, and recover the compensation that you deserve.
We work hard to make sure each and every client gets the attention that they deserve. We appreciate feedback from our clients and reviews are validation of our work. Every 5 star review that we receive lets us know that our services were appreciated by our clients.
St. Petersburg Personal Injury Attorneys McQuaid & Douglas
5858 Central Ave suite a
St. Petersburg, FL 33707
(727) 381-2300