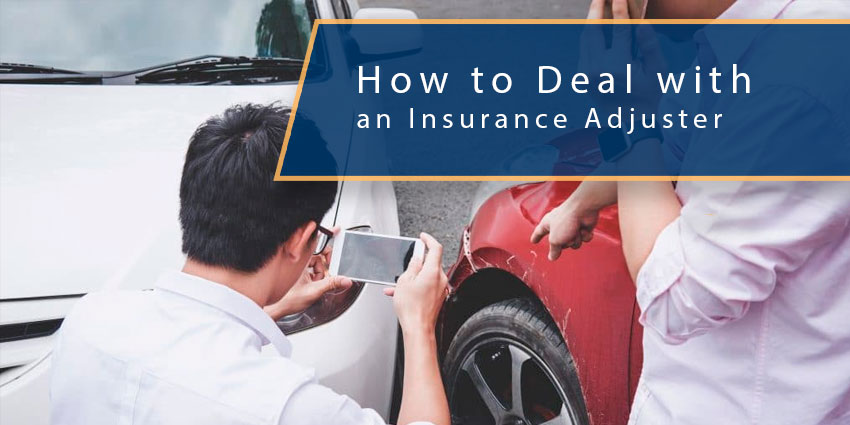 If you have been involved in an auto accident and suffered injuries, knowing what to do after an accident is important – for your peace of mind, as well as to protect your rights to recover compensation for your losses. Dealing with the insurance companies is a key part of those activities. We want to help you understand how to deal with an insurance adjuster after a car accident.
There are standard steps everyone should know what to do after a car accident.
1. Call the police or local law enforcement.
2. Get medical attention.
3. Collect contact and insurance information from all parties involved.
4. Collect contact information from any witnesses.
5. Document the incident.
6. Contact the insurance company.
7. Contact a personal injury attorney.
In this article, we will be delving into how to deal with the insurance companies and their adjusters.
Sharing Information with the Insurance Adjuster
You should only provide the other driver's insurance company with minimal information that you are required to provide. Such information includes your full name, address, and telephone number. You are not required to provide information about your work, including your schedule or hours worked, nor your income.
Do not give the Insurance adjuster a "statement" about the incident- recorded or not. Politely refuse to discuss the facts, except the most basic information, like where, when, and the identity of any witnesses. If pressed for more information, simply tell them that your investigation of the accident is still continuing. You can then discuss the facts at the appropriate time.
The same advice applies to discussing your injuries with a claims adjuster. Do not give any details about your injuries. If you are asked, tell the adjuster that you are "still treating," and leave it at that.
Common Question Insurance Adjusters Ask
The insurance adjuster may ask you very direct questions about the accident or may use a more subtle approach to obtain information from you. Some of the common questions insurance adjusters ask are:
Who do you think was responsible for the accident?
What were you doing just before the accident occurred?
Where were you going to or coming from when the collision occurred?
Did you get contact information for any witnesses? Did they give you any statement as to what they saw?
Are you feeling okay? Did you get hurt?
Did you get medical treatment after the accident? When?
Did the weather impact your driving at the time of the accident?
Have you missed any time at work as a result of the accident?
Was your seatbelt working properly at the time of the collision and were you wearing it correctly?
Use extreme caution when talking with an insurance adjuster. Or, better yet, take the necessary steps to protect your rights and recover the compensation you deserve. Hire a respected, trusted personal injury attorney that knows how to deal with the insurance company.
Do Not Sign a Release for Your Medical Records
After an accident, insurance adjusters will want to request copies of your medical records. However, before signing a Release of Medical Records, you should review the request with a trusted, respected personal injury attorney. The insurance company has the right to review relevant medical records. The key is determining which records are actually relevant. The insurance company may want to request all of your medical records so that they can comb through them looking for anything that may give them an opportunity to claim that your injuries are not as severe, or that you have a pre-existing condition that would invalidate the injury can be attributed to the accident. Your attorney will ensure that the scope of the records requested is specifically those that are related to the accident claim.
Document Everything
If you choose to handle your case without the assistance of a knowledgeable attorney, you can expect to have several conversations with the adjuster, and perhaps with more than just one insurance adjuster. You should never rely on your memory to recall all the details from each call. It is important to write it down, take notes, and document everything that was discussed. The practice of having several different insurance adjusters talk with you is meant to confuse you and allow them to offer different settlement amounts. You should make notes during every discussion you have with the insurance adjusters, and it should always indicate the date and time of the conversation and the name of the insurance adjuster and any other person on the call.
Consideration before Accepting a Settlement Offer
When dealing with an insurance adjuster who offers you a settlement, you may think about that "thing" that you have wanted to splurge on but just haven't had the money to pay for it — and this settlement money will allow you to go for it. But wait! Make sure that the amount fully compensates you for medical bills, property damage, and all your other losses. Remember that money is to reimburse you for expenses you have paid, wages you have lost, medical bills that might still need to be paid, and repairs for property damage. Insurance adjusters have been known to make low settlement offers while trying to entice the accident victim to accept by planting thoughts of a 'well-deserved vacation' you can now afford. But don't be lured into losing sight of what the settlement is meant to do.
Even if the settlement amount is more than the previous offer, it might not actually be more. The devil is in the details. The offer may have gone up because they added compensation for a loss that had been previously disputed – so the number goes up. But what really happened is that the compensation for another loss was significantly reduced. The settlement offer should clearly document in detail exactly what you are being compensated for and the amount for each item.
Contact a Personal Injury Attorney Today
If you or a loved one has been injured in an auto accident, then you should take the appropriate steps to ensure you receive the compensation you deserve. Contact a trusted, respectable personal injury attorney today.
For over 60 years our firm has been successfully helping people who have been injured due to someone else's carelessness. We have been nationally ranked for decades by US News and World Reports as a Tier 1 law firm, which is the highest rank that can be received. Sean McQuaid and Jonathon Douglas have dedicated their careers to continuing the firm's legacy of superior legal representation.
Remember that we never charge a fee unless we win. Call us today so that we may answer your questions, help you navigate the complexities of insurance claims, and recover the compensation that you deserve.
We work hard to make sure each and every client gets the attention that they deserve. We appreciate feedback from our clients and reviews are validation of our work.
Every 5-star review that we receive lets us know that our services were appreciated by our clients.