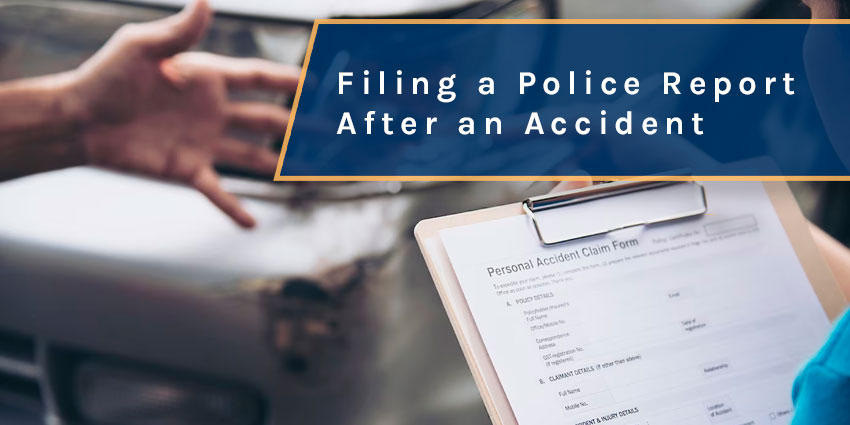 If you have been involved in a car accident in the city of St. Petersburg it is important to provide evidence for a claim by filing a police report immediately that will serve you later on if there are any disputes. The following article will guide you through the necessary steps of how to file and obtain your police report after an accident in St. Petersburg.
Why it is Important to File a Police Report
There are many reasons to file a police report following an accident, the most important is to document the circumstances that contributed to the crash, especially if personal injury or extensive property damage has occurred due to a driver under the influence of alcohol, impairment from a controlled substance or any conditions or hazards on the road. It is also important to have a police officer called to the scene to make sure those involved are not in immediate danger and for the officer to accurately assess the scene then evaluate the information gathered to be submitted in their report. Insurance companies will be requesting this information which is why it is not only important to file a police report but also a claim with the insurance provider of the other driver if their actions caused you to sustain personal injury resulting in extended medical care.
An average police report provides essential details of an accident which include:
The names, contact and insurance information of those involved
The date, time, and location the accident occurred
Any property damage
If medical attention was required
Witnesses and their contact information
Citations or traffic accidents that pertain to the accident
The notes from the investigating officer
This information is crucial in the event you sustained injuries or substantial property damage from those involved to notify them formally with legal action later on. Even though the opinions of law enforcement officials have no bearing on final decisions in civil liberty cases or fault of a crash, It can be beneficial for your case if the report contains an official statement from the officer investigating the accident scene regarding the causes if your claim is disputed by the other party's insurance provider, at this point it will be necessary to hire a St. Petersburg accident lawyer to build a case and safeguard your interests.
How to File an Accident Report in St. Petersburg
These are the instructions you need to follow according to the Florida Highway Safety and Motor Vehicles after an accident in St. Petersburg:
If a Police Officer Attended the Accident Scene
There are two form options for filing an accident report in St. Petersburg and the State of Florida, this will be decided at the scene. An officer investigating an accident that resulted in serious injury or death, required towing services for damages or involved commercial vehicles will submit, pursuant to § 316.066(1)(a) Fla.Stat., a Long-Form Crash Report within 10 days of a completed investigation. For an accident with no injuries or death and property damages not exceeding $500 on a public roadway then the investigating officer pursuant to § 316.066(1)(c) will submit a Short-Form Crash Report and an Exchange-of-Information form may be provided to the drivers and passengers involved. You can also self-report if the accident requires a short-form report, you have 10 days to do this in person, by mail or online.
If a Police Officer Did Not Attend the Accident Scene
According to the St. Petersburg Police Department website all residents involved in minor accidents are allowed by the State of Florida to self-report within 10 days directly to the Florida Department of Motor Vehicles, if the accident occurred on a public roadway or property that is privately owned and damage appears to be less than $500, there is no need to inform law enforcement officials, it will be your responsibility to exchange information with all those involved in the accident at the scene. This will include their names, contact, license, and insurance and the contact information of any witnesses, you will have 10 days to self-report which you can do online, in person or by mail. However, self-reporting is not an option if the accident involves commercial vehicles regardless of the amount of damage, that responsibility becomes the driver's or owners of the commercial vehicles and a long-form report will be required to be filed by police. Self-reporting will also not be an option if the accident involves a bus, that is the operators, lessee or owner's responsibility. Be aware, failure to file a report if there were injuries or significant damages or leaving the scene can result in criminal charges and substantial fines.
How to Self-Report Online
To self-report online download the Driver Report of a Traffic Crash and follow the instructions located on page 2. Once completed, including your signature and the date, you can email the report to SelfReportCrashes@flhsmv.gov
How to Self-Report in Person
To self-report in person you will need to bring your identification and the exchange-of-information form you received from the investigating officer or the information you gathered if an officer did not attend the scene to the Florida Highway Safety and Motor Vehicle office located here in St. Petersburg.
How to Self-Report by Mail
To self-report by mail download the Driver Report of a Traffic Crash, print it out and follow the instructions located on page 2. Once completed, including your signature and the date, you can mail it in a self-addressed envelope to:
Florida Highway Safety and Motor Vehicles
Crash Records
2900 Apalachee Parkway MS 90
Tallahassee, FL 32399
How to Obtain a Police Report After a Car Accident in St. Petersburg
How To Get a Copy of the Accident Report
To obtain a copy of an accident report in St. Petersburg go to the Florida Crash Portal, fill out the form and pay the required fees. The information you will need to submit the forms online, in person or by mail can be found here
How Do I Get a Copy of the Police Report?
To obtain a St. Petersburg Police report by those directly involved including insurance providers and legal representation within the 60 days of filing, pursuant to § 366.066(2)(b), a request must be made in person, all other eligibility can be found on the St. Petersburg Police Department website.
Can You Get a Police Report at the Scene of the Accident
After a car accident, if you have sustained any injuries, your first priority should be to seek emergency medical care to prevent them from becoming worse. You can always file an accident report online later if you need to leave the scene of the accident for medical attention. If no medical attention is required, stay on the scene to cooperate with the police and provide as much information and any details while they're fresh in your mind to help with their investigation so they can submit an accurate report. A police report, if complications arise during the officer's investigation, can take a while and although a report will not be available to you at the scene you can request the information needed to obtain one from the officer.
What Are Your Next Steps After A Car Accident in St. Petersburg?
Experiencing a car accident can be a traumatic event, it's easy to become confused about the details afterwards which is why you should document as much as you can if you are able to. While still at the scene take photographs of any damages that occurred and the surrounding area to document road conditions, hazards, and if the weather contributed, gather the contact information from all parties involved including any witnesses, and ask if they have additional information to contribute such as cell phone footage.
Filing an accident report will be the next step before contacting your insurance provider, they will need a copy for their records to support your claim and help determine liability, they can also help lessen costs by obtaining reports for you. Also it's a good idea to keep track of your expenses after an accident as they start to accumulate, you should include any property damage or medical expenses along with any lost wages you've incurred with your claim. Gathering additional information such as 911 transcripts, police officers body cam footage and near-by video surveillance can be overwhelming and also add up, hiring an experienced St. Petersburg car accident lawyer who knows how to acquire the necessary information to build a strong case can ease your stress and help navigate the additional requests from insurance companies.
Contact a St. Petersburg Car Accident Lawyer Today
To best represent your needs and provide the compensation you could be entitled to, consult with an accomplished St. Petersburg Personal Injury Lawyer who can keep you informed of your options and acquire the evidence crucial for your case to succeed.
The dedicated attorneys representing our nationally ranked tier one firm are recognized for their skills and experience in and out of the courtroom, they will get to know you and your case on a personal level. If you have sustained personal injury as a result of a car accident we will commit to achieve the best possible outcome for you. Contact us today for a free consultation.